New York City
Yuh-Line Niou eyes Hail Mary third party run in NY-10
The apparent second-place finisher is considering running against the Democratic nominee on the Working Families Party line. It wouldn't be her first time.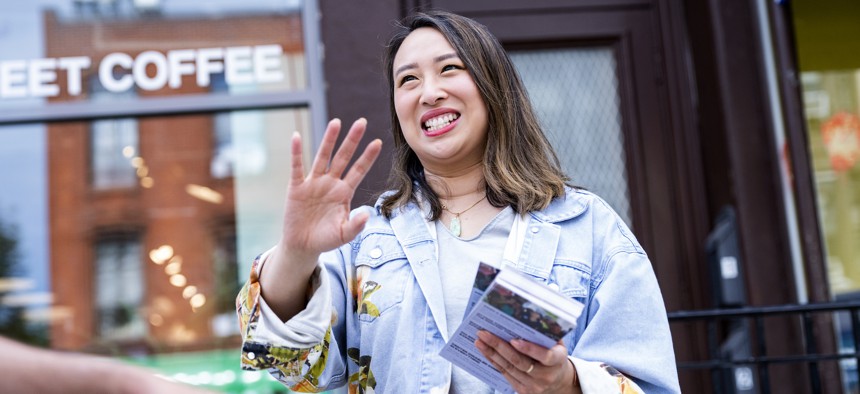 The heated race for New York's new 10th Congressional District may not be over after all. Assembly Member Yuh-Line Niou, who is expected to come in second in the Democratic primary to former House impeachment counsel and Levi Strauss heir Dan Goldman, is considering running against Goldman in the November general election on the Working Families Party line.
In a state like New York that has fusion voting, the prospect of a serious third party candidate mounting a competitive challenge shouldn't be so foreign. Letitia James, prior to becoming state Attorney General, won election to the New York City Council in 2003 on the Working Families Party line, just five years after the WFP's founding and two years after failing to win on the WFP line in that same council district. But two decades later, such a run is still an uphill battle. Niou herself ran on the WFP line against the Democratic party's nominee in a 2016 special election for the Lower Manhattan Assembly seat she currently holds. Niou lost the special election, though she won the Democratic primary for the seat months later and was subsequently elected to the Assembly. 
Goldman, who bested more progressive candidates in the crowded Democratic primary including Niou, Rep. Mondaire Jones and New York City Council Member Carlina Rivera, will have not just the obvious strength of the Democratic party line on his side in November, but a deep well of funding and growing establishment support, too.
But that hasn't stopped the excited chatter among some progressives about Niou possibly running on the WFP line, based largely on the notion that left-leaning voters who cast ballots for Jones or Rivera in the primary could rally around Niou as a unity candidate for progressives against Goldman – a super wealthy and largely self-funded candidate with more moderate views on issues like health care reform and expanding the Supreme Court. Though the election results have yet to be certified, the initial tally shows Goldman capturing roughly 26% of the vote, Niou with roughly 24%, Jones with 18% and Rivera with 17%.
Prominent Niou endorser Cynthia Nixon has poured some fuel on the prospect of a potentially fiery third party challenge. "Yuh-Line Niou came within striking distance w/grassroots energy. Should @yuhline stay in & run as a WFP candidate in November? Donate NOW if you think (yes)," Nixon said in a tweet on Thursday. 
Niou herself has not committed to mounting a third party challenge on the Working Families Party line against Goldman. But in a statement made to press this week, Niou hinted heavily that she is considering it. "I'm currently speaking with WFP and my community about how we can best represent the needs of this district," the statement read. "Because what we can do together is too important to give up this fight, we must count every vote. I'm so grateful for the outpouring of support and all of the people who showed up and turned out. Our people need and deserve a voice." 
The Working Families Party, which endorsed Niou in the Democratic primary, has also not committed to running Niou in November, but released a general statement of support for the candidate on Wednesday morning. "Despite being outspent by several million dollars and withstanding a torrent of attacks from Trump-aligned groups, Yuh-Line is within points of Dan Goldman in a heavily contested field," Sochie Nnaemeka, director of the New York Working Families Party, said in a statement. "While there are still ballots left to be counted, what's clear is that the overwhelming majority of voters chose a self-described progressive in this race and people are hungry for authentic representation that will fight to defend abortion rights and put their needs ahead of the whims of the ultra wealthy."
Representatives for Niou, Goldman and the Working Families Party did not respond to requests for additional comment on Friday.
Some political observers have suggested that despite dissatisfaction with Goldman on the left, a WFP challenge from Niou in November might be misguided. Democratic strategist Lupe Todd-Medina suggested that it's more important for Democrats to come together with the larger goal of defeating Republicans this November – even if Republicans are not a concern specifically in the 10th District. "Do we really want to start exerting money and costs to a bitter general election fight against another Democrat," she asked. Todd-Medina also cast doubt on the assumption that Jones voters, for example, would automatically align behind Niou, and noted that Niou only beat Goldman in her own Assembly district by a little over 600 votes.
Democratic political strategist Neal Kwatra, who worked on former Mayor Bill de Blasio's congressional campaign before he dropped out, suggested Niou would be better off challenging Goldman in two years. "It's a mistake and she would have no chance to actually win," Kwatra told City & State of a potential third party run this November. "She should keep her organizing operation in place, keep building and run again in 2024 in a 1 on 1 race."
In an apparent reference to the possibility of Niou challenging Goldman in November, Council Member Tiffany Cabán, who endorsed Niou, drew a contrast with Buffalo Mayor Byron Brown waging a write-in campaign for reelection last year, after Democratic Socialist India Walton beat the incumbent in the Democratic primary. "Funny how all the same folks calling for unity behind the dem nominee didn't have shit to say when that nominee was India Walton," she tweeted on Friday.