New York City
Zeldin hints at New York version of "don't say gay" bill
The GOP candidate for governor wants to prohibit sex ed related discussions in classrooms up to the seventh grade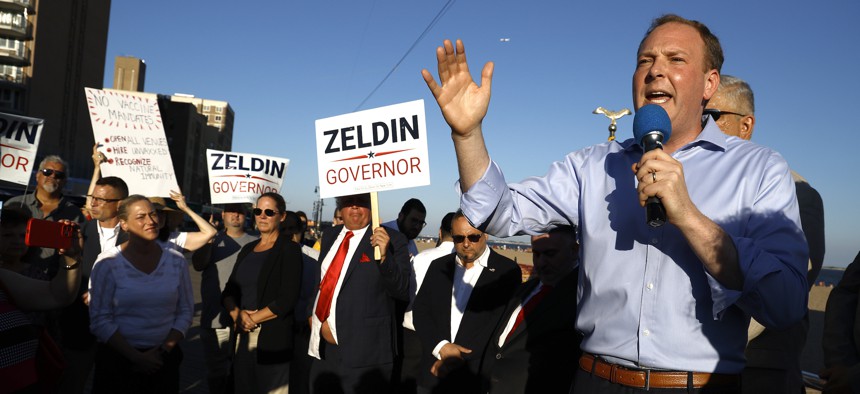 Rep. Lee Zeldin may want to bring a version of Florida's Parental Rights in Education Act – also referred to as the "don't say gay" bill – to New York. 
While speaking Thursday at the church of former New York City Council Member and state Sen. Rubén Díaz Sr. – a Bronx Democrat infamous for past anti-gay comments and his opposition to same-sex marriage – Zeldin said that teachers should not be allowed to answer sex education questions asked by students as old as 13 in the seventh grade. Instead, the GOP candidate for governor said that teachers should notify the student's parents about the question and leave it up to them to answer it. "The teacher, instead of trying to answer (and) us(ing) that as an opportunity to try to get all the other kids an education of whatever that teacher wants to say to that student and the rest of that class, instead the teacher should be required to go to the parent… and deal with that issue at home," Zeldin told the New York Hispanic Clergy Organization at their weekly meeting according to a recording of the event at the church obtained by City & State.
The controversial Florida law that recently went into effect prohibits teachers from discussing sexual orientation and gender identity with students in third grade and below. Although Florida Gov. Ron DeSantis and other Republicans pitched it as a means to increase the rights of parents in their kids' education, critics on the left have said the law will lead to discrimination towards LGBTQ students and teachers. They dubbed it the "don't say gay" bill and have decried it as both homophobic and transpobic. 
On the surface, Zeldin's suggestion seems slightly different. Sex education does not necessarily equate to sexual orientation and gender identity, which the Florida law explicitly refers to. But both often fall under the umbrella term of sex ed. Before describing his idea, Zeldin spoke against "divisive" topics being taught in school. "We have a lot of kids who do a really good job getting along with each other before some educators bring in their own biases and start pitting the kids against each other," Zeldin said.
Despite New York's reputation as a deep blue state at the forefront of many leftwing issues, it actually lags behind on sex education. Currently, the state has no legal mandate for schools to teach sex ed to students, nor any requirement that the material being taught is accurate. Numerous bills to create such a law have come before the state Legislature, but never passed. Curricula on the subject vary greatly from district to district across the state with no standardization.
Zeldin's suggestion on sex ed restrictions in schools goes farther than Florida's law, which only explicitly affects students up to the third grade. Zeldin suggested going even older to the seventh grade. Students that receive sex education in school often get it in middle school. Zeldin's campaign did not return a request for comment before publication time.
Díaz endorsed Zeldin at the rally held at his church, along with most of the rest of the Republican statewide slate. DeSantis will also visit New York this weekend to fundraise for the gubernatorial candidate.