Heard Around Town
Jim Owles tells Hochul not to pick gay conservative judge to replace DiFiore
The political club urged against picking Anthony Cannataro to replace the retired chief judge because of his track record on court decisions impacting LGBTQ New Yorkers.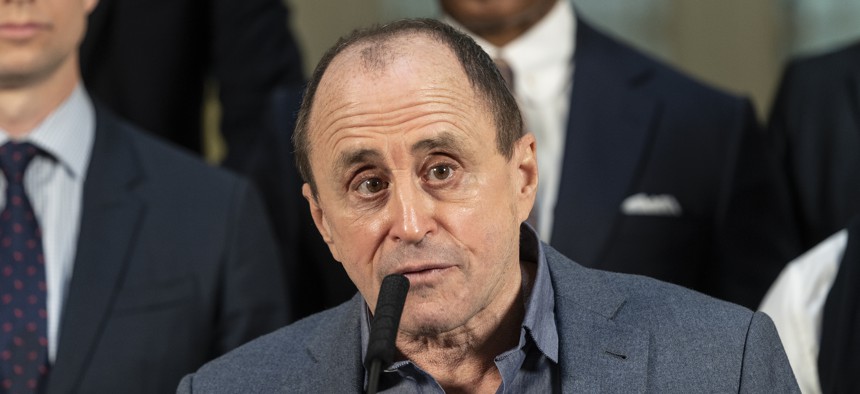 If Gov. Hochul picks Anthony Cannataro to replace retired Chief Judge Janet DiFiore, he would make history as the first openly gay chief judge of New York State. 
Allen Roskoff wants to make sure that doesn't happen. The gay rights activist and president of the Jim Owles Liberal Democratic Club is insisting that New York state's next chief judge must be someone who will reliably protect the rights of marginalized groups, including members of the LGBTQ community – and Cannataro doesn't fit the bill.
Cannataro joined the Court of Appeals as an associate judge last year, becoming only the second openly gay judge to ever serve on New York's highest court. After Chief Judge DiFiore announced her retirement, a majority of the judges on the Court chose him to become acting chief judge.
The governor will nominate DiFiore's permanent replacement later this year, once the Commission on Judicial Nominations presents her with a shortlist of seven candidates to choose from. The state Senate will vote on whether to approve the nomination when it reconvenes in January.
On Thursday, Roskoff and the Jim Owles Club sent a letter to Gov. Hochul, laying out their concerns with Cannataro and encouraging her not to nominate him for the chief judge position.
"Although Judge Cannataro is openly gay, he does not represent our values," Roskoff writes in the letter, which was shared with City & State. "We urge you not to nominate him for the position of Chief Judge."
This is the third public letter that progressives have sent to Hochul regarding the chief judge nomination.
In August, as City & State first reported, a coalition of more than 100 progressive organizations – including the Jim Owles Club – sent a letter to Hochul encouraging her to select someone with progressive bona fides as chief judge. The letter warned that if Hochul instead nominated a conservative to be chief judge, progressive groups would rally Democratic state senators to reject her nominee.
Last week, a group of 20 state senators — led by Deputy Majority Leader Mike Gianaris and Judiciary Committee Chairman Brad Hoylman – sent a letter of their own to Hochul, which included similar language to the progressive groups' July letter. The implicit message: the progressives have at least 20 votes in the state Senate, enough to sink a nominee who they consider too conservative or too close to DiFiore.
The senators' letter to Hochul prompted fierce pushback from the New York County Lawyers' Association, which accused Gianaris of "meddling in the judicial selection process" and launching ad hominem attacks on DiFiore and other conservative judges.
That hasn't deterred Roskoff and the Jim Owles Club from publicly criticizing Cannataro.
David Siffert, an NYU law school professor and board member of the Jim Owles Club who helped draft the letter with Roskoff, said that the point of the letter is to scrutinize Cannataro's judicial record and show Hochul that just because Cannataro is openly gay doesn't mean that elevating him to chief judge would be a win for gay rights.
"This is someone who's not good for the queer community," Siffert said.
According to Siffert's research, since joining the Court last year Cannataro has almost always voted in lockstep with DiFiore and the Court's conservative majority. 
Roskoff says the conservatives on the Court, including Cannataro, have been responsible for a number of court decisions that have disproportionately harmed LGBTQ New Yorkers. He is particularly upset with Cannataro's vote in Harkenrider v. Hochul, the case in which the Court of Appeals' conservative majority ruled that redistricting maps drawn by the state legislature violated the state constitution. As a result of that decision, which upheld a ruling originally made by a lower court Republican judge, the maps were redrawn to be more favorable to Republican candidates.
The Jim Owles Club letter to Hochul specifically highlights Cannataro's role in that decision.
"Those votes have led to disastrous outcomes for LGBTQ New Yorkers, including most notably his tie-breaking vote to commit control of New York's congressional and senate districts to a Republican justice," the letter reads. "Sure enough, the justice set out maps that targeted Democrats with the result that what is left of access to abortion, the lives of Black and Brown people, and the advancement of civil rights for LGBTQIA+ people, including the right to marry, to mention just a few cataclysmic outcomes, rest in the hands of an increasingly extremist Republican party."
The letter also takes aim at Cannataro's administrative experience, faulting him for ignoring appeals from defendants in criminal cases — a practice DiFiore has also been criticized for — and for reopening housing court during the pandemic.
"In June 2020, as New York City Civil Court Administrative Judge, Judge Cannatoro attempted to reopen Brooklyn housing court in order to evict New Yorkers at the peak of the COVID-19 pandemic," the letter reads. "The decision was a disaster of both empathy and public health, simply to enrich New York's landlords. The Chief Judge of the New York Court of Appeals runs the entire New York State court system. Judge Cannataro's poor administrative judgment makes him a uniquely poor choice for Chief Judge."
When it comes to the letter, the messenger may matter as much as the message. 
Roskoff is an outspoken activist who has been active in both the gay rights movement and New York Democratic politics for decades. He co-authored the nation's first gay rights bill and personally led demonstrations in the 1970s that succeeded in overturning New York City's anti-gay ordinances, before working in the administrations of Gov. Mario Cuomo and Mayor David Dinkins. In 2004, Roskoff co-founded the Jim Owles Club, which is now one of the most influential LGBTQ clubs in New York politics.
Roskoff is unafraid to speak his mind when it comes to political leaders he feels have sold out the gay community. He's currently leading a campaign to remove Mayor Ed Koch's name from the 59th Street Bridge and even disinvited Mayor Eric Adams from his birthday party after the mayor after the mayor appointed officials with a history anti-gay remarks.
Now, Roskoff has a characteristically blunt message for Hochul: "New York does not need a gay, conservative Chief Judge."
Powered By
NEXT STORY: Commentary: The way misinformation targets Latino voters