New York State
Kathy Hochul and Lee Zeldin debate debates
The two candidates for governor continue to spar over appearing on stage together before the election.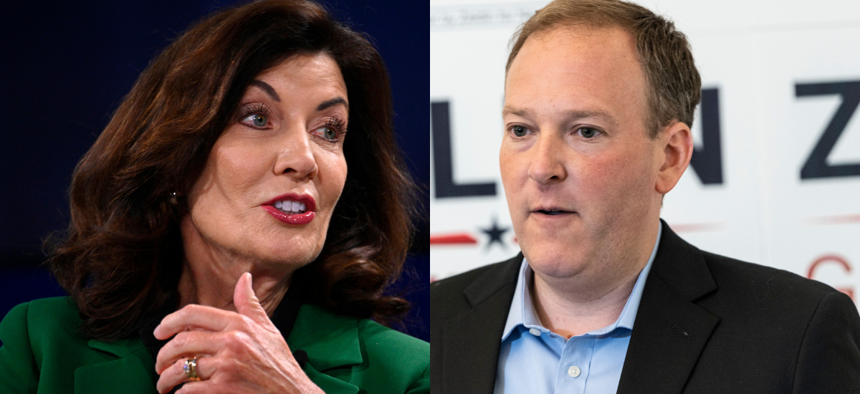 Gov. Kathy Hochul and Rep. Lee Zeldin have spent months sparring in press releases and news conferences over crime, bail reform and abortion rights. But figuring out how to do that together on the same stage has turned out to be just as thorny. With just over a month until Election Day, no scheduled debate currently has both candidates on board. And while Zeldin has made headlines by challenging Hochul to five debates, he has more to lose with his refusal to debate her just once.
Figuring out a debate schedule is a perennial issue for just about any major office. And as always, the incumbent has less need to debate than the challenger. This year was no different, as Zeldin wanted two debates downstate, one in the Buffalo or Rochester area, one in the Capital Region and one more elsewhere. "The Zeldin camp is smart to call for as many debates as possible," Republican consultant William F.B. O'Reilly. "By turning down debate invitations, it may look to some voters like she has something to hide." Initially, the governor said she would debate her Republican challenger, but didn't say where or when. It provided the Zeldin campaign with fodder to paint Hochul as fearful to debate, labeling her as a chicken on the cover of the New York Post.
It's a tried-and-true practice for the insurgent. Former Gov. Mario Cuomo didn't debate then-candidate George Pataki in 1994. "I think we had a chicken running around during the Pataki/Cuomo campaign, and a lot of campaigns have done that over the years," Tom Doherty, a GOP consultant with Mercury, recalled. Appearing together publicly for a debate will always benefit the challenger more, boosting their name recognition and offering an opportunity to speak directly to voters. The incumbent has far less to gain from a televised debate that would serve to elevate their opponent.
But this time around, Hochul did eventually agree to a lone debate on NY1 on Oct. 25, just two weeks before the election. But Zeldin rejected the concession, asserting that voters deserved more than one debate and that it was too close to the election. He also pointed out the need to reach other media markets in the state. "This is absolutely unacceptable just how much contempt Kathy Hochul has towards New Yorkers that she is trying to pathetically get away with just one General Election debate over a month after absentee ballots start going out," he said in a statement at the time. Zeldin has already accepted two debate invitations from PIX11 and CBS2.
Now that Hochul has agreed to one debate, she has little reason to cave to pressure from Zeldin, whom she leads by double digits in nearly every public poll, to participate in additional debates. Meanwhile, Zeldin can keep making headlines by pressing her after initially refusing the NY1 debate. But in the end, Zeldin would lose more from zero debates than Hochul. "It continues the story," Doherty said of Zeldin's continued challenges to Hochul over appearing together. "And then he'll say, 'OK, one debate,' because he wants that opportunity. … But he certainly, I think, would be foolish to turn one down."