Heard Around Town
Brooklyn Democratic Party chair reelected, after reformist challenge from her Assembly colleague
Rodneyse Bichotte Hermelyn won a second term, after another disorganized slog of a meeting.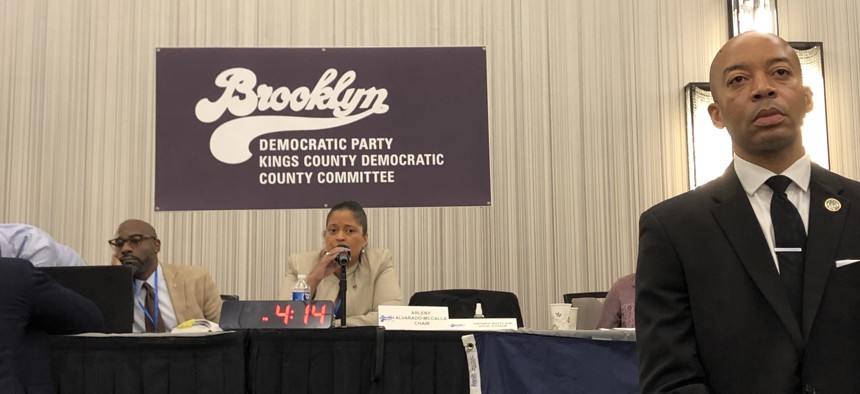 Rumors of her political demise be damned, Assembly Member Rodneyse Bichotte Hermelyn was reelected as county leader of the Brooklyn Democratic Party Monday night – but only after the vote was contested by fellow Assembly Member Maritza Davila. Bichotte Hermelyn, who didn't attend the meeting at the Marriott Brooklyn Bridge because she's nearly due to give birth, topped Davila 23-12 with six abstentions. The challenger positioned herself as a progressive reformer to the Brooklyn Boss, who has earned criticism for her combative style. But some district leaders appreciate her fundraising prowess – and the fact that she takes no shit from reformers.
This was the Kings County Democratic County Committee's second time meeting in two weeks, after the first was marred by disorganization and delays. Monday's meeting was also a slog, adjourning at 5:11 p.m. after the scheduled noon start time. Executive committee members stayed even longer, adjourning at 8:04 p.m. Other county Democratic parties such as Manhattan, the Bronx and Queens – albeit with fewer members – routinely get their business done in around two hours. 
In the end, county had more votes than the borough's long-standing reform movement, and folks aligned with the New Kings Democrats didn't win a thing. Leadership didn't even allow NKD's proposed rules amendments to be heard, citing a technicality with the filing – though the vote would have failed anyway. Similarly, county steamrolled reformist district leaders by nominating and electing its own opposing slates to fill vacancies on county committee. New York City Council Member Mercedes Narcisse, a district leader, was among those claiming that some of the people on the county-aligned slates didn't live in the assigned district, and didn't even know they had been nominated. District Leader Akel Williams raised the issue if going forward with the nominations could legally invalidate the meeting. County Committee Chair Arleny Alvarado-McCalla pushed forward, all but daring him to file a lawsuit. "If you feel that you have a legitimate claim," she said, "you can go ahead and file in court." It's unlikely anybody will do so – it would cost money and potentially lead to yet another committee meeting, when there's so little to gain. 
Like with the Sept. 21 meeting, some reformers in attendance weren't sure what to blame for the disorganization. "There comes a pont when incompetence becomes malevolence. And we're at that point," said District Leader Doug Schneider, who emphasized that he hoped to work with party regulars to rebuild trust in the Brooklyn Dems. 
After the final vote, Bichotte Hermelyn told City & State she was glad to have the meeting done with "From here on out, we'll just move forward and continue to be the beacon of the political universe."