New York City
Hochul wants fed to "take ownership" of NYC's migrant crisis
The governor passed on Mayor Eric Adams' request for additional financial assistance from the state, noting the city isn't cash strapped while taking in asylum-seekers.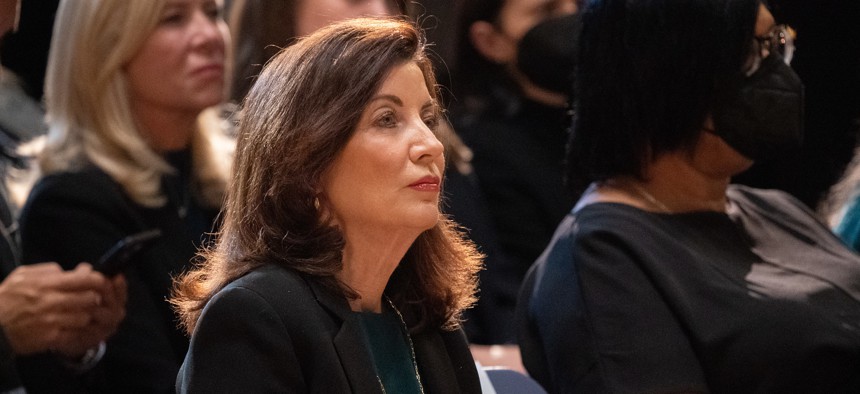 As New York City Mayor Eric Adams begs for assistance in dealing with the growing migrant crisis facing the city, Gov. Kathy Hochul had a message for hizzoner: Don't look at me. Despite Adams calling on both the state and federal governments to step in to help, Hochul effectively washed her hands of the crisis and laid the responsibility for solving it at the feet of Congress. 
Following an unrelated press conference in Manhattan, Hochul told reporters that the federal government needed to "take ownership" of solving the problems created by an influx of asylum seekers to New York City from the south. "We'll be there to help, but this belongs to the federal government," Hochul said. "And that's where the mayor and I are 100% in sync." She did not indicate any plans to call lawmakers back to Albany for a special session regarding the crisis, nor suggested that the state had plans to provide additional financial aid for housing the asylum seekers. "The city does not have a cash flow problem at this time," the governor said bluntly. 
Adams on Friday painted a very different picture, specifically calling on the state to give emergency financial assistance to help house the migrants, many of whom for now will be placed in a tent city being set up on Randall's Island. "It is burning through our budget," he said last week while declaring a state of emergency over the situation. "This is unsustainable." He said on Tuesday that he still had not received any new commitments to help, despite Hochul's assurances on Wednesday that her and Adams' administrations are in constant communication. sday that her administration is in constant communication with Adams'.
Until now, Hochul has remained tight-lipped on what, if any, additional assistance the state would provide to the city. The most significant action she has so far taken has been the deployment of about 150 National Guardsmen to the city. Hochul also said on Wednesday that her administration had been coordinating "logistics" on everything from transportation to legal services. But she didn't mention plans floated by Sen. Kirsten Gillibrand to relocate some migrants to other parts of the state that would benefit from state coordination. Hochul did, however, say that her administration is "working with the city on locations," with an eye towards both federal and state facilities. 
Despite the lack of assistance from either the state or federal governments, Adams has avoided criticizing Hochul or President Joe Biden, and has maintained an optimistic demeanor that help is just around the corner. But if Hochul's new comments are any indication, that may not be the case out of Albany.