New York State
'A little suspicious' Politicos abuzz as Hochul's lead over Zeldin shrinks in polls
The race for New York governor is far from a done deal, but observers say polls have certainly erred in the past.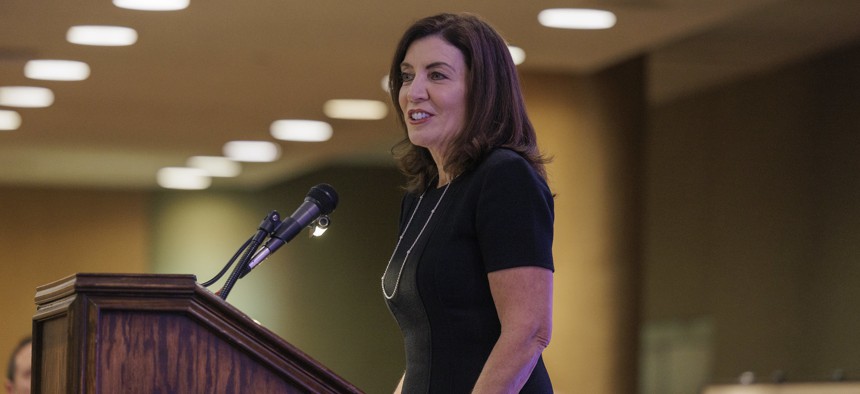 A pair of newly released polls paint very different pictures of the state of the race for governor in New York. Numbers out of Siena College have Gov. Kathy Hochul leading Rep. Lee Zeldin by 11 percentage points. Meanwhile, a poll from Quinnipiac found a much narrower margin of victory, giving the incumbent Democrat just a 4 percentage point lead. That's a stark difference between two polls put out on the same day. But neither poll alone tells the whole story of what's happening in the race for governor.
The Quinnipiac poll shocked political observers when it came out given that it predicted the closest outcome of any major public polling of the race so far. What's more, it found 37% of New York City voters backed Zeldin, well above the 30% threshold in the deep blue city viewed by the GOP as necessary for statewide victory. And while the 11 percentage point lead the Siena poll gave Hochul still represents a comfortable margin of victory for the governor, it would be the closest in decades. And it's a significant decrease compared to the Siena poll from last month, which had her up by 17 percentage points.
Both new polls were conducted after a high-profile shooting that occurred outside of Zeldin's Long Island home and left two teens injured. Political observers aren't necessarily surprised to see the gap between Hochul and Zeldin closing, with a Marist College poll from earlier this month showing a 10 percentage point difference that seems in line with the new Siena poll. But the situation for Democrats may not be as dire as the Quinnipiac polls may suggest. "I don't dispute that the likelihood is that Zeldin has tightened the race from a month ago," Bruce Gyory, a lobbyist with Manatt, told City & State. "But that it's down to 4%?" He pointed out the difference in sample groups between the Siena and Quinnipiac polls, with the latter including fewer Democrats. The Quinnipiac sample would indicate a lower-than-average turnout from voters on the left, whereas the Siena sample group was more in line with recent electoral trends. "That leaves me a little suspicious," Gyory said, noting that Quinnipiac infamously released a poll that showed Carl Paladino only 6 percentage points behind former Gov. Andrew Cuomo in 2010. Cuomo won his first term that year in a landslide.
Despite the wonky polling science that might leave one to question the Quinnipiac poll, it and other recent surveys still reveal a trend that Hochul would do well to take seriously. "Polls always tighten," Camille Rivera, Democratic consultant with New Deal Strategies, told City & State. "It does however show that (Hochul) needs to amp her ground game and crime is what is moving the numbers unfortunately." The Quinnipiac poll found crime to be the top issue for likely voters in New York, with inflation second on the list. That, however, differs from both the recent Marist poll and the Siena poll from last month, which both had inflation as the biggest concern, followed by threats to democracy. 
What has become apparent is that abortion rights, which Hochul has made a cornerstone of her campaign, is not a major motivating factor for voters. That has been consistent across public polling so far. "The problem looks like choice has not been the silver bullet among suburban women," Jake Dilemani, a Democratic consultant with Mercury, told City & State. And it benefits the right to have inflation at the top of voters' minds. "Historically, in the modern era, voters have ascribed better performances to Republicans than Democrats on crime and the economy," Dilemani said. "And issues are the two most salient."
The Hochul campaign responded to the new polling in a statement sent to reporters. "Despite $8 million in outside spending from right-wing groups pushing baseless lies, Governor Hochul maintains a double-digit lead against her opponent," campaign spokesperson Jerrel Harvey wrote. "Even in today's Quinnipiac poll, which substantially undercounted Democrats, Governor Hochul continues to receive support from fifty percent of New Yorkers and we are confident in our ability to turn out voters in every community." At an event earlier on Tuesday, Hochul told reporters that she isn't paying attention to the poll numbers and that she approaches every race as if she were "the underdog."
But more than anything else, the new polls and the changes from just a month ago suggest that the race is far from over, even if new numbers have begun to turn more in Zeldin's favor. Just as the decision to overturn Roe v. Wade threw a wrench in Republican electoral politics across the country in the months following, another major development could steer the race for governor in yet another direction. "I think this race is teetering between being a comfortable double-digit win… for Hochul, or dropping down to a closer race in the 5% range," Gyory said. "And I don't think we know where that tug of war is actually going to end up today."
Powered By
NEXT STORY: Randall's Island tent city is ready to welcome asylum-seekers