This Week's Headline
Eric Adams promises 500k more homes and state AG's office rocked by sexual harassment scandal
Rounding up the week's political news.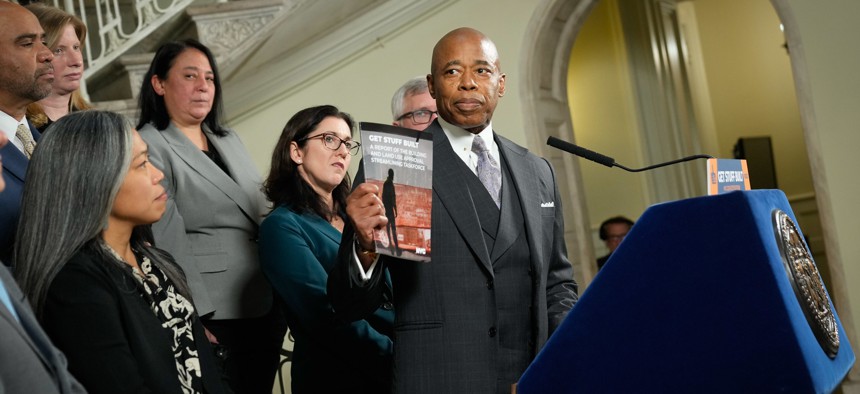 There must be something in the water in New York and Arizona… Kicking off a new week, New York City Council Member Ari Kagan officially declared that he was leaving behind the Democratic Party to join Republicans on the other side of the aisle. A few days later, Arizona Sen. Krysten Sinema, another Democrat, announced she was leaving the party to become an independent – a controversial move that'll further strain the party's national control. Political turncoats have been a thing for years, although side-switching is more of an occasional eyebrow-raiser than a regular occurance. Kagan's New York City colleagues were quick to brand him a traitor, particularly as he announced he was also challenging Democratic Council Member Justin Brannan for his Brooklyn seat. Read on for more of this week's news.
A moonshot for housing
New York City Mayor Eric Adams announced the city would build 500,000 new homes over the next decade. If completed, that would more than double the 200,000 homes added in the city's arsenal in the past 10 years. The mayor unveiled the "moonshot" figure Dec. 8 during a speech from City Hall where he outlined 111 recommendations that could streamline residential development in the five boroughs by cutting red tape. The news comes as New York has grappled with a worsening housing crisis. Having grown by about 800,000 residents in the past decade, the city's population has rapidly outpaced housing construction. The consequences of this have been far-reaching and in some instances dire: higher housing prices, more homeless New Yorkers and longer commutes. While the effectiveness of Adams' new initiative remains to be seen, Hochul has also stressed that leaders must address the lack of housing. She's promised to unveil additional information about her aggressive plan during her upcoming State of the State speech in January. 
AG office sexual harassment scandal
State Attorney General Letitia James' longtime chief of staff Ibrahim Khan suddenly resigned after it became public that at least one woman accused him of inappropriate touching and unwanted kissing. In the days since, questions have circulated around how James and her office handled the accusations. Recently released documents detail the timeline of when her office first became aware of the allegations against Khan (Oct. 2) and went on to hire an outside team to conduct the investigation. While the findings of the investigation have not been released to the public, the Times reported that the woman's allegations were substantiated. Republican lawmakers have called for an investigation into James' handling of the incidents, questioning whether the state attorney general sat on the news for around two months to protect her reelection. James has strongly condemned Khan's actions. Democrats have largely refrained from commenting, but others have defended James. Both Gov. Kathy Hochul and Adams have said they stand by the state attorney general and her handling of the matter, with Hochul rejecting the prospect of a probe. 
Hospital shortages 
In recent days, New York hospitals have increasingly sounded alarms about staffing shortages heading into a particularly grueling winter season. Health care leaders are describing the shortage as having reached a crisis level: There are currently 9,300 job openings for nurses in the state, and that number is expected to dramatically rise in the coming years. Advocates say the shortage is currently projected to grow to around 30,000 vacancies by 2030. A coalition of 50 upstate hospitals and health systems are pushing the state Legislature to pass a slate of bills that they argue would give them at least some relief. One piece of legislation would allow nurses to complete one-third of their clinical training through simulation. The group is also urging Hochul to provide more full scholarships to nursing students. All this comes as hospitals grapple with the combined onslaught of flu, COVID-19 and RSV cases. New York City hospitals have struggled to deal with the rise in cases as their resources have been stretched increasingly thin.
Guilty on all counts
While facing a $1.6 million fine for tax fraud isn't a good look for anyone, it's an especially difficult verdict to shake for a presidential candidate. Yet, that's the situation that Donald Trump now finds himself in just a few weeks after launching his next presidential campaign. On Dec. 6, a Manhattan jury found Trump's family company guilty of 17 different crimes, including falsifying business records, conspiracy and tax fraud. While Trump himself escaped any criminal charges, experts say the verdict only adds to his mounting legal woes, including the criminal investigation in Washington over top secret documents found at his Mar-a-Lago estate. It's also a vindication for New York authorities who have investigated Trump and his family business for three years. The sprawling probe took root as an inquiry into hush money payments made on the former president's behalf and later evolved into a deep dive into the company's assets and practices.