Politics
On Brooklyn Democratic Party Gala night, the borough becomes 'the center of the universe'
The annual event drew power brokers from across the city touting the party's unity.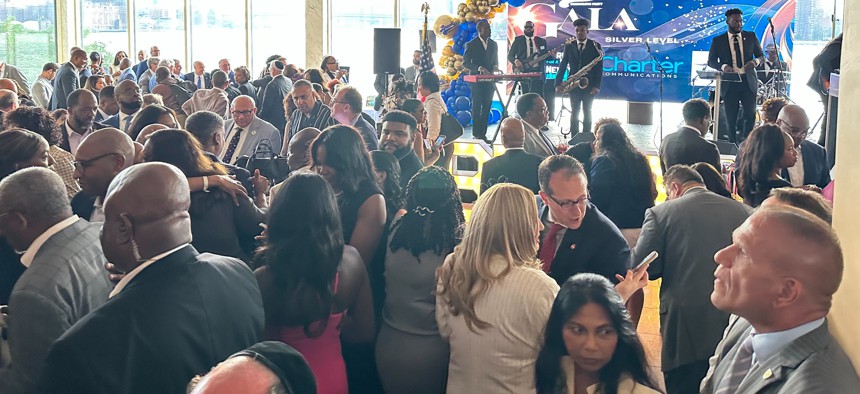 Unity, hip-hop, schmoozing and talk of battles to come were the focus Monday evening as local, state and federal Democratic leaders gathered on the Williamsburg waterfront for the Brooklyn Democratic Party's gala – or the "Coachella of Brooklyn" as some political insiders like to say.
High-profile guests like Gov. Kathy Hochul, U.S. Sens. Chuck Schumer and Kirsten Gillibrand, state Attorney General Letitia James, New York City Mayor Eric Adams, Reps. Hakeem Jeffries and Dan Goldman, and a host of other politicos attended the packed event. Collaboration was perhaps the guiding theme of the evening, underscored of course with a celebration of Brooklyn's role in the Democratic political machine.
"I am declaring Brooklyn the epicenter of political power – not just in New York City, not just in the state of New York, but the entire United States of America," Hochul said, to a roar of cheers.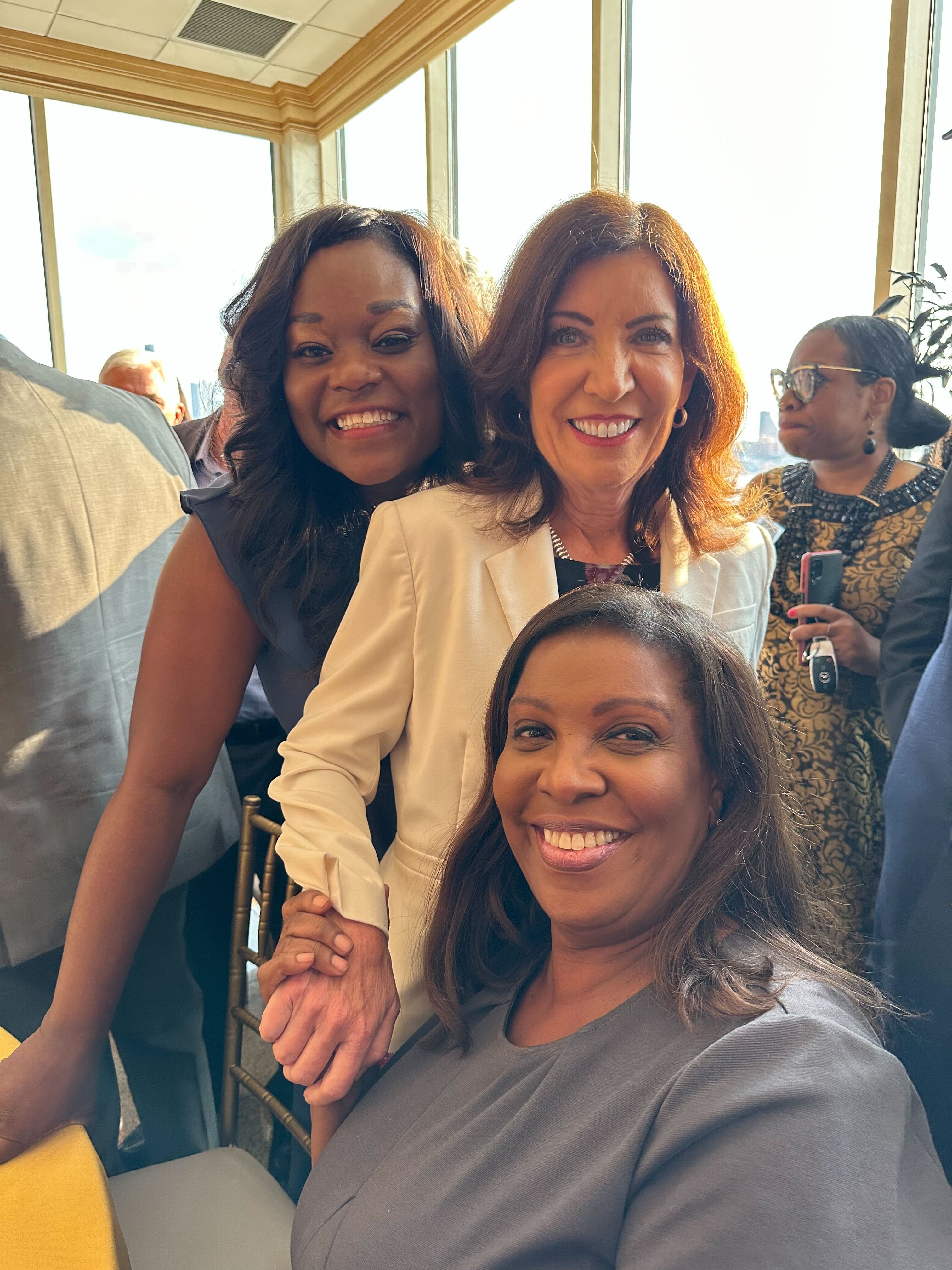 Last year's gala, an equally star-studded affair, came just before the general election where Republicans flipped several Assembly seats in southern Brooklyn. Finger-pointing ensued, some of which was directed at the county party for not securing enough Democratic support to protect incumbents.
This time, it's no secret which races will be competitive in November. Several City Council seats in southern Brooklyn are expected to be among the most competitive in the city, including the open seat in District 43, where Democrat Susan Zhuang and Republican Ying Tan will face off. Democratic City Council Member Justin Brannan will face fellow incumbent, and newly minted Republican, Ari Kagan in District 47.
Without the looming shadow of a high-stakes national election, Monday night's gala at Giando on the Water kicked off in high spirits. The sun cast patches of golden light across attendees faces as it slunk into the East River. Schumer, called to the stage, tried his hand with a few freestyle verses. "All right everybody, my name is Chuck. I bring you luck," he began, before pivoting to urge the crowd to use its political power to defeat former President Donald Trump and to increase the party's majority in the U.S. Senate. Minutes later, he held a thick pamphlet of papers – his "12-page speech," he said – ripping it up and throwing it into the crowd. New York City Council Member Farah Louis, Assembly Member Monique Chandler-Waterman, and Brooklyn Democratic Party Chair Rodneyse Bichotte Hermelyn danced side by side on stage to a snippet of Caribbean music.
Attendees stressed the importance of party unity on both the local and national stages. 
"Elections come and go and then we got work to do in between those elections. What we want to make sure is that everybody is working together to uplift the people of Brooklyn and the people that need the most help," New York City Public Advocate Jumaane Williams said. "From my Assembly member, to me, to all across the borough, we have so much power in Brooklyn if we can just get together, raise our voice and make sure the communities that need the most help get it."
New York City Council candidate Amber Adler, a Democrat challenging Republican City Council Member Inna Vernikov in southern Brooklyn's District 48, said she's excited by the support for her campaign – support "that you don't typically see." "What I mean by that is there is a unity of the Democratic Party behind my campaign," Adler said.
Hochul also acknowledged the night's display of unity by telling City & State she was confident the Democratic Party was on track to become "the powerhouse that people expect it to be in the state of New York," mentioning Jeffries and Gillibrand as key supporters.
It wasn't just Brooklyn leaders coming out for the party. Former Bronx Borough President Ruben Diaz Jr. attended the gala and immediately was chummy with chief adviser to Eric Adams, Ingrid Lewis-Martin. "That's my sister from another mother," Diaz Jr. told City & State, after he and Lewis-Martin shared a warm hug.
Diaz Jr. expressed his appreciation for the Brooklyn vibe that currently permeates the Democratic Party. "Love the Brooklyn way. I'm at home here supporting the county chairwoman," he said referring to Bichotte Hermelyn. "And good friends from the Brooklyn organization and new friends here in Brooklyn.
"And even though I am no longer an elected official, I still feel whether it's in the Bronx, Brooklyn, Manhattan or Queens, that it's good to see so many people who are here tonight who work every single day to make the city better and stronger," he said, pointing to both current and past administration members.
Among them was Gary Jenkins, former New York City Department of Social Services commissioner. "Born and raised in Brooklyn. I'm always going to be committed to Brooklyn politics," said Jenkins, now working for Adams' former chief of staff Frank Carone at his new consultancy Oaktree Solutions, about his appearance at the gala.
James posed for pictures with the governor and told City & State: "Brooklyn represents the heart and soul of New York state. Brooklyn is the center of the universe."