Heard Around Town
Democrat challenging Marc Molinaro raises $775K
Josh Riley released his fundraising tally from the last quarter – with some help from Al Franken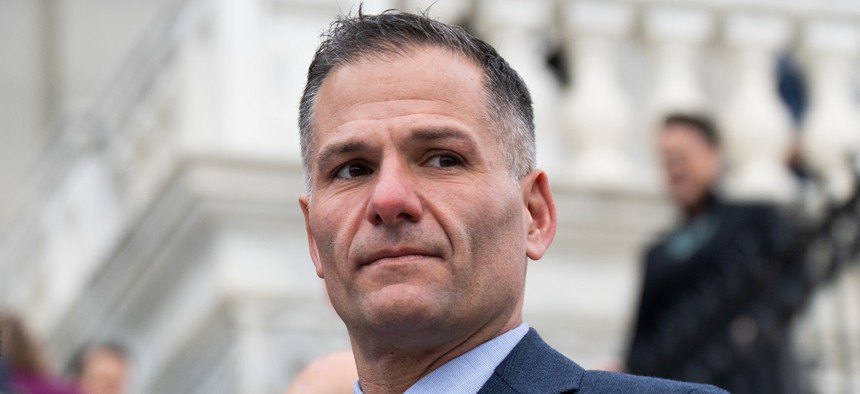 Josh Riley, the Democrat who hopes to challenge Republican Rep. Marc Molinaro in the 19th Congressional District again in 2024, says he's raised more than $775,000 in the last three months. The Riley campaign shared details exclusively with City & State ahead of the July 15 federal filing deadline. The campaign had already announced on June 1st that he'd hit half a million dollars in donations. 
Riley was a lawyer representing corporations like Apple that were getting investigated by Congress, but a statement from Riley emphasized that he'll "never take a penny from corporate PACs" – unlike Molinaro. Molinaro raised just $494,000 and transferred in another $145,000 in his first quarter of fundraising, from January to March. Thousands of dollars came from corporate PACs including MetLife, Honeywell and Pepsi. Molinaro hasn't posted his second quarter fundraising yet, and his campaign didn't immediately respond to a request for comment from City & State. 
Molinaro beat Riley just 51% to 49% in 2022, and voters in the district favored Joe Biden over Donald Trump in 2020, so national Democrats are already plotting to flip back the 19th, which stretches from the Finger Lakes to the Hudson Valley. 
Riley may be able to credit a controversial former boss for some of the money he brought it. At least two political action committees have sent fundraising emails from former U.S. Sen. Al Franken, asking for donations to Riley's campaign, the New York Post first reported. Riley worked as general counsel to Franken on the Senate Judiciary Committee, before the Minnesota Democrat resigned following multiple accusations of unwanted groping and kissing. The emails weren't directly from Riley's campaign, and the campaign declined to comment.
But Molinaro's campaign sent out its own fundraising email linking to the Post story, criticizing Riley for the link to Franked. "We can't allow disgraced Hollywood elites like Al Franken to interfere in our elections," it read, in part. 
Riley outraised Molinaro $4.2 million to $2.5 million in the 2022 cycle. The race was also targeted by more than $3 million in outside spending, split pretty evenly between the candidates.