Heard Around Town
Remembering Ruschell Boone: A journalist who connected with New Yorkers and their elected officials
State Attorney General Letitia James, New York City Mayor Eric Adams and City Council Speaker Adrienne Adams joined other politicians at the NY1 anchor's funeral Tuesday.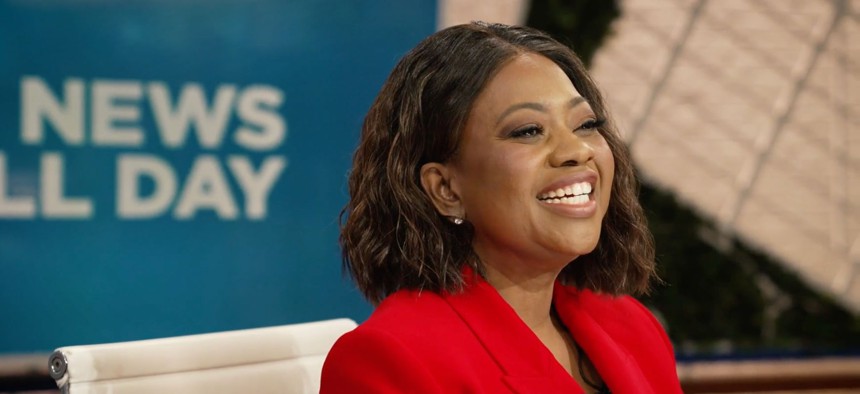 Ruschell Boone was remembered as a journalist who often had a smile on her face and for her ability to connect with New Yorkers for more than two decades. That included elected officials, many of whom turned out today for the funeral of the NY1 anchor, who died of pancreatic cancer on Sept. 3.
"Ruschell Boone never let cancer steal her joy," state Attorney General Letitia James told mourners at the Christian Cultural Center in Brooklyn. "She never let cancer temper her generous soul and she never allowed cancer to break her loving spirit."
James was joined by New York City Mayor Eric Adams, Council Speaker Adrienne Adams, Queens Borough President Donovan Richards and Public Advocate Jumaane Williams, among other elected officials who attended the emotional and oftentimes uplifting ceremony. Consul General of Jamaica Alsion Roach Wilson also was in attendance, in an acknowledgement of Boone's native country. She emigrated from Kingston, Jamaica, to the Bronx at age 11. 
Boone had been battling cancer until she went into remission this spring, allowing her to return to work. However, on July 27, she tweeted that the cancer had returned. Her loss resonated throughout New York City, where she had become a well-regarded and beloved television journalist, especially on the Queens beat that she owned for years. She also was an Emmy Award winner. James announced that a scholarship was being created at the Craig Newmark School of Journalism in Boone's honor. 
The attorney general, in her remarks, noted how well Boone got along with elected officials.
"She allowed us to put down our guard. She disarmed us with her laughter and her ability to relate to us," James said. "She allowed me to kick off my heels and put on my kicks. She gave me and others a voice and permission to be authentic."
Eric Adams, who also spoke at the service, offered words of comfort and a moment of levity when he said that Boone "cared for all of us, particularly public officials … but she adored me," drawing laughs from those in attendance. Adrienne Adams followed the mayor and recalled back when she was on a Queens community board, what it was like knowing Boone. 
"Ruschell became bigger than life to us," the speaker said. "It is where I saw that power, that fire that drives that intellectualism. That love, sister to sister, as she told critical stories about Queens with integrity and with heart. She flawlessly presented humanity in a way that only she could. Her personality. Her sense of humor. Her empathy and her storytelling always drew you in."
Boone is survived by her husband Todd and their sons, Carter, 9, and Jackson, 12.