Poloncarz, Kennedy, Brown among potential contenders for Higgins seat
The Western New York representative has said he's leaving Congress in February.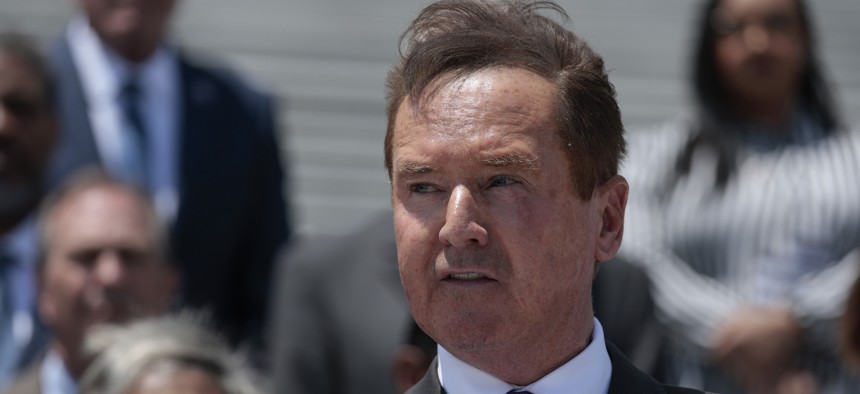 Erie County Executive Mark Poloncarz and state Sen. Tim Kennedy are considered the most likely candidates to succeed Rep. Brian Higgins in his Buffalo congressional seat, now that Higgins has said he's taking over as the next president of Shea's Performing Arts Center and leaving Congress in February.
"Congress is not the institution that I came to 19 years ago," Higgins said in an exclusive interview with The Buffalo News. "And, you know, it's in a very, very bad place right now."
Sources told City & State that Poloncarz, recently reelected to a historic fourth term, and Kennedy, the powerful state Senate Transportation Committee chair, would lead the list for a special election. The district encompasses parts of Erie and Niagara counties, including all of Buffalo, but Erie County Democrats will control who gets a special election nomination in the deep-blue district.
Sources said Poloncarz could have an edge for support from Erie County Democrats in getting the nod to run in a special election due to his close relationship with Erie County Democratic Party Chair Jeremy Zellner.
But recent accusations against Poloncarz regarding a domestic dispute could hurt a potential candidacy. Poloncarz overcame the allegations to defeat underfunded Republican Chrissy Casilio with 58% of the vote this week to become Erie County's longest serving chief executive.
Poloncarz has strong name recognition in the region and his Polish ethnicity could help him in the heavily Polish communities of Cheektowaga and Lackawanna, a key part of the calculus of Western New York ethnic politics.
Sources said Kennedy, a south Buffalo native, could also emerge as a strong candidate based on his close relationships with others in the county and the strength of the vote in south Buffalo, a historically Irish neighborhood that has been a key base for heavy voter turnout for Erie County Democrats.
Kennedy had been considered a potential candidate for Buffalo mayor in 2025 when five-term Mayor Byron Brown was expected to step down, but a congressional seat could prove tempting for the longtime state legislator.
"This is his dream job," a Western New York source said about Kennedy.
Higgins, a south Buffalo native, is a long-term ally of Kennedy's and is viewed as being supportive of Kennedy as a successor.
A wild card could be Brown, Buffalo's longest serving mayor, who has been speculated to be looking for an exit plan from City Hall prior to the end of his current term. Brown would carry strong support from Buffalo's Black community and would be the first person of color elected to Congress from Buffalo.
Brown though could be hampered by a rocky 2021 reelection, which saw him lose the Democratic primary to India Walton before coming back to defeat Walton in the general election as a write-in candidate.
While Poloncarz and Brown would be able to pursue a congressional race without giving up their respective offices, Kennedy would have to give up his state Senate seat depending on the timing.
"He's got nothing to give up," a source said of Poloncarz.
Several other names cropped up over the weekend, with Walton cryptically posting "the 9th squad member," a signal of her general alignment with other Democratic socialists in Congress, just a couple days after lamenting the lack of a progressive infrastructure in Western New York. Walton also noted that Kennedy not being able to transfer his state campaign warchest to a federal account changes the calculus. Walton, who lost a Democratic primary bid for a Buffalo Common Council seat this year, is not close with the Democratic Party leaders who would pick the special election nominee.
Former Grand Island Supervisor Nate McMurray posted that he expects the Democratic nominee – and likely next member of Congress – to be picked by the "good old boys" in the Erie County Democratic Party, likely ruling him out of consideration. McMurray, who called Higgins' decision to leave for the Shea's job "bonkers" also said that he sees Kennedy as the likely choice of party leaders, suggesting Higgins and Kennedy planned a special election vacancy.
McMurray lost a 2018 race to former Republican Rep. Chris Collins and in 2020 to former Republican Rep. Chris Jacobs in a district that encompasses parts of the Higgins seat. McMurray also briefly pursued a primary challenge against Poloncarz last year. 
The Buffalo News mentioned (among many others) Assembly Member Patrick Burke as a potential candidate, but sources dismissed Burke as a serious contender to City & State, noting he is not close to Higgins.
A source speculated to City & State about Brown, Higgins and Kennedy striking some sort of deal regarding the nomination. South Buffalo, the home base for Higgins and Kennedy, was a major source of votes in Brown's 2021 write-in victory.
Social media was also buzzing over the weekend about a booklet mailer highlighting Kennedy's bio that went out last week just as news started to break about Higgins' impending departure. The mailer included a map of Kennedy's life story showing spots across Erie County parts of the district.
A source told City & State that Kennedy will go all-in to secure the nomination and the seat. 
"He will not get outworked, hard stop, he won't," the source said.
In the event that Kennedy leaves the state Legislature to run for Congress, sources pointed to Buffalo Common Council President Pro Tempore Christopher Scanlon and Erie County Legislature Chair April Baskin as likely candidates for the state Senate seat. Scanlon represents south Buffalo on the Buffalo Common Council and Baskin, a Black woman, has strong ties to Buffalo's Black community.
If Poloncarz were to leave for Congress, the Erie County Legislature would name a new county executive pending a special election for the remainder of the four-year term he will start in January.