Politics
Progressives – and others – are watching the Eric Adams campaign finance inquiry very closely
One mayor's scandal is another insurgent's opportunity.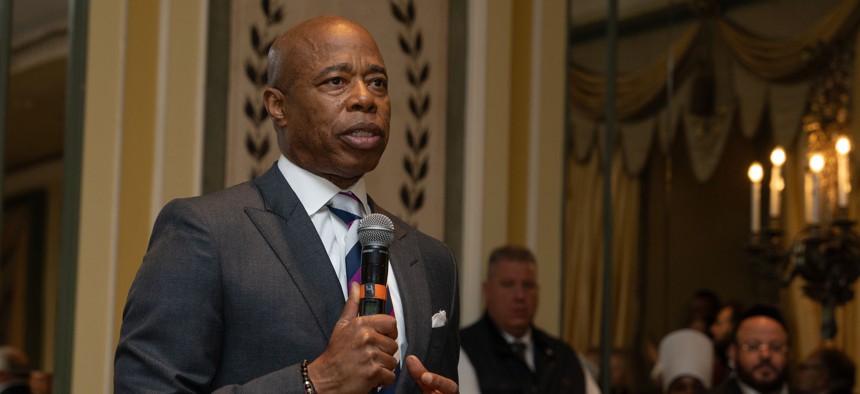 Shortly after news broke that New York City Mayor Eric Adams' lead fundraiser's home was being raided by the FBI,  Democratic political consultant Evan Roth Smith posted on X that "2025 starts today." 
One day later, there is much that remains unknown about the broad public corruption investigation involving 25-year-old Brianna Suggs and Adams' 2021 mayoral campaign. The New York Times first reported that the inquiry is centered on whether the campaign conspired with the Turkish government to receive illegal foreign donations.
"I am outraged and angry if anyone attempted to use the campaign to manipulate our democracy and defraud our campaign," Adams said in a statement Friday afternoon. "I want to be clear, I have no knowledge, direct or otherwise, or any improper fundraising activity – and certainly not of any foreign money. We will of course work with officials to respond to inquiries, as appropriate – as we always have."
Vito Pitta, Adams' 2021 campaign consultant, said the campaign has started "an extensive review of all documents and actions by campaign workers connected to the contributors in question."
Adams, a moderate Democrat, wouldn't be easy to beat in a primary. His 2025 reelection campaign has raised over $2.5 million and he remains fairly popular with his base of Black and Latino voters. The city's powerful large labor unions also remain in his corner. And while appetite for a strong challenge from the left is certainly there, liberal and progressive Democrats have struggled to identify and unify behind a single candidate. 
Still, the FBI investigation coupled with a handful of other ethical issues in Adams' orbit, could spur serious movement to challenge him during the 2025 mayoral race. 
Brandon West, a former City Council candidate and former president of the progressive organization New Kings Democrats, said there's been a deep interest in finding someone "brave enough" to challenge the mayor mid-cycle as opposed to waiting until there is an open race. The challenge is that many of the strong candidates on the left like state Sen. Jessica Ramos, Brooklyn Borough President Antonio Reynoso and state Sen. Zellnor Myrie are likely being told by their cabinets that it's safer to wait for an open race. Thursday's development could change that, West said. 
"I think this makes it a stronger justification that there is potential of something really distracting to really pull away support from his base," West said, adding "Someone has got to be the first penguin to jump off the iceberg. Someone's got to be the first person to take that chance. I think this does make the case stronger."
Ramos' team did not respond to a request for comment. Nor did Myrie and Reynoso. But Politico New York reported that Ramos, a staunch critic of Adams and one of the leading names being floated as a potential 2025 challenger, was calling potential supporters Thursday. According to The New York Times, interest in Myrie has also grown in wake of the raid. 
Progressive candidates aren't necessarily the only ones looking to seize an opportunity. Roth Smith, who worked on Andrew Yang's 2021 mayoral campaign, said that the calculus has changed. While before, it seemed likely that Adams would be challenged by someone on the left and survive, now, he could be vulnerable not only to a challenge from progressives who were previously weighing the odds of a 2025 run, but also more moderate people who'd been "waiting in the wings" for 2029. 
"If this turns out to be something that is really mortally politically injuring to the mayor, it won't just be a challenge from his left or a more minor political figure," Roth Smith said. "It could be challenges from his own lane – another centrist or another moderate. Challenges from within his own base of support – another prominent Black politician whether from Brooklyn, Queens, or the Bronx." 
It's unclear at this point to what degree Adams is involved in the inquiry – if at all. Little is known about the investigation as of Friday afternoon. The mayor could very well escape unscathed.  Former Mayor Bill de Blasio also faced a federal campaign finance investigation during his first term and still breezed to reelection.  Federal prosecutors didn't press charges, but they did say de Blasio had acted on behalf of donors who'd sought favors. Still, this isn't the first time Adams' fundraising tactics or relationships with donors have come into question.  Six people who contributed to Adams' campaign were charged over the summer with running a straw donor scheme.  The mayor was not implicated then nor was he again two months later when his then building commissioner was charged with taking bribes.
Democratic political consultant Trip Yang said Adams is probably not in any danger unless criminal charges are brought against him or his inner circle.
"If no one is charged, it doesn't really affect the political status quo from last week, which is the mayor's numbers are okay, but not great. They are stronger in his base. There were rumblings of mayoral challengers last week," Yang said. "If no one is charged, those things still remain."