40 Under 40 Rising Stars Albany 2016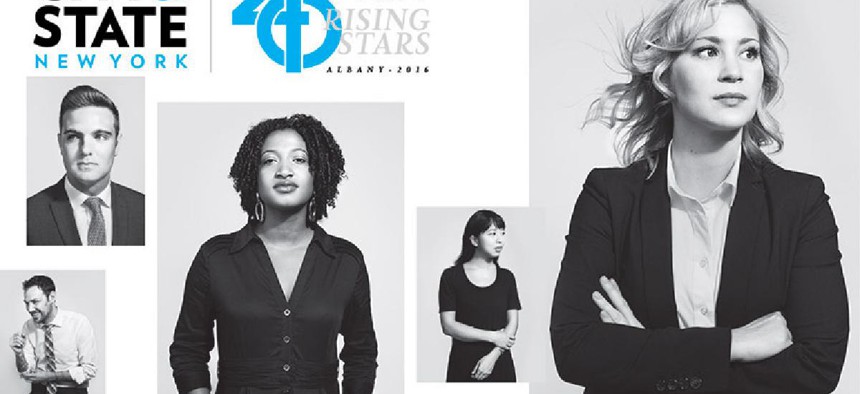 Everyone knows who the three men in the room are. A top prosecutor has become well-known for targeting public corruption. And any number of elected officials, advisers, advocates and reporters have made names for themselves in the halls of the state Capitol.

In this issue, we shift the spotlight to a lesser-known group: Albany's next generation of leaders. Our annual list of the state's most promising young political talent is as impressive as ever, featuring top aides, key lobbyists, young entrepreneurs and more – all of them under the age of 40.

Who knows? One of them might be the next governor. Another could rise to lead the Senate or the Assembly. In the decades ahead, many of them are sure to become influential players in state politics and government.  

So without further ado, we present this year's Albany 40 Under 40 Rising Stars.
-Jon Lentz, senior editor
Assemblyman Ron Castorina
Assemblywoman Jaime Williams
David Previte, parliamentarian and senior counsel, New York state Senate Republicans  
Dana Carotenuto Rico, chief of staff, New York state Senate Independent Democratic Conference
Maureen Wren, deputy press secretary, New York state Senate Republicans
Reid Sims, director of executive chamber operations, Office of Gov. Andrew Cuomo
Loren Amor, political director, Democratic Senate Campaign Committee
Steven Toff, director of strategic campaigns, NYSNA
Thomas Meara, principal, Kivvit
Kristen McManus, legislative analyst/political strategist, AARP
Nicole Weingartner, state government relations coordinator, Davidoff Hutcher & Citron
Jahmila Joseph, assistant associate director, District Council 37
Joseph DeRosa, lobbyist, Bolton-St. Johns
Cassie Marie Prugh, assistant to the president, United Federation of Teachers 
Jessica Ladlee, communications specialist, CSEA
Morgan Hook, senior vice president, SKDKnickerbocker 
Heather Leibowitz, state director, Environment New York
Greg Biryla, executive director, Unshackle Upstate
Gabriel Cowles, program manager, Build Smart NY, NYPA 
Marie Zimmerman, partner, KPMG
José Paulino, executive director, Somos el Futuro
Jake Adler, New York director for policy, Orthodox Union
Kristina Wieneke, director of public policy, American Lung Association
Scott Hobson, New York state grassroots manager, American Cancer Society 
David Friedfel, director of state studies, Citizens Budget Commission 
Jasmine Gripper, legislative director, Alliance for Quality Education 
Candis Tolliver, deputy political director, 32BJ SEIU
Vivian Yee, reporter, The New York Times
Matthew Hamilton, reporter, Albany Times Union
Kevin Eitzman, digital director/assistant field coordinator, New York State AFL-CIO 
Sonia Lindell, manager of government affairs, Business Council of New York State
Lacey Keller, director of research and analytics, office of Attorney General Eric Schneiderman
Kyle Seeley, special assistant to the chief of staff and special projects manager, office of state Comptroller Thomas DiNapoli 
Katie Codey, deputy director of state operations, Office of Gov. Andrew Cuomo
April Corrigan, attorney, Cordo and Co.
Adam Morey, government affairs specialist, Lawsuit Reform Alliance of New York
Kristen Curran, attorney, Robert Ungar and Associates 
Jonathan McCardle, attorney, Featherstonhaugh, Wiley & Clyne
Joseph Popcun, policy adviser, public safety, Office of Gov. Andrew Cuomo
Hillary Peckham, COO, co-owner and founder, Etain, LLC