Sponsored Content
Quality Health Care is a Human Right, Not a Privilege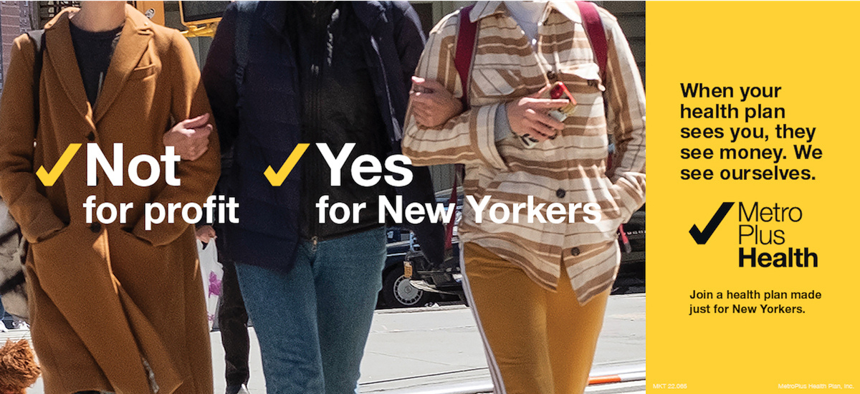 By Dr. Talya Schwartz, President and CEO of MetroPlusHealth 
New York has endless possibilities and opportunities for its residents but living in this City also presents unique challenges. These challenges are met in stride by the millions of City residents who hustle every day to make this City the best, most livable version of itself for everyone who calls it home. 
According to a recent HR industry study, 88% of U.S. employees surveyed rank health care as the most important benefit to them. Now more than ever, health care is at the forefront of every New Yorker's mind. Our City faces the aftermath of the pandemic, and difficulties include worsened health conditions due to delayed treatments, exacerbated behavioral health ailments, rising costs, and long Covid.
MetroPlusHealth is a health care plan for New Yorkers, by New Yorkers. We understand City residents because we ourselves are members of the communities we serve. As CEO, I care deeply about our business and drive our mission of providing all New Yorkers with high-quality, affordable health care. As a physician, I strive to ensure our programs meet the health needs of New Yorkers and put people before profit. Our plans provide members access to close to 40,000 providers and sites across the five boroughs and 110 urgent care centers like CityMD, Northwell Health-GoHEALTH Urgent Care, and more. Our network of over 40+ hospitals includes NYU Langone, Mount Sinai, NYC Health + Hospitals, Montefiore, and many others. 
I'm pleased that during my tenure, our organization has grown to more than 700,000 members, the most we've ever had. But membership growth is just one of many MetroPlusHealth accomplishments I am proud of. Together, our organization has: 
— Addressed food insecurity in NYC through initiatives like adding no-cost Medically Tailored Meals to vulnerable populations in our Medicaid benefit package and donated thousands of bags of fresh fruit and vegetables to New Yorkers during the holidays.
— Meeting our members where they are – in their communities. Our most recent community office has opened in Harlem, bringing our total number of community offices to six.
— Expanded our contract with Montefiore Health System to include the full gamut of their services and providers, further improving access to care and member experience.
— We embraced 9,000+ asylum seekers and helped them gain access to service and health care because we know the health of every single New Yorker impacts the entire community. 
— We hosted 400+ community partner events, including winter coat drives, healthy food drives, expectant mother seminars, immigration resource fairs, vaccine drives, and more.
— Achieved the greatest number of members housed and found 420 members stable housing through our housing task force. 
This is just a sampling of our amazing work in communities across New York City. 
The past several years have been immensely challenging, but the people of New York are resilient and determined to build a better future for our City, and I am so proud to be at the helm of an organization that works so hard to support that goal. Because staying healthy and addressing one's health needs is essential to people's ability to live their best lives, that should be a basic human right, not a privilege.