sponsor content What's this?
Sponsored Content
Growing Opportunities in Today's Workforce to Build Tomorrow's Smarter, Stronger, Cleaner Energy System
National Grid supports innovative workforce development programs like the Clean Energy Academy to build the clean energy skills in demand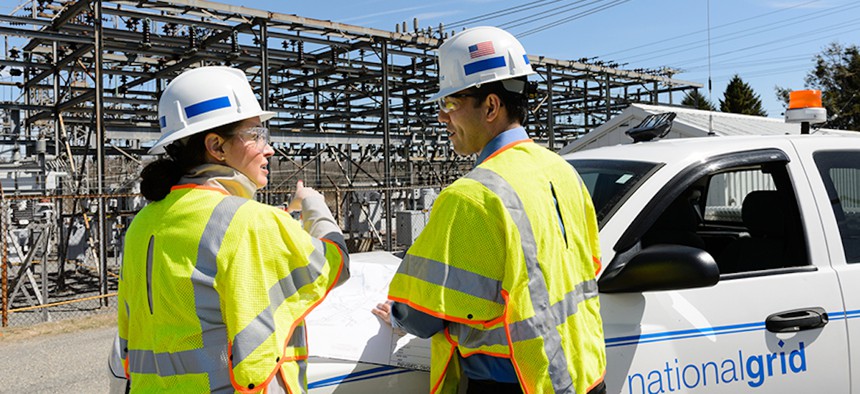 Climate change is the defining challenge of our time. The decisions we make now will influence the future of our planet and life on earth. And transforming our energy infrastructure so we can deliver the clean energy future takes time – but the clock is ticking
National Grid is working to address the impacts of climate change by delivering a clean, fair and affordable energy transition while building a smarter, stronger cleaner energy system that leaves nobody behind. While climate change has created immense challenges, those same challenges also present immense opportunities – opportunities to expand our clean energy workforce and train people with the knowledge, skills and tools to take advantage of this job growth.
As clean energy grows to become one of the biggest industries for employment, National Grid is committed to providing workforce development opportunities to develop the next generation of clean energy workers. At the same time, we are providing young people opportunities to learn about STEM occupations to give them the pathway toward a brighter future.
National Grid recently announced its support of the Clean Energy Academy, an innovative workforce development program that seeks to train approximately 100 NYCHA residents over two years for promising careers delivering the clean energy transition for NYCHA's buildings. The program works to connect resident trainees with NYCHA contractors who will be performing nearly half a billion dollars of retrofit and renewable energy projects at NYCHA developments through 2026. 
By working directly with employers like National Grid, the Clean Energy Academy focuses on maximizing hiring outcomes by customizing training curriculum around contractor needs. The training program also works to maximize placement and retention through wrap around services to trainees to ensure they have the support to succeed in their new careers and on the jobsite.
The goals of the Clean Energy Academy include:
Providing job training and placement in the clean energy sector for 100 NYCHA residents,
Accelerating building decarbonization through growing a custom-trained workforce of individuals from environmental justice communities,
Partnering with contractors that are delivering heat pump installations, energy performance contracts and other energy retrofits at NYCHA developments to assess hiring needs and develop customized training curriculum to match these needs,
Leveraging NYSERDA's Contractor wage incentives to thread the needle between contractor hiring needs, the Clean Energy Academy training curriculum and job placement on construction projects at NYCHA buildings, and 
Developing a scalable program that can serve as a model for public housing authorities nationwide
In addition to training, an outreach specialist will track resident trainees' progress from enrollment to graduation and coordinate graduate placement opportunities with training providers and REES team. Program graduates will receive career counseling support them as they enter placement, aligned to the Academy's goal of placing at least 64 of the 100 NYCHA resident trainees in clean energy job training over the next two years. 
No single organization can make such a transformational change to the energy industry alone. We know that developing the next generation clean energy workforce requires collaboration with innovative programs like the Clean Energy Academy, industry partners, government, regulators, trade unions, and academic institutions. Because at National Grid, we know that building a clean energy workforce to deliver net zero by 2050 is the job that can't wait.