Melissa Mark-Viverito
Don't blame Oscar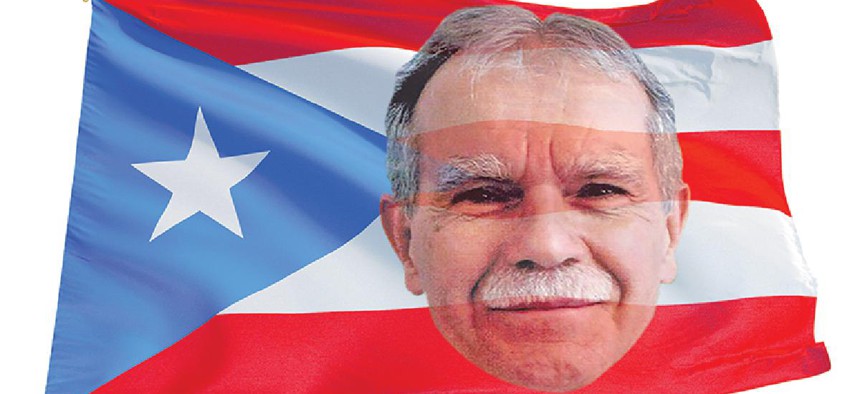 He spent 35 years locked up in a federal penitentiary. The same amount of time – give or take a year – that I have been covering the National Puerto Rican Day Parade. Of course the light-hearted comparison for some may seem a stretch and even offensive to Oscar López Rivera. I can assure you that at times reporting on the scandals and bochinche of the well-intentioned leaders on the parade board seemed liked doing hard time. For a proud puertorriqueño like me, it was even embarrassing and always painful to have to report on their misdeeds. It still is.
During all those decades, some of us never forgot our compatriots imprisoned for their commitment to the freedom of our island nation – including the ones who were committed to achieving independence by any means necessary. While I, like the majority of puertorriqueños, don't believe that violence of any sort is the solution, I do understand it. It's the motto that unites freedom fighters throughout history, including the founding fathers of the United States. I am also respectful of this 74-year-old Puerto Rican patriot. López Rivera believed in the independence of his island nation. That inalienable right inspired him to fight against the U.S. government that invaded the island in 1898.
RELATED: Puerto Rican pride: A Q&A with Rep. Nydia Velázquez
To be clear, the U.S. has been exploiting, abusing and treating us as a possession – territory is the legal term – ever since then. Most americanos don't know that Puerto Ricans weren't able to elect their own governor until 1952. The island was ruled by military and civilian men appointed by the sitting U.S. president for over half a century.
As an example of the murderous abuse, history offers the Ponce Massacre that took place on Palm Sunday, March 21, 1937. It was a peaceful civilian march of men, women and children. On orders by the U.S. government, police opened fire against the unarmed crowd in Ponce, Puerto Rico. Nineteen civilians and two policemen were killed, and more than 200 others wounded. Many of the dead were shot in the back. This took place in my hometown. Not too far from the hospital where I was born in 1950. If you ever visit Ponce, make sure you go to the museum and see the photos and artifacts of the state-sanctioned terrorism against U.S. citizens. This doesn't justify the killing of innocents in bombings attributed to the Fuerzas Armadas de Liberación Nacional, or FALN, the Puerto Rican separatist group. It merely offers context.
López Rivera didn't ask anyone to be invited to this year's parade. Much less to be bestowed with the title of National Freedom Hero by the parade's board of directors.
Understand that López Rivera, a Bronze Star Medal recipient during the Vietnam War, was convicted for seditious conspiracy. The sentence was 55 years with an additional 15 years for a later charge of conspiracy to escape. A total of 70 years. The frenzied media coverage that paints López Rivera as a terrorist is based on a theory of guilt by association with the FALN. Most of the one-sided reporting and opinion-driven narrative is successfully retrying him. That narrative doesn't change the fact that with all its investigative, intelligence, legal and financial resources, the government was unable to convict López Rivera on any of the FALN's bombings. While there are many who still feel that López Rivera has blood on his hands, the results of the trial are indisputable.
So I ask, does any person of sound mind think that López Rivera, upon learning of President Barack Obama's commutation of his sentence on Jan. 17, 2017, was thinking about marching in the National Puerto Rican Day Parade in New York City?
As far as is known, López Rivera didn't ask anyone to be invited to this year's parade. Much less to be bestowed with the title of National Freedom Hero by the parade's board of directors. That once-in-a-lifetime designation was the political machination of New York City Council Speaker Melissa Mark-Viverito, parade chairwoman Lorraine Cortés-Vázquez and several other members of the board. The lame-duck council speaker has denied that it was solely her idea. Yet she's the one who has defended the ill-advised decision by the board that she helped hand-pick with the approval of state Attorney General Eric Schneiderman back in February 2014. No one can blame Oscar for that.
RELATED: Is ABC souring on the Puerto Rican Day Parade
The copious reporting on the designation of López Rivera as a "hero" led to the well-known withdrawal of major corporate sponsors. Goya Foods, the first company to withdraw its support, should've been a signal to the arrogant and out of touch board that maybe they should revisit this designation. After the controversy simmered for more than two weeks, López Rivera announced he would march "not as your honoree but as a humble Puerto Rican and grandfather" – a shift reportedly spurred by the de Blasio administration.
It had long been clear that the presence of López Rivera was going to be a problem. In an item titled "WEPA! Oscar on 5th Ave?" in my Bochinche & Buzz column on Jan. 30, I reported that discussions were going on within the board to give Oscar a special recognition. I concluded quoting a New York City law enforcement bigwig saying: "This won't go over well with most in the NYPD or most of us in law enforcement anywhere."
Instead of displaying some humility and seeking advice from outsiders, the board adopted a bunker mentality. The public face and voice has been that of Mark-Viverito, as if she, and not Cortés-Vázquez, was the president of the board. The back channel calls to elected officials to support the board's decision were made by the misguided and arrogant speaker. This mess is in large part due to the unprecedented influence of a well-intentioned político who let her ego gain control over the celebration of all that makes puertorriqueños proud of who we are.
No one can blame Oscar for that.
Gerson Borrero is City & State's editor-at-large.