Rudy Giuliani
Was Rudy Giuliani ever a good lawyer?
Political and legal analysts have been baffled by Giuliani's performance since taking on President Donald Trump as a client, often making statements that would seem to harm Trump's case in court – or, at least, in the court of public opinion.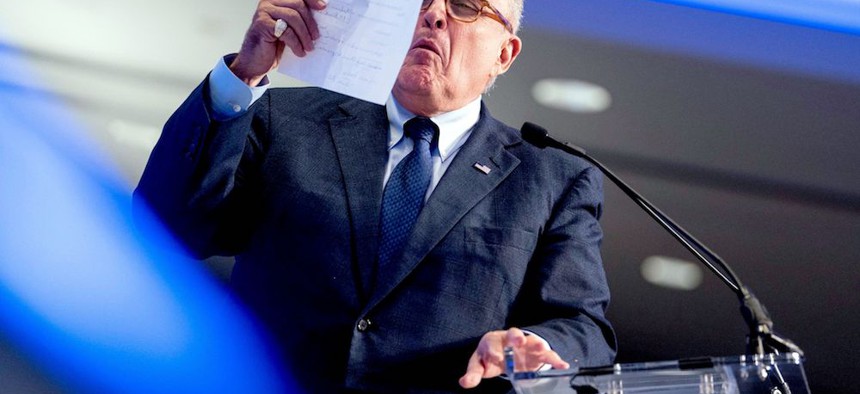 It was a new twist on a familiar Rudy Giuliani scene. The pugnacious ex-prosecutor and New York City mayor was sparring on live television – this time as President Donald Trump's lawyer, branding Trump's onetime counsel, Michael Cohen, a "pathological liar," in order to cast doubt on recordings of Cohen talking with Trump in 2016 about hush money payments to former Playboy model Karen McDougal.
Yet months earlier, Giuliani praised Cohen as an "honest, honorable lawyer." Giuliani's flip-flop invited scrutiny – just like his claim that "collusion" with a hostile foreign government is not outlawed and his conflicting statements on Trump's involvement in payments to porn star Stormy Daniels.
It's nothing new to see Giuliani on the attack; as mayor, he notoriously started fights with such unlikely targets as the family of an innocent man killed by police and the Brooklyn Museum of Art. But political and legal analysts have been baffled by Giuliani's performance since taking on Trump as a client, often making statements that would seem to harm Trump's case in court – or, at least, in the court of public opinion.
That may lead some to wonder whether Giuliani, who first rose to prominence as the U.S. attorney for the Southern District of New York, was ever actually an effective attorney at all.
Some New York lawyers say his TV appearances these past several months revealed a good lawyer losing his edge, increasingly cavalier about the cat-and-mouse game played by federal prosecutors. "His judgment seems flawed, his comments seem hurtful, he seems to be saying things against his client's interest," said one former Southern District prosecutor who worked with Giuliani and is now in private practice, who did not want to be identified in order to speak freely.
"It all comes across to people who knew him as tragic," the former colleague said. "There's a look on his face that has almost a crazed quality to him. All of us are flawed. Rudy was flawed, but there was a great man there."
Giuliani, who could not be reached for comment, first made his name as a crimefighter. As an assistant U.S. attorney in the Southern District, he rose to chief of the Narcotics Unit, and later executive U.S. attorney. He went on to serve in a series of positions in the Department of Justice, culminating in associate attorney general, before being appointed U.S. attorney for the Southern District.
In that role, from 1983 to 1989, Giuliani and his prosecutors built cases like the "commission" trial convicting mafia bosses and the corruption case against Bronx Democratic leader Stanley Friedman. He popularized the "perp walk" while his office racked up 4,152 convictions and just 25 reversals.
But onetime colleagues credit him for strictly following the rules. Former federal prosecutor Paul Shechtman has an anecdote to illustrate Giuliani, the prosecutor: Shechtman was serving as Giuliani's appellate chief when a judge suppressed evidence in one case. Shechtman wrote the briefs as Giuliani prepared for arguments. Schechtman's research uncovered an important clue on what lawmakers were thinking when they wrote the statute at the appeal's core.
The bit of legislative history cut against the government's arguments, though no one else found it. Giuliani said they were duty-bound to divulge it, and the prosecutors lost the appeal. "You couldn't be more hard-charging than Rudy Giuliani," said Shechtman, a partner at Bracewell, who joined the firm after Giuliani, a former partner, left for Greenberg Traurig in 2016. "He was aggressive, publicity-seeking for himself and the office. He was a risk taker. … The lesson is, he taught prosecutors had ethical obligations. That is an important message for an office to know."
Giuliani had shortcomings, Shechtman acknowledged, like tending to "surround himself with people who confirmed his judgment. But he was a good lawyer and a good U.S. attorney, and that office thrived under his leadership."
But a former opponent said Giuliani's prosecutorial work may have been less impressive than it appeared to the public. Part of the reason Giuliani looked good at the Southern District is that it's always been the best-staffed and most prestigious U.S. attorney's office in the country. Veteran defense lawyer Gerald Lefcourt said it's easy to shine when backed by an office stacked with some of the best and brightest prosecutors, along with the full arsenal of federal law enforcement agencies. The Southern District of New York U.S. attorney's office "makes all the big cases in the country, no matter who heads it," he said.  
Lefcourt repeatedly squared off with Giuliani and was not impressed. One case was the Friedman corruption trial, where Lefcourt represented co-defendant Marvin Kaplan, a businessman. The trial unfolded in New Haven, using Hartford-area jurors. The venue change was needed because Giuliani kept leaking, biasing the pool of potential jurors in New York's media market, Lefcourt said.
When Giuliani personally cross-examined Friedman, Lefcourt said he and the other defense attorneys successfully objected again and again. Lefcourt said the defense "absolutely destroyed" the prosecution's key cooperator, Geoffrey Lindenauer, a man who once used a bogus psychotherapy institute as a way to bed patients.
The crash and burn was so complete, Lefcourt said, prosecutors needed a brief break to bring in more witnesses, each with prosecutorial immunity.
Friedman, Kaplan and others were convicted, and the verdicts were largely upheld on appeal. But Lefcourt linked the results to the other trial prosecutors and extra witnesses. "Whatever Rudy did was totally ineffectual," he said.
George Arzt, now a public relations consultant, closely followed Giuliani and the Friedman case as the New York Post's City Hall bureau chief. "Boy, did that office leak," said Arzt, who'd later become Mayor Ed Koch's press secretary and a Democratic consultant.
Arzt said that these days, Giuliani is "sort of a high-priced PR person," doing his advocacy in the court of public opinion, not a court of law. "I don't know the last time he was in the courtroom. But as for muddying the waters, he's done a great job," said Arzt. "He loved the headlines then, but now he's much more in love with the limelight and his national status."  
That pull to stay a bold-faced name may lead Giuliani to spout off provocative or overstated comments in media interviews, said the same former colleague who did not want to be identified. "The problem with the press is it's really a narcotic. … It's hard when the music stops, and it stopped for him."
If there's one common thread in Giuliani's recent gaffes, it's a lack of caution. "What Rudy doesn't talk about, in our world, it is not uncommon for clients to mislead and/or lie, or color the facts when speaking to their lawyer," said Ira Lee Sorkin, a prominent white-collar defense attorney who was a young prosecutor with Giuliani in the 1970s. Though working in different sections of the office, Sorkin said Giuliani had a good reputation.
But Giuliani was now overlooking some key things, Sorkin said.
"I'm not hearing really good lawyers say, 'He didn't rob the bank.' They are saying, 'My client denies robbing the bank,'" Sorkin said. And Giuliani hasn't been making those critical caveats here.
For Lefcourt, that illuminated a key point about how Giuliani's lawyering has changed: "I don't think he shot as much from the hip as he does now."