New York City
It's Melinda Katz's race to lose
That simple fact is: Queens Borough President Melinda Katz is the front-runner in the Democratic primary election for Queens district attorney on June 25.
As Queens commuters streamed past them outside a subway entrance, former New York City Councilwoman Elizabeth Crowley asked Melinda Katz what to say.
"Is it 'Our borough president, running for DA?'" Crowley asked.
"Just 'Melinda Katz for DA,'" Katz advised. "Most people know."
That simple fact is why Katz is the front-runner in the Democratic primary election for Queens district attorney on June 25. She has been the borough president since 2014, and most people – particularly most Democratic primary voters – know that. Before that, she was a New York City councilwoman in Central Queens for eight years. And before that, an assemblywoman for five years. She has also had brief stints in securities litigation at Weil, Gotshal & Manges and as a lobbyist for Greenberg Traurig. But at 53 years old, Katz is, for all intents and purposes, a career politician, who has either been in office or planning her next run since age 28.
"I'm going to win because people understand the district attorney's office has a lot of discretion," Katz told City & State in a recent sit-down interview. "And they want someone in that office who they know they can trust."
Katz is emphasizing the parts of the job that her résumé fits best. To her, the district attorney should be a politician who has a public profile and is active in the community. She talks about getting buy-in from community leaders, about leading an office with a big budget and about being accountable to voters.
But each of the candidates is running for a different version of the office – a position they're rhetorically tailoring to fit their own body of work. Tiffany Cabán, a public defender, emphasizes her empathy for the accused and envisions the district attorney's office as a social services agency, rehabilitating rather than punishing. Gregory Lasak, a former judge, is all about experience, explaining the office as a complex bureaucracy that needs a technocrat with decades of accumulated wisdom. And Rory Lancman, a New York City councilman, sees the office as a bunch of stubborn pencil pushers who need a clearheaded reformer to come in and shake things up.
There are policy differences among the contenders, no doubt, but there's surprisingly little sunlight among the candidates on most issues. There are seven names on the ballot: Katz, Cabán, Lasak and Lancman, plus attorneys Mina Malik, Betty Lugo and Jose Nieves. And on some of the topics that spur the sharpest disagreements, such as closing the Rikers Island jail complex, the district attorney has little real influence. So the candidates are making their cases to voters less on policy preferences and more on their résumés, insisting they're the best fit for the office, whatever shape it may take.
Katz's political experience may be her greatest asset, but her opponents frame it as her greatest liability. They highlight the fact that Katz has never tried a case in criminal court,ground zero for the work of the district attorney. And they've harped on Katz for winning the support of the Queens County Democratic Party, which has long been criticized for discouraging political challengers and consolidating power in the legal system. Katz's party support has been a particular target for Cabán, who represents the anti-establishment, leftist wing of the Democratic Party. "The corrupt Queens political machine … (is) going all-in on electing Melinda Katz because she will keep the status quo," Cabán says in an online campaign video. And Lasak has drilled in on Katz's lack of courtroom experience, sending out a mailer that called her "not qualified."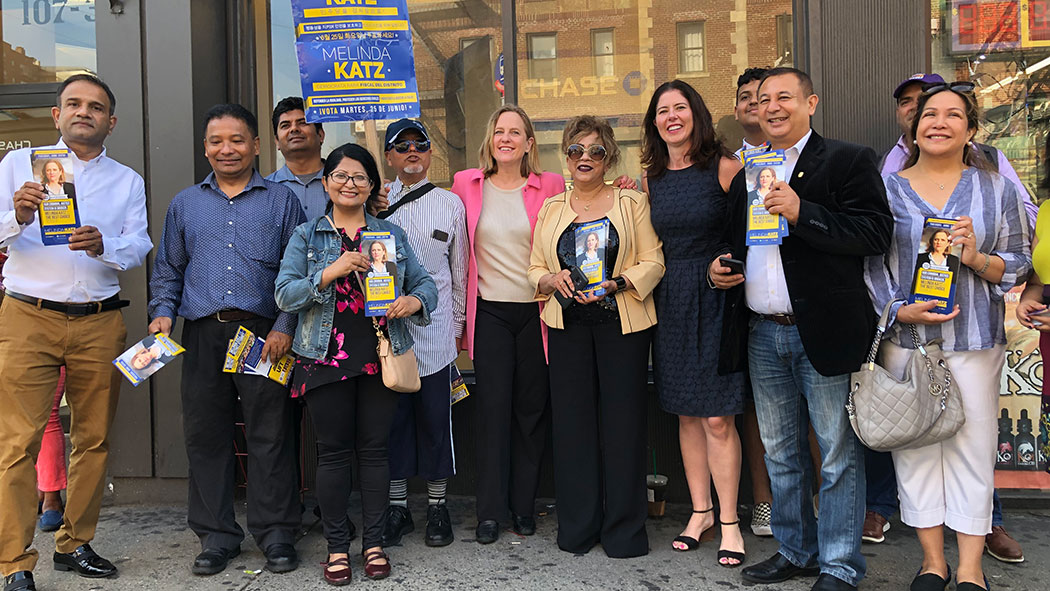 Katz has fired back on both fronts. Katz chided Lasak for "mansplaining" and called the attack "Donald Trump-like." Then she got five of her female endorsers, including Lt. Gov. Kathy Hochul, to back her up and slam Lasak.
Katz had a similar reaction to Cabán's ad, tweeting that it was full of "sexism & half-truths."
"Tiffany says I'm just a cog in 'the machine,'" Katz wrote. "The truth: I first ran on a 3rd party line to challenge the men in power & have spent years supporting women doing the same."
When the Queens Democrats didn't back her, it was an "old boys club." When the party did back her, she was "humbled and deeply grateful."
The first part of Katz's defense is undoubtedly true – she won an Assembly seat in 1994, running on the Liberal and Good Government Party lines and beating the county-endorsed pick with the help of her early political mentor, then-New York City Comptroller Alan Hevesi. Since then, she has almost always been in the county party's good graces, winning its endorsement in a failed 1998 congressional bid and in her successful 2013 borough president run. When the Queens Democrats didn't back her, it was an "old boys club that I will continue to challenge." When the party did back her, she was "humbled and deeply grateful for the support."
It's also not clear who Katz was talking about when she said she has supported women challenging men in power. In recent years, Rep. Alexandria Ocasio-Cortez, state Sen. Jessica Ramos and actress Cynthia Nixon all challenged veteranmale incumbents, in Queens or statewide. Katz did not endorse any of them. Katz's campaign didn't respond to a request for examples.
If elected, Katz's dearth of experience in criminal court would make her unique among the city's elected prosecutors. The Manhattan, Bronx and Brooklyn district attorneys were all former assistant prosecutors, and Staten Island District Attorney Michael McMahon had done criminal defense work in private practice.
Asked about this, Katz pointed to state Attorney General Letitia James, who was an elected official for 15 years before becoming the state's top prosecutor in 2018. "She is taking on interests. She is taking the state by storm. She's going against Donald Trump," Katz said. "She's proving that it takes a lot of will – and leadership ability – to be able to do a law enforcement job correctly, without coming necessarily through those (prosecutorial) ranks."
Even if the bulk of James' experience is in politics, she started her career in criminal court, as a public defender for the Legal Aid Society, and also served as a top assistant at the state Attorney General's office.
Queens residents don't seem to be bothered by the hole in Katz's résumé.
There's no professional consensus on whether prosecutorial experience is necessary for the job. Most of the professionals surveyed recently by Gotham Gazette said it would be preferred, but conceded that office's previous occupant, the late Richard Brown, wasn't a prosecutor before winning the job.
Yet at this point, Queens residents don't seem to be bothered by the hole in Katz's résumé. In this race, the 11th election of her career, she is leading by most metrics. Katz has the most major endorsements, including the most powerful politician in the state, Gov. Andrew Cuomo, and unions like 32BJ SEIU and the United Federation of Teachers. A lot of her endorsementscome from the voter-rich neighborhoods of Southeast Queens, where the race is likely to be decided. Katz has more money than any of her opponents – more than $1.4 million in the last report, half of which was transferred from previous campaign accounts rather than raised directly for this race. And while there hasn't been independent polling in the race, an internal poll conducted in May by Lasak's campaign showed that Katz was the top choice for 34% of respondents. Lasak and Cabán were tied for second, both at 10%, but the most common answer was undecided, at 35%.
"I'm glad (Cabán) has excitement. Everyone should be excited. It's an important race." – Melinda Katz
The one area where Katz seems to be trailing? Excitement. Brown, who died in May, may have held the job for 28 years, but Katz's decades in elected office and establishment endorsements make her campaign feel inevitable, and anything less than a resounding victory would be a disappointment. Cabán's campaign, by contrast, has a revolutionary fervor, with an army of volunteers knocking on doors and waving her purple signs.
"I'm glad she has excitement," Katz told City & State about the Cabán campaign. "Everyone should be excited. It's an important race."
But Cabán's support is all on one plane, Katz argued, a clear reference to the progressive left that both helped elect Ocasio-Cortez and benefited from her rise. By contrast, Katz argues that her campaign has broader supportacross the entire borough. "Different groups, different organizations that don't always see eye to eye on the substance," Katz said, "but know they want a level hand, a steady hand at that seat."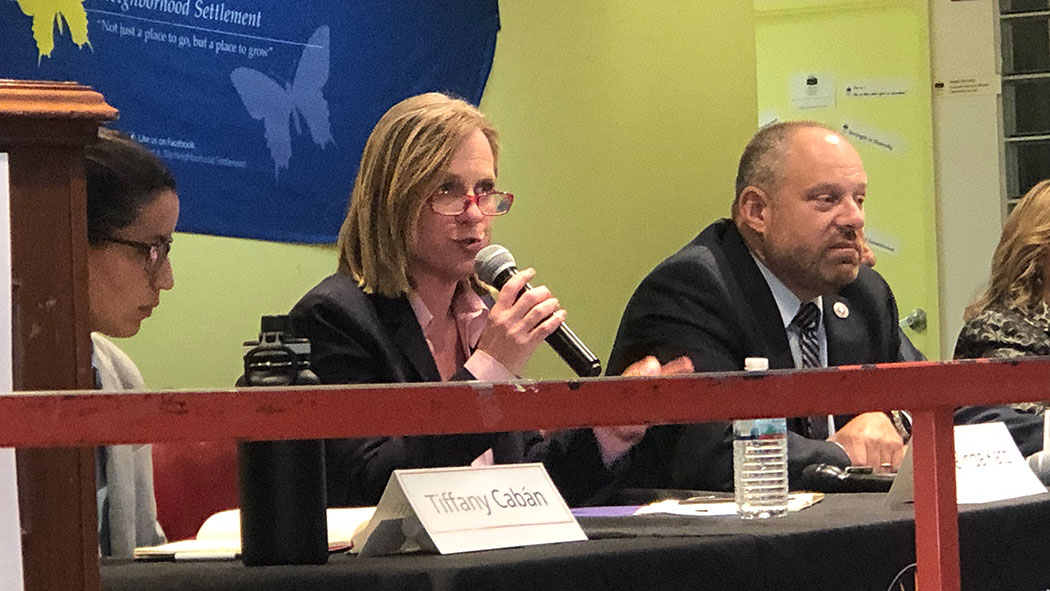 However steady Katz's hand may be, she's not measuring the drapes in the district attorney's office just yet. Katz has lost major elections before, for Congress in 1998 and New York City comptroller in 2009, and isn't taking anything for granted. The winner of the June 25 Democratic primary is all but guaranteed to win the seat in November, since Republican Daniel Kogan, an attorney in private practice, isn't expected to put up much of a fight in the deeply Democratic borough.
So Katz and a dozen other volunteers stood at the entrances to the Forest Hills–71st Avenue subway stop handing out flyers for about an hour. Katz has lived in the neighborhood her whole life – in fact she still lives in the house she grew up in – and she kept running into people she knew, both personally and professionally. One woman took a flyer from Katz and chatted briefly, asking how the campaign was going.
"My father was an orchestra conductor," Katz responded. "People would ask him, 'How was the concert?' He'd say, 'I don't know, I haven't read the reviews yet!'"
Correction: Former Manhattan District Attorney Robert Morgenthau was a U.S. attorney before being elected DA. An earlier version of this story misrepresented his prosecutorial experience.
Powered By
NEXT STORY: Will James Skoufis investigate Andrew Cuomo?