New York State
Andrew Cuomo, in his own words
Governor Andrew Cuomo has claimed to be many things over the years, such as "the government" and an "undocumented person."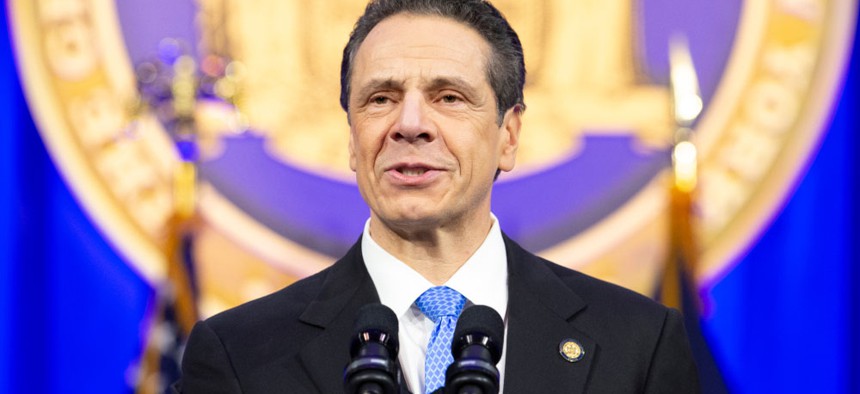 If there's one thing Gov. Andrew Cuomo loves to do, it's tell us who he thinks he is.
Most recently, Cuomo insisted that he is not only "progressive" but that he is, ahem, "the left" in New York politics, during a radio interview on WAMC. Defending his track record as a progressive, Cuomo cited raising the minimum wage to $15 per hour in New York City, legalizing same-sex marriage and new sexual harrassment legislation that recently passed. 
Suffice to say, lawmakers and civilians alike – particularly those of the democratic socialist persuasion – took to Twitter to rib the governor for making such an audacious comment.
Pleased to hear this from Comrade Cuomo. Looking forward to advocating together for leftist priorities like universal healthcare and fully funding public education without privatization https://t.co/QmbHbxvL2I

— Julia Salazar (@JuliaCarmel__) July 10, 2019
"I am the left. I am the left!" — Gov. Andrew Cuomo pic.twitter.com/FVXDbSYe4N

— Nick™ Niedzwiadek (@NickNiedz) July 9, 2019
While many found Cuomo's recent proclamation about himself amusing and inaccurate, this hardly holds a flame to similar instances of the governor identifying himself over the years. Here are a few eyebrow-raising examples of Cuomo telling us who he is:
The government
In 2011, Cuomo began boasting during a radio appearance that his high polling numbers were a reflection of New Yorker's renewed pride in the state. The governor then stated: "I am the government." 
Of course, this is not factually accurate and dismisses the entirety of the state Legislature. 
Naturally, this self-aggrandizing comment caused quite a commotion on Twitter and one City Hall News – City & State's predecessor – took the audio clip of Cuomo's comment and turned it into a downloadable ringtone as an amusing gag, the Daily News reported.
Muslim, black, gay, etc.
During a 2017 press conference that followed news of president Donald Trump's travel ban, Cuomo tried just a little too hard to show his support to groups feeling isolated by the president's ban.
"As a New Yorker I am a Muslim. As a New Yorker, I am Jewish," Cuomo said. "As a New Yorker, I am black, I am gay, I am disabled, I am a woman seeking to control her health and choices because as a New Yorker, we are one community – the New York community comprised of all of the above."
An immigrant
During a September 2017 interview with MSNBC, the New York native described himself as an immigrant, even though he was born in Queens. 
The comment came about during a discussion about providing aid to Puerto Rico in the wake of Hurricane Maria. Cuomo stated that New Yorkers wanted to lend their support to the island and were ready to help provide financial relief.
"New York is prepared to do whatever we can do to help," Cuomo said. "We believe in immigration in New York. We are a state of immigrants. I am an immigrant. I'm wholly against this anti-immigrant fever that has been stoked during the political campaign." 
The governor made a similar statement in November 2016, while delivering a speech on immigration, saying that if the newly appointed President Donald Trump wanted to deport immigrants that he should start with him. 
Trump never took him up on his offer, possibly as a sign of allegiance to his fellow "Queens boy."
An "undocumented person"
In another one of Cuomo's attempts to show solidarity with "undocumented immigrants," the governor remarked in 2018 that he is an "undocumented person" because his ancestors who came from Italy faced discrimination.
"I'm an Italian-American, I came from poor Italian-Americans who came here," Cuomo said. "You know what they called Italian-Americans back in the day? They called them wops. You know what wop stood for? Without papers. I'm undocumented. You want to deport an undocumented person, start with me, because I'm an undocumented person."
The comment solicited an agitated response from the immigrant advocacy group Make the Road Action, which released a statement calling out the Governor's claims, saying he has "no idea what it's like to (be) undocumented."
A former altar boy
In February, Cuomo wrote an op-ed for The New York Times taking aim at Trump's current stance on abortion rights and his then-recent signing of the Reproductive Health Act. 
In his editorial, Cuomo acknowledges that certain religious faiths do not believe or support abortion, citing his own Roman Catholic upbringing. "I was educated in religious schools, and I am a former altar boy," Cuomo writes, going on to say that his religious beliefs shouldn't have any hold on his "public duties."
A Queens boy
Cuomo referred to himself as a "Queens boy" during a WAMC interview in mid-June, to justify his efforts to appoint his budget director Robert Mujica – originally from Staten Island – to the MTA board despite the fact that he now lives in Columbia County and does not meet the residency requirement to join.
"He has a house in Columbia County – Robert Mujica is a New York City boy. He was from Staten Island, his family is from Staten Island and the Bronx," Cuomo said. "He spent his life commuting back and forth. I now am in Albany, but I'm a Queens boy. I know Queens and I know the MTA."
The left
Cuomo may believe he's a progressive member of "the left," as was made apparent during his radio appearance on Tuesday, but his record of not embracing actual progressives suggests otherwise, as the Daily News noted.