New York City
Defending the NYC ferry
The EDC on why it's worth it to spend so much to move so few.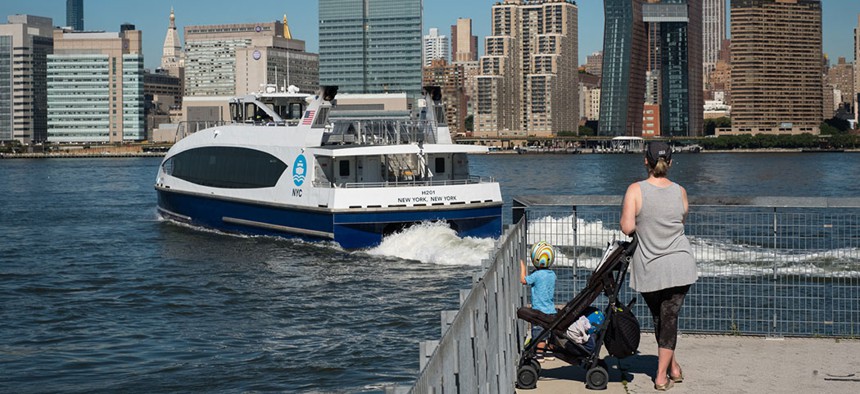 Forget crowded subways and sloth-like buses – New York City's ferry service is off and sailing, and it shows no signs of dropping anchor anytime soon. Mayor Bill de Blasio continues to fund the city's growing ferry network, totaling more than $600 million. That funding – and the rather high subsidies for ferry rides – is drawing scrutiny. City Comptroller Scott Stringer, a 2021 mayoral hopeful, has gone as far as to suggest taking away control of the ferry from the New York City Economic Development Corp.
But despite much lower ridership than the city's subways, the people leading the ferry system say ridership is hitting benchmarks ahead of schedule. Seth Myers, the New York City Economic Development Corp.'s executive vice president and director of project implementation, spoke with City & State about ridership levels, reducing taxpayer subsidies and why he sees the ferry as a complement to New York City's existing transit infrastructure.
This conversation has been edited for length and clarity.
The NYC Ferry averages about 18,000 riders per weekday. How do you justify pouring millions into expanding a transit option that serves so few compared to the city's subways?
I think it's really important to explain what our expectations were for the system. The level of ridership has been higher than we projected it to be, and we've been actually dealing with meeting the capacity at many times, with the amount of riders that we've had. We knew when we sized the amount of riders in our projections – and even with the increased ridership above our projections – we knew we would not be competing with the subway and in no way did we think that we would be solving congestion on the subway. What we aimed to be was impactful for those neighborhoods that needed a better connection and better accessibility to job opportunities, to places where they worked, connections to other family members or connections to other neighborhoods.
A recent report found that taxpayers are subsidizing the ferry for more than $10 per ride, more than 10 times the subsidy for a New York City Transit ride. What's the rationale behind that?
In terms of the subsidy, we see ourselves as a mass transit, a public transit system. And although we're on a smaller scale, our goal is to end up with a subsidy that is going to be between $7 and $8 after we launch these next routes, and over the remaining term of the contract. And that's a subsidy that's in line with what many other forms of mass transit pay per ride. They collect a fare, but Long Island Rail Road or Metro-North (are) two good benchmarks to hold ourselves against in terms of the level of subsidy we think we're going to average out to. It's a subsidized transit service. And that's not atypical for any transit service to be subsidized.
New York City Comptroller Scott Stringer recently raised concerns about continued investment and lacking data about utilization rates. Does your organization plan on making more data public?
We are delighted to be very transparent about how our system is being used and who's using it and how they're using it. We do publish a quarterly report that goes on our website. We've had our differences with the comptroller around this. I think there's seemingly a long-term disagreement between us, and that happens. But we are very proud of the ridership and the system we've set up. We think we're making decisions that are both financially prudent as well as beneficial to the riders.
Are there goals for the future? Are there data points you want to hit, riders per day a year from now, two years from now?
Yeah, we have a couple. We think we're going to end up with about an annual ridership of 11 million. That's after we expand to Throgs Neck, the West Side of Manhattan and Coney Island, as well as going to Staten Island's North Shore. The other one that's important to us is when we add that additional service and have those additional riders on our system, making sure that we are operating and collecting revenue in such a way that we come out with that subsidy target that I mentioned to you of between $7 and $8 overall for the term of the contract.
How do you see the NYC Ferry fitting into the city's larger transit infrastructure? What is the long-term vision?
The mayor has outlined his desire to have it more integrated with the larger system. We're in conversations with the MTA around having a shared fare, or some type of fare acceptance is what the planners would call it, where you can use their new OMNY device and interchange between our systems. We don't see ourselves at all on the scale of the subway or somehow filling in for the subway. During Superstorm Sandy or the recovery after that, we found we could bridge short-term gaps where the subway was down or other infrastructure transportation was down. But we see ourselves as a very small complement to the larger New York City transit system.
Correction: The official name of the city's ferry service is NYC Ferry. This story has been updated to reflect that name.
Powered By
NEXT STORY: This week's biggest Winners & Losers