Interviews & Profiles
Steve Bellone: The last of the New York centrists
What's next for the Suffolk County executive in a state where you have to pick a side?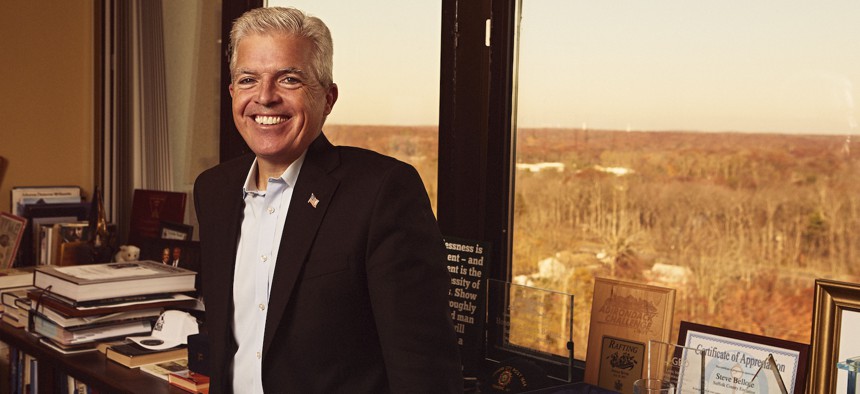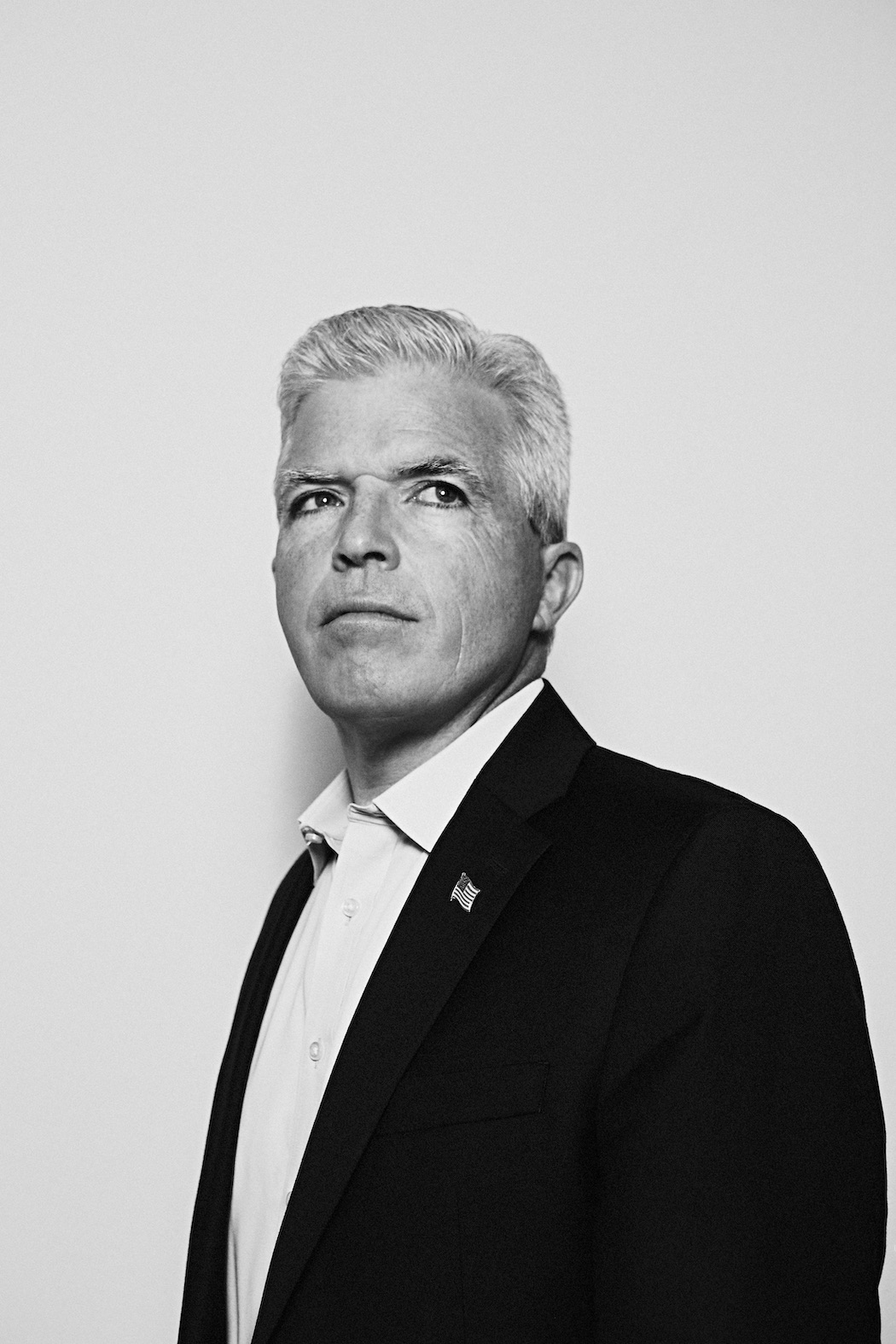 Suffolk County Executive Steve Bellone can trace his entry into politics to a childhood love of history. Behind his desk at the H. Lee Dennison Building in Hauppauge sits a framed copy of the Declaration of Independence. An inscription on the frame reads "June 7, 1979" – the day that a 9-year-old Bellone purchased the replica while on a school trip to Philadelphia. 
"A lot of my classmates were completely uninterested in what was going on," Bellone recalled of visiting Constitution Hall, the Liberty Bell and Betsy Ross' house. "And I was just blown away by it all." Although he initially considered becoming a teacher or a journalist, he decided near the end of college he would rather make history than write about it or teach it.
Bellone has come a long way since that fourth-grade field trip. He was elected a Babylon Town Council member in 1997, Babylon Town supervisor in 2001 and, in 2012, took office as executive in New York's easternmost county, on the tip of Long Island. 
For Bellone, keeping an eye on making history means keeping the other eye trained on the future. He has tried to build a legacy of long-term accomplishments that may not be immediately apparent, including rooting out corruption and reforming the workings of municipal government while making it more efficient and fair. "Most people are never going to see that, most people are never going to appreciate that, but I don't care," Bellone said during a November interview.
While there are still three years left before term limits force him to find a new job, that's a blink of an eye in the political realm. And at just 51 years old, he still has a potentially long career in politics ahead of him. But as the man in charge of the state's most populous county outside New York City, with a constituency larger than those of the governors of states such as Vermont and Rhode Island, where else can he go? 
For someone recently described as "one of the state's most powerful county executives" by the New York Post, statewide office may seem like a natural fit. But while suburban centrism has served Bellone well in a right-leaning area, it could constrain him when trying to win over the party's increasingly left-wing base in New York City and other urban areas. 
If Bellone succeeded in making the jump to higher office, he would be one of the few county executives ever to do so. As a student of history, Bellone knows that in order to defy it, he needs all the right ingredients, along with the perfect recipe.
Born in Queens on Sept. 11, 1969, Bellone was raised in the Suffolk County village of North Babylon, and he currently lives in West Babylon with his wife, Tracey, and three young children. He and Tracey met when they both worked for then-Babylon Town Supervisor Rich Schaffer. Schaffer – who has since become Suffolk County Democratic Party chair – grew up across the street from Bellone and helped to advance his career, but the two have feuded in recent years. Schaffer declined to comment for this article.
In the mid-20th century, Suffolk's farms were mostly developed into subdivisions, as mostly white families like Bellone's moved from the outer boroughs and inner-ring suburbs of neighboring Nassau County, seeking space and suburban comforts. Today, most of the year-round population lives in the suburban western half, while the North Fork and South Fork feature what's left of the farmland and small towns with the second homes of affluent New Yorkers. In all, Suffolk is the fifth-richest county in the state, and its politics lean toward fiscal conservatism, but are more liberal on issues such as education, LGBTQ rights and the environment.
Despite being raised in a Republican household, Bellone's Democratic identity came from his Irish-Catholic immigrant grandfather, a "diehard Democrat" who had pictures of John F. Kennedy in every room of his house. Before running for office, Bellone joined the Army in 1992 after college. In 1995, he began working for Schaffer, and he attended Fordham Law at night. "He really is, like, the whole package," Kevin Law, president and CEO of the Long Island Association, told City & State. "He's smart, he's good-looking and he's easy to get along with."
"He really is, like, the whole package. He's smart, he's good-looking and he's easy to get along with." – Kevin Law, president and CEO of the Long Island Association
Those attributes have helped win repeated victories in Suffolk, a purple county of just under 1.5 million people that voted for President Donald Trump in 2016 and apparently – pending the count of mail-in ballots – in 2020. Bellone won reelection to his third and final term in 2019, against Republican County Comptroller John Kennedy, with a comfortable 55.5% of the vote. 
"I think his personality tells me why he's been so successful in Suffolk County," said Westchester County Executive George Latimer. County executives, much like big-city mayors, are sometimes known for having an autocratic streak, but not Bellone. In their meetings, "he was someone who was very free and easy with his willingness to talk about things," Latimer said. 
People who know or have worked with Bellone generally described him as willing to work with people across the aisle. "I've never heard him yell, as compared to some of the lunatics that have been in that office," Desmond Ryan, a veteran lobbyist from Long Island, told City & State with a laugh. 
In an increasingly partisan time in American politics, Bellone remains a classic swing-district moderate. Like his ally Gov. Andrew Cuomo, Bellone has hired some Republican staffers. "One of the first questions I asked him was, 'Why would you want to hire a Republican chief of staff?'" said Lisa Black of when Bellone courted her to work for him. Black is now chief deputy county executive and previously worked for Cuomo and the state Senate Republican majority under former Majority Leader Joe Bruno. "And he's like, 'I don't care. If you can put on your resume that you can get shit done, I am attracted to you – no matter what party.' And that was very exciting." Black said they don't always agree, but that doesn't bother Bellone, who even hired former Suffolk County Republican comptroller Joseph Sawicki to serve as assistant deputy police commissioner for finance.
This year, Bellone worked closely with Rep. Lee Zeldin, a conservative Republican who represents much of Suffolk, to get more personal protective equipment from the federal government and to collaborate with the Trump administration to make Suffolk eligible for a Federal Reserve lending program to help with revenue shortfalls. And he has made bipartisan calls for local coronavirus relief aid with other county executives throughout the state. "He's in a position where he didn't have to do that," Republican Onondaga County Executive Ryan McMahon, who has joined with Bellone in making those calls, told City & State. "His party essentially controls Albany, so he doesn't have to do these things. He does these things because it's the right thing to do."
Unlike borough presidents, there's more to being a county executive than attending ceremonies and using a bully pulpit. Ryan, the Long Island lobbyist, described Bellone as a "hands-on, day-to-day manager," as compared to "some very absentee county executives" of the past, pointing to Bellone's plans to improve transportation infrastructure and tackle water quality and sewer problems.
"I've never heard him yell, as compared to some of the lunatics that have been in that office." – Desmond Ryan, a veteran Long Island lobbyist
When he gets involved in a project, those who know him say Bellone truly gets into the weeds. About 15 years ago, when Law was running the Long Island Power Authority and Bellone was Babylon supervisor, they were discussing a plan to bury some transmission lines. According to Law, "(Bellone) didn't sound like a town supervisor, he sounded more like a city planner because he had a great grasp of all the issues to make this project a reality." 
Bellone has made tackling such seemingly mundane issues a focus of his time in office. "Sewers are not sexy. And they are very expensive, and they are a nuisance in the neighborhoods where they are installed," Lawrence Levy, executive dean at the National Center for Suburban Studies at Hofstra University, said. "But he understands that you cannot get your arms around the extreme nitrogen pollution problem in our waterways, cannot foster serious economic development … without the wastewater treatment capacity on the way." 
For Bellone, it's about planting the seeds for a better future in Suffolk. "His work will leave a legacy of cleaner water, drinking water and coastal water, in the county," Adrienne Esposito, executive director of Citizens Campaign for the Environment, told City & State. That's part of an already-long track record of work on the environment, dating back to his time as Babylon Town supervisor – the chief executive of the town – when he began a nation-leading green homes initiative that incentivized homeowners to make energy efficiency upgrades.
If pragmatic management is his calling card, Bellone's biggest challenge has been budgetary. When he took office in the wake of the Great Recession, Bellone inherited a growing budget gap. Within Bellone's first few months in office, a panel of fiscal experts he brought together estimated that the county faced a $530 million, multiyear shortfall. Bellone made a series of tough fiscal decisions, laying off county employees – including his own wife, who was then the county's deputy parks commissioner. He also consolidated government operations and sold a county-owned nursing home. 
Bellone boasts that the county has stopped borrowing from the state to pay off pension funds for the past two years, and it has largely stopped relying on one-shot revenue raisers that contributed to poor fiscal outlooks in the past. "All the hard work we did to restructure county government, to make it more efficient, worked, and we dug ourselves out of this massive hole," Bellone said, pointing to the close of 2019, when the county closed the year with a surplus in general fund – all without piercing the state's 2% tax cap. Critics, however, say Bellone hasn't solved the fiscal imbalance, for which he blames the budget he inherited years ago, despite being in his third term. Critics are also quick to point out that the county's bond rating decreased multiple times while Bellone was in office. And for the past three years, Suffolk has been ranked by the state comptroller as the most fiscally stressed county in the state. "COVID and a downturn in the economy has exacerbated what was a very tenuous financial position," Kennedy said. "Now we're in free fall." Bellone contends the comptroller's ranking and bond ratings are lagging indicators that will improve with multiple years of surplus. 
Suffolk politicos also credit Bellone with helping to root out deep-seated corruption in county government for his role in taking down former District Attorney Thomas Spota, who was found guilty of obstructing a civil rights investigation. When allegations about the district attorney first came to light, Bellone was the first to call for his resignation over a year before the formal indictment in 2017. 
"He's like, 'I don't care. If you can put on your resume that you can get shit done, I am attracted to you – no matter what party.'" – Lisa Black, chief deputy county executive and former Republican aide
In 2015, after getting rid of the police chief who had beaten a suspect and attempted to cover it up, and whom he initially stood by when the allegations came to light in 2013, Bellone appointed one of his own aides – Tim Sini, a former federal prosecutor – as police commissioner. Sini later became district attorney, a prospect that Bellone admitted crossed his mind when he first appointed him. "Steve Bellone has taken it upon himself to try to rid the corruption," Lisa Tyson, director of the Long Island Progressive Coalition told City & State "That has really been a big part of his legacy for the county." 
And when COVID-19 arrived – Suffolk recorded its first case on March 9 – Bellone immediately began planning how the county would handle the crisis, which wound up hitting Long Island incredibly hard. He's drawn strong marks from the leader of the County Legislature, a fellow Democrat, which represents a shift from what has historically been an antagonistic relationship between the executive and the legislative body. "I think he is successful, and certainly during this last year of managing during a time of crisis and a pandemic," Suffolk County Legislature Presiding Officer Robert Calarco said, adding that Bellone constantly shared information and guidance with elected officials throughout the county that helped ensure smooth responses. "I think it is one of the reasons we really avoided any political division during a time of crisis."
Rumors of a potential run for governor are not new for Bellone, even as he continues to give diplomatic nonanswers when the prospect is raised. "I would never rule out anything at this point, but right now, I can tell you my complete focus is on what we're doing here," Bellone said when asked about statewide aspirations. 
That hasn't stopped him from getting involved in state politics. In 2018, Bellone dipped into his substantial war chest to provide financial support to the state Democratic Party and worked with state Senate Democrats in their successful effort to flip the chamber. That gained him an ally in state Sen. Michael Gianaris, the Democrats' second-ranking leader in the state Senate and a leading New York City progressive. "Other people in politics have their own agendas, even if they're helping," Gianaris said. "Steve Bellone is always asking us how he can be most helpful." 
Yet another straight white man might be unappealing to Democrats eager to elect the state's first woman governor or its second governor of color after former Gov. David Paterson. As New York City Comptroller and mayoral aspirant Scott Stringer has shown, one way to mitigate that is to promote and support women and candidates of color, and state Senate Majority Leader Andrea Stewart-Cousins praised Bellone's "advocacy for women's rights and for electing more diverse candidates to the state Senate" in a statement to City & State. A spokesperson said Bellone will make endorsements in the 2021 New York City elections, but couldn't say who he'll back. 
Bellone is also close to Gov. Andrew Cuomo, with whom Gianaris and other progressive lawmakers have clashed. Cuomo appointed Bellone to the Medicaid Redesign Team II at the beginning of the year, and the county executive has made it a point to be publicly supportive of the governor. 
The ingredients for a future governor seem to be there: a strong track record and allies across the political spectrum all over the state. "Steve is a very appealing candidate," Democratic political consultant Doug Forand said. "He has won in a purple to red-leaning county, repeatedly held down his position there, is a proven fundraiser, and so I think he would be able to pick up broader support from the suburbs and upstate."
That he is a white moderate man from the suburbs who has opposed raising taxes and has ties to police unions could make it hard for him to win a Democratic primary. 
But history is not on his side. "They call it the county executive curse," said Esposito. No Suffolk County executive has ever gone on to higher office, and it's rare for any county executive in any part of the state to do so. "The county executive's office being a jumping off point for someplace else, it's right up there with the mayor of the city of New York," Ryan joked.
That he is a white moderate man from the suburbs who has opposed raising taxes and has ties to police unions could make it hard for him to win a Democratic primary against a progressive candidate of color from New York City, such as state Attorney General Letitia James or New York City Public Advocate Jumaane Williams. "The reality is that as much as the suburbs have grown as Democratic power bases, they are overwhelmed by urban Democrats," Levy said, acknowledging that Bellone is still a strong vote-getter who could have broad appeal. 
Of course, this all presupposes that the governor's office opens up any time soon, and if an upcoming December fundraiser is any indication, Cuomo does not plan to go anywhere. Likewise, there is no reason to think James or state Comptroller Thomas DiNapoli aren't running for reelection. Some observers speculate that, with his proven appeal to voters on Long Island, Bellone could run for Congress, but he has poured cold water on the idea. "Obviously, I could have run this year," Bellone said. "And while I've learned never to say never in life, I'm more of an executive than a legislator."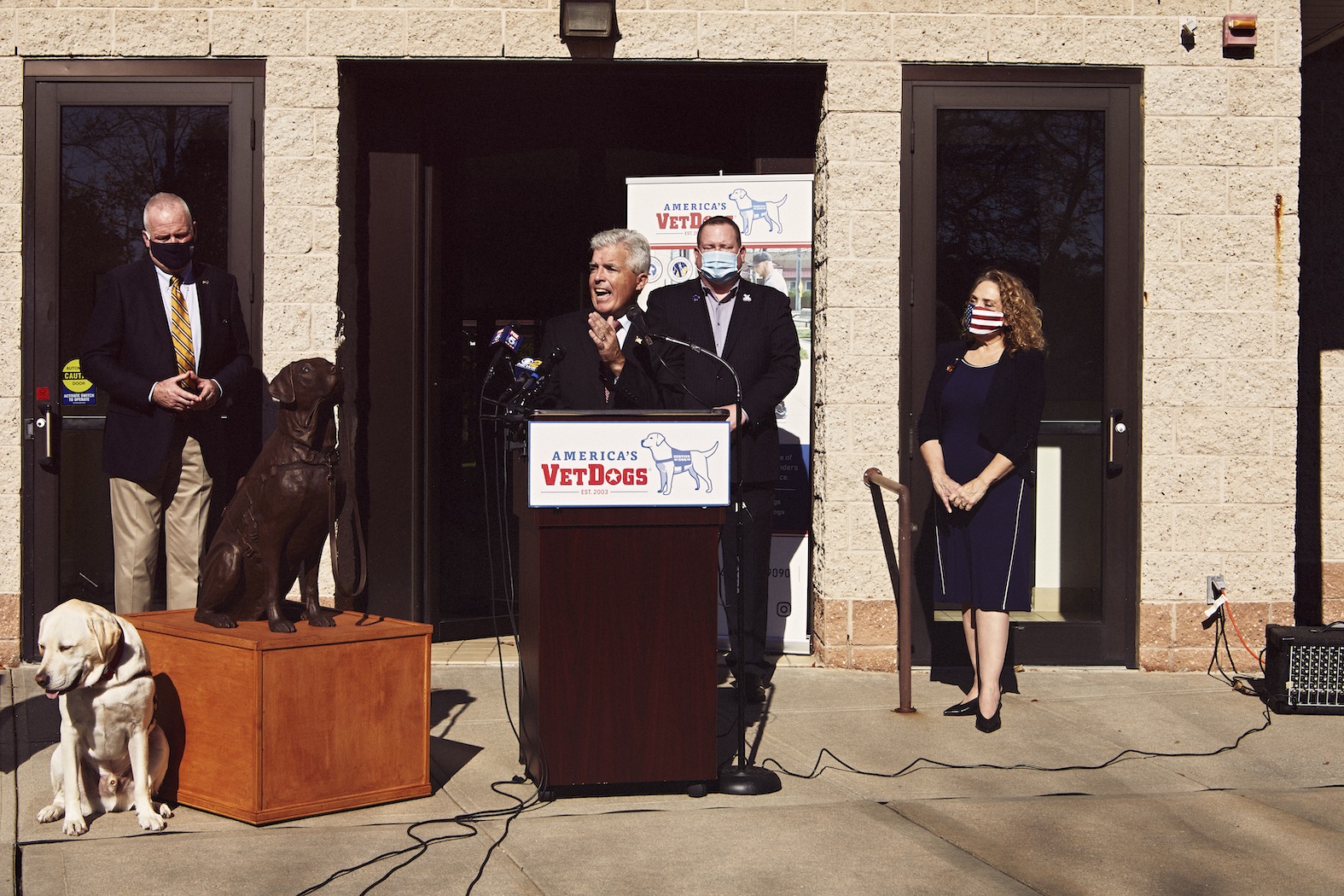 Democrats are currently debating their party's ideological direction, and Forand said that Bellone's actions in the next year may determine his ability to appeal to the left. Like other jurisdictions across the state, Suffolk is dealing with the budgetary impacts of COVID-19 and reckoning with police brutality and systemic racism. 
Bellone has already received criticism from the left on how he has handled police reform, an issue he ran on in 2011, and his response to Black Lives Matter protests, which may haunt him in future runs. Among Bellone's staunchest and most generous supporters in all his races for county executive have been Suffolk's police unions. In Bellone's first year in office, he negotiated a police contract criticized by some legislators as being too expensive, though he said it will result in long-term savings. Even after some friction in 2018over, among other things, proposed spending cuts, the Suffolk County Police Benevolent Association spent more than $800,000 in super PAC funds to help Bellone stay in office in 2019. The same super PAC opposed state Senate Democrats from Long Island this year, as police unions across the state banded together to support Republicans. Taking police union campaign contributions and seeking their support is becoming increasingly toxic to progressive Democrats, as unions have often opposed reforms intended to increase transparency and accountability for police brutality. 
In the wake of protests against police brutality earlier this year, Bellone appeared on Fox News and came out against the "defund the police" movement, saying that it "doesn't make sense." Jackie Burbridge, co-founder of LI United to Transform Policing & Community Safety, said she found the rhetoric he used discouraging. "The way that he tamped down on conversations around defunding the police, as opposed to moving past the word 'defunding,' and actually looking into what that means," Burbridge told City & State. "We haven't seen that level of willingness to engage in those conversations as he has been willing to engage in conversations on Fox News about pro-police work or what have you." She gave credit to Bellone for his work implementing bias training and diversifying the police, but she said more transformative approaches are needed to change police culture and improve public safety. "It's been a little bit difficult for us to see that he has presented himself as a willing partner in that to this point," Burbridge said.
Over the summer, Bellone was pressured by criminal justice reform advocates, who said he did not proactively address the issue. More recently, he created a state-mandated panel to examine policing, pursuant to a June executive order from the governor after activists accused him of dragging his feet. "I'm not sure that that task force would have happened if it hadn't been for Gov. Cuomo's executive order," Burbridge said. "It didn't come out of his office very quickly, so it didn't seem like something that they were very much in a rush to do."
Bellone defended his task force, which includes police representatives and reform advocates and is currently holding listening sessions to get public input. "We have the most comprehensive, in-depth, community-based process anywhere in the state of New York," Bellone said of the task force he created. He has also touted reform-minded police leadership he has put in place long before the summer's protests, like Risco Mention-Lewis, the county's first Black deputy police commissioner, who he said is an expert on community-based intervention. 
But Tyson, director of the Long Island Progressive Coalition, said that's not actually changing the experience of policing for residents. "We haven't seen differences," Tyson said. She said police data continues to reflect racially inequitable policing. "The numbers that are coming up are showing that the same problems that persisted for decades are still happening on Long Island."
Mostly white and incredibly segregated, Suffolk, and Long Island as a whole, has a long history of racism. Just last year, Newsday revealed that local real estate agents still frequently help maintain segregation by steering prospective home buyers to certain towns based on race. As Suffolk's Latino population grew, Bellone's predecessor Steve Levy took hardline anti-immigrant positions. In 2009, a Southern Poverty Law Center study found "Latino immigrants in Suffolk County, N.Y., are routinely the target of violent attacks, harassment and abuse driven by a virulent anti-immigrant climate that has been fostered by community leaders and law enforcement practices." 
"New York state is very progressive when it comes to the police. Steve has not matched this moment." – Lisa Tyson, director of the Long Island Progressive Coalition
While the prevalence of hate crimes on Long Island has decreased, the underlying tensions remain. Suffolk went for Trump by eight points in 2016, after favoring then-President Barack Obama by four points in 2012, which observers ascribe to Trump's anti-immigration "law and order" message.
A recent analysis from Newsday found that Suffolk police pulled over and searched Black and Hispanic drivers at much higher rates than white drivers. Suffolk was required to collect the data under a 2014 consent decree, after the county settled a federal lawsuit over inequitable policing of the Hispanic community. Because of that settlement, the county improved its hate crime investigations, introduced language access and implemented new community policing initiatives, which Bellone included among his successes. But one person who has worked with Bellone on the issue and asked for anonymity to speak frankly said that he should have acted in recent years to address the disparity in enforcement. "The intent was to have no bias in policing," the person said. "But the reality is you have to do more than to collect the data in order to ensure that there was in fact no bias." Bellone's administration released its own analysis of one year of data a day after the Newsday report. "These disparities are unacceptable to me," Bellone said at the time. "They're unacceptable to the police department." Deputy County Executive Jason Elan added that data collection did not truly begin until 2017 and said the progress on analyzing that data was delayed by the pandemic, noting that the county has voluntarily made the raw data public.
Tyson said that Bellone's actions do not align with what he may be saying on the issue, and she said that has destroyed his ability to win statewide. "New York state is very progressive when it comes to the police, when it comes to how we talk about relationships in the community," Tyson said. "Steve has not matched this moment." 
Bellone broadly defended his track record on police reform, saying that he has been tackling the problem of inequitable policing since he took office, and referenced his 2015 victory in successfully opposing the construction of a new state-mandated jail amid decreasing crime rates. "We have been focused on making the police department more representative of the community that it serves," Bellone said. "We have been implementing systemic reform by the way working with the police department, to get better and improve how we operate and how we work in diverse communities, and that process is ongoing." 
Whatever the challenges Bellone might face in pursuing statewide office, Long Island observers expect him to remain in politics after this term ends. "I don't anticipate him looking to retire on the front porch anytime soon," Esposito said. Some suggested he could quietly enter the private sector, where he could make good money to support his three young kids before another potential run for office. Both Law and Ryan agreed that he could have a place as a local appointment in the administration of President-elect Joe Biden, such as a regional administrator in the Small Business Administration or Department of Housing and Urban Development. But Bellone has never been one to shy away from a challenge and or listen to naysayers. He recalled his first run for elected office in 1997, for Babylon Town Council. He decided to run in the wake of the indictments of five colleagues who also worked Schaffer's administration in Babylon.
Bellone considered those indictments a politically motivated attack by the then-Republican district attorney. People around him told him it was not the best time to run, and they advised him to wait. "I've never been good at taking that kind of advice, the kind of advice where it says 'Oh play it safe, this is not in your personal interest,'" Bellone said. "If it's a right thing to do, and you can conceive a pathway to getting it done, then you need to do it."
Although Bellone was speaking about his governing style at the time, the comparison to his first election is an apt one for a potential statewide run for office. It might not be in his best interest to run as a moderate in a statewide Democratic primary, but the pathway is conceivable. If he truly wants a way to continue his work beyond Babylon and Suffolk County, then there's no reason to think that he would start heeding the advice of naysayers now.
Powered By
NEXT STORY: This week's biggest Winners & Losers