New York State
Can disgraced politicians get back in the game?
Scandals may oust incumbents, but they don't always end careers.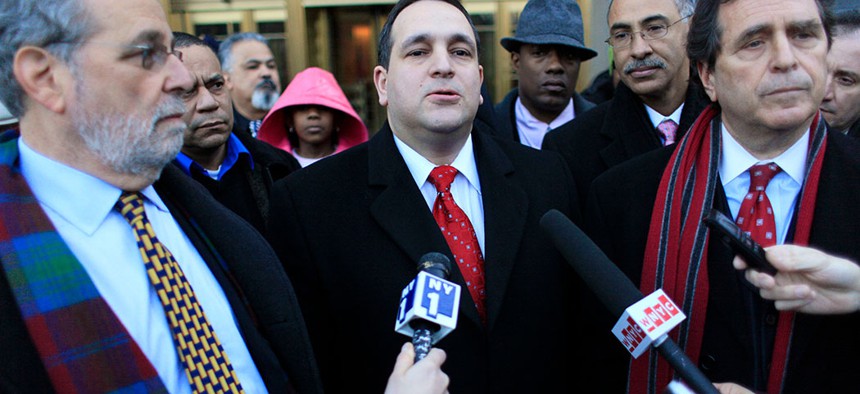 Disgraced former state Sen. Hiram Monserrate has filed to make another run for the New York City Council. While it might seem far-fetched that Monserrate could win – considering his past stint in federal prison and history of domestic abuse – he would hardly be a historical anomaly in the Empire State. 
Conventional wisdom dictates that taking bribes, frequenting prostitutes or shooting someone in broad daylight are good ways to end a political career. But in New York, a number of politicians forced out of office in the wake of a scandal have tried to get back in the game. Some run right away to avoid fading into obscurity, while others lie low to let things quiet down – or to serve out a prison sentence – before seeking office once again. These comeback candidates hold out hope that voters will give them a second chance – and every now and again, they do. 
Here are the New York politicos who have reentered politics despite their past crimes or indiscretions.
Mario Biaggi 
After rising in the Democratic ranks in the House of Representatives, the longtime Bronx congressman caught the eye of a young federal prosecutor named Rudy Giuliani. Two trials later, Biaggi was out of office and in prison. He fell short trying to win back his seat after his release, but his granddaughter, state Sen. Alessandra Biaggi, is busy rehabilitating the family name. 
Michael Grimm 
The hot-headed former Republican congressman and convicted tax cheat fell short trying to win back his Staten Island-based House seat in 2018. A comeback did not materialize in 2020, but you never know what the future holds in a district where Republicans seem incapable of staying away from controversy.
Micah Kellner 
The alleged serial sexual harasser ran successfully to become a Democratic district leader in 2014 after announcing he would not seek reelection to the Assembly. His (sort of) comeback was short lived, because he lost that post in a primary two years later.
Vito Lopez 
The longtime assemblyman and serial sexual harasser cost taxpayers more than $680,000 in legal settlements. Months after resigning from the state Legislature in disgrace in 2013, the ex-Brooklyn Democratic boss lost a New York City Council primary race to Antonio Reynoso. 
Hiram Monserrate 
It took him five stabs at various positions, but the former Queens lawmaker won an election as a Democratic district leader in 2018, despite his past raps for slashing a girlfriend, mail fraud and conspiracy. After losing a primary campaign for the state Assembly last year, Monserrate is now looking to take the City Council seat of longtime political rival Francisco Moya in the upcoming 2021 election. 
Eliot Spitzer 
It seems quaint in the Age of Trump that a politician would resign over an old-fashioned prostitution scandal. But that's what happened to Gov. Eliot Spitzer over a decade ago. He lost his 2013 comeback bid for city comptroller, but his appearances as a TV talking head suggest he isn't leaving the public eye anytime soon. 
Daniel Edgar Sickles
Back in 1853, the state Assembly censured Daniel Edgar Sickles for bringing one of New York City's most renowned prostitutes into the legislative chamber. He later shot and killed his wife's lover – the son of Francis Scott Key – as a sitting congressman in 1859. He avoided murder charges and retained his seat by becoming the first criminal defendant in U.S. history to declare temporary insanity. The Tammany lackey then secured plenty of political positions after a less-than-honorable performance as a Civil War general – before capping off his comeback by getting elected to Congress again in 1892!
William Sulzer
In 1913, Sulzer became the first New York governor to be impeached and removed from office. He got elected to the state Assembly a few weeks later and then exacted revenge on his Tammany tormentors by running for governor the following year as the candidate for the Prohibition Party – and throwing the election to Republican Charles Whitman.
Anthony Weiner 
Various sexting scandals cost the former Queens lawmaker you may know as Carlos Danger a seat in Congress, and a good chance at becoming mayor. Now a registered sex offender, you could call Weiner the ultimate political longshot.
Powered By
NEXT STORY: Michael Cohen: Trump 'dizzy with delight' over Capitol riot