New York State
Rachel May, a different kind of upstate Democrat
The IDC-slaying state senator is showing that you don't have to be a moderate to win.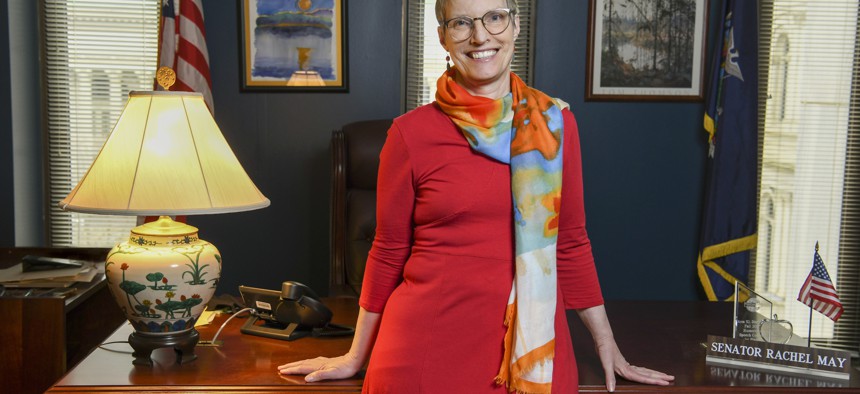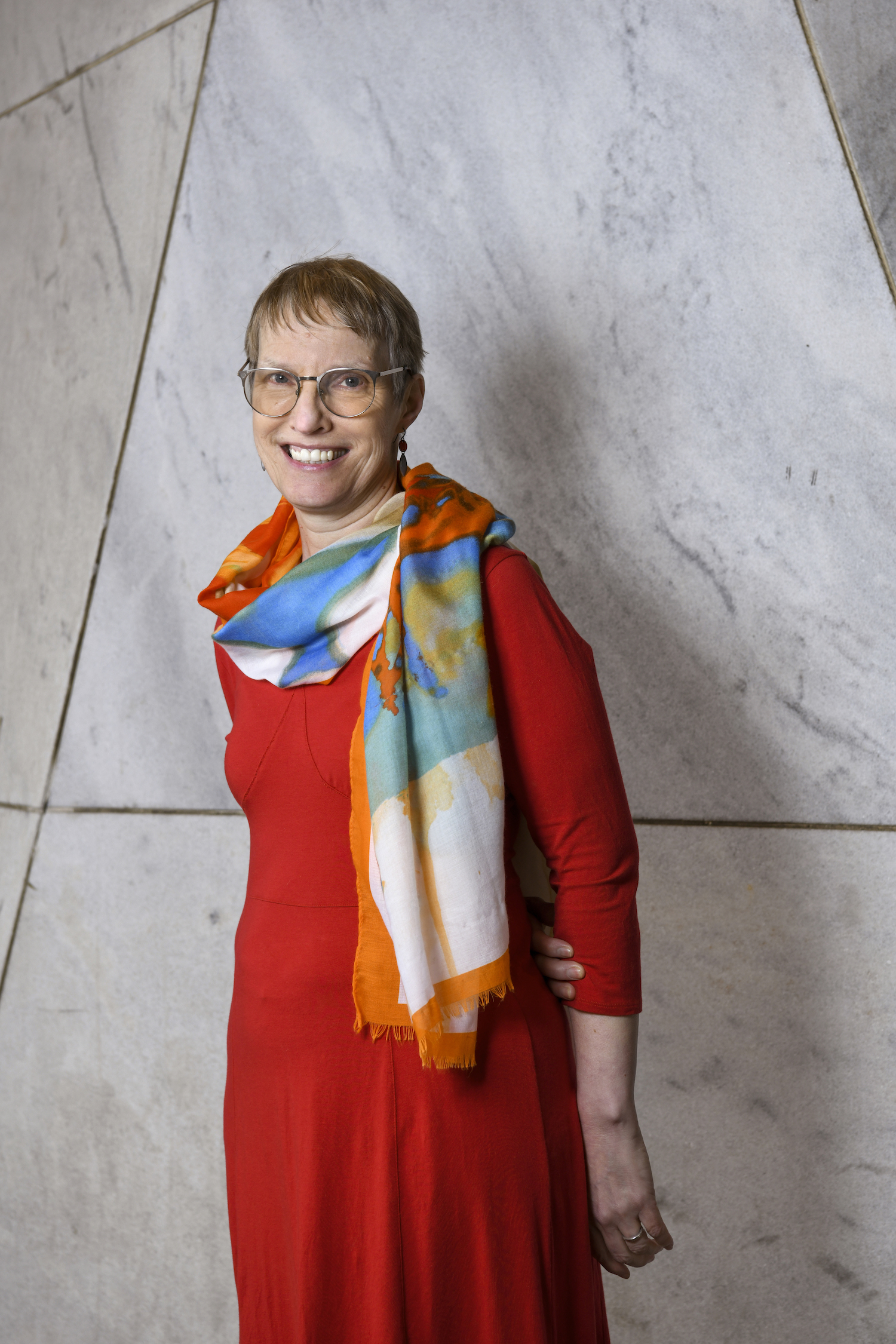 State Sen. Rachel May never planned to run for office, and when she finally did, she didn't expect to win. The Syracuse resident spent her entire career in higher education, while dabbling in progressive political activism. But she decided to challenge seven-term incumbent state Sen. David Valesky in 2018 because he belonged to the Independent Democratic Conference, a group of Democrats that caucused with Republicans. Despite a deal that reunified the IDC with the mainline Democrats in April 2018, May was one of six successful challengers to the eight ex-IDC members and the only victorious one outside New York City. 
Three years later, she is leading the state Legislature's efforts to deal with the impact of COVID-19 in nursing homes. As chair of the Committee on Aging, she co-led hearings into the state's policies that may have driven outbreaks in long-term care facilities, and she helped spearhead a major nursing home reform package passed by the state Senate in February.
She's also been one of the major voices responding to revelations that Gov. Andrew Cuomo's administration obscured the extent of COVID-19-related deaths in nursing homes. Since then, amid a bevy of other scandals, including sexual harassment allegations, May has called on Cuomo to resign.
May believes her leadership represents a shift for upstate New York. Upstate Democrats no longer need to run to the right to win elections and deliver for their districts – both the rural and urban parts. Before her 2018 victory, there were only two other upstate Democratic state senators aside from Valesky: state Sens. Timothy Kennedy and Neil Breslin. Last year, five upstate Democrats were newly elected to the state Senate, bringing the total of upstate Senate Democrats to eight and helping to deliver a supermajority for the party in the upper chamber.
"I think there's a misperception that when Democrats are living in an area that's surrounded by a lot of Republican-controlled areas … Democrats in those areas are more likely to turn conservative," May said. It's the opposite, she said: Democrats get feisty.
Of course, May's biography isn't typical of a feisty politician. With a master's degree from Oxford and a Ph.D. from Stanford, she began her career in academia, working as a professor of Russian language and literature at Stony Brook University on Long Island and Macalester College in Minnesota.
But she pivoted to learning more about ecology and sustainability after moving to Syracuse in 2001. She went on to become the director of sustainability education at Syracuse University, leading initiatives to incorporate sustainability into courses throughout the university.
Although she had never run for office before 2018, she was no stranger to politics and government. When she was growing up in Belmont, Massachusetts, her father was a historian and her mother was an aide to a state representative in Massachusetts. She spent one summer when she was 12 or 13 helping her grandfather, a civil rights activist, prepare materials for a case about desegregating the Los Angeles city school district. "That was radicalizing for me," she said. "I started to understand a lot more about racial discrimination in our country but also about the legal and political and social activism dimensions of how you could make change or not make change."
She spent years volunteering on various Democratic political campaigns, which she continued doing in Central New York, including for former Democratic Rep. Dan Maffei. May joined local progressive activist groups created in response to former President Donald Trump's election in 2016, such as the CNY Solidarity Coalition and Uplift Syracuse. 
May and other progressive activists began to direct their energy toward unseating the IDC and Valesky in 2017. She was among the constituents who gathered outside Valesky's Syracuse office in May of that year to hold a faux funeral for legislation on single-payer health care and voting reform that failed to pass. "We think it's just wrong that Republicans are calling the shots in the Senate," May said then to WRVO, a local NPR affiliate.
"I'm really a pretty shy and introverted person. The prospect of actually having to go to big political events and things was terrifying to me, but I'm getting used to it." – state Sen. Rachel May
Maurice Brown, a founding member of Uplift Syracuse, said much of that year was spent trying to pressure Valesky into supporting the implementation of early voting in New York. After they failed to sway him into backing the legislation, they focused on having a candidate take him on in the primary. "We spoke about it as a group," Brown said. "And it made the most sense that Rachel should have been the candidate because she's so qualified in so many ways." 
But May and others also looked for other possible candidates to recruit, as she dealt with some initial hesitancy running for office. She never considered herself a natural politician. "I'm really a pretty shy and introverted person, and I can't remember people's names to save my life," she said. "The prospect of actually having to go to big political events and things was terrifying to me, but I'm getting used to it."
At the start of 2018, May decided to jump into the race. But she had no expectation initially that she would win against Valesky, running mostly to pressure him to shift leftward. "Quite frankly, the idea that anybody could actually beat David Valesky was, let's just say it was not in the cards," said Ken Warner, the former upstate regional political director for the Working Families Party, which endorsed May. "But part of the idea was to scare the crap out of people and to let them know that there were people out there who didn't agree with their politics."
Although the 53rd District is largely Democratic, conventional wisdom held that its voters tended to skew more moderate. Valesky's predecessor Nancy Larraine Hoffmann, for example, was a Democrat-turned-Republican who adopted both conservative and liberal positions. Valesky pitched himself as a moderate whose membership in the IDC helped him cut bipartisan deals and ensure that upstate wasn't forgotten by the state Senate leadership, as some upstaters feared it would be under Democratic control.
What makes the district distinct is its wide geographic and demographic diversity: It spans across most of Syracuse, the state's fifth largest city, its suburbs and all of rural Madison County. Constituents include farmers and liberal professors at the many colleges scattered across the district. Syracuse alone has three state universities and two private universities, while Colgate University and SUNY Morrisville reside beyond the city limits.
It's also an area that has historically struggled with poverty and significant population loss, though that has slowed in recent years. Syracuse ranks among the cities with highest poverty rates in the nation, with 30.5% of its population living below the poverty line, disproportionately affecting its Black and Latino residents. "There are appealing things about the progressive agenda that May and others have that speaks to the economic struggles of places in the city of Syracuse," said Shana Kushner Gadarian, a political science professor at Syracuse University. "That may be less appealing to people, say in the far suburbs, north of the city."
The Rust Belt city remains the core of the Democratic base for the district. More than 78% of the district's active Democratic voters come from Onondaga County, where the city is located. The blue lean is out of sync with Central New York at large, in which more rural districts are represented by Republicans. Onondaga County's legislature is Republican-led, and congressional Republicans in the area have largely survived strong Democratic challenges. Republican Rep. John Katko, who represents Syracuse, fended off Democrat Dana Balter, who has been an organizer with CNY Solidarity Coalition and taught at Syracuse University, in the past two elections. In the adjoining district, Democratic Rep. Anthony Brindisi lost his seat to his Republican predecessor, Rep. Claudia Tenney, this past year.
Syracuse was bound to be the key to victory for May. "I started looking at the primary voters in that district," Warner said. "And the more I looked at them, the more I realized that of the approximately 11,000 people who could be counted on to vote, 9,000 of them lived within three miles of Rachel's house, because they're all in the city of Syracuse." Valesky, on the other hand, lived in Oneida County.
May also benefited by having access to statewide progressive groups backing the wave of anti-IDC candidates downstate. She went down to New York City to get guidance on campaigning from No IDC NY in addition to other support from the Working Families Party. May even joined Toastmasters, a club that helps participants improve their public speaking, to prepare for the campaign trail.
Still, Valesky was a 14-year incumbent who had delivered on bringing back pork for the district. And the cash advantage he had was stark. As of August 2018, one month before the primary, he had about 10 times that amount of cash on hand that May did. 
Despite Valesky's alliance with Republicans, local Democratic officials backed him with one exception: the Oneida County Democratic Committee. Just two towns in Oneida County are located in the 53rd District. That quirk meant that about 20 Democrats in the town of Kirkland, largely frustrated by the IDC, could swing the county's endorsement to May. 
But the county party faced blowback from virtually all the other local power players. "I fielded calls from the executive director of the state (Democratic) Committee, from the chair of the state committee, from my fellow county chairs and the other counties in the district, from a couple of union people," said Bill Thickstun, a Kirkland resident and the chair of the Oneida County Democratic Committee at the time. "So a fair number of calls questioning our decisions."
Jen DeWeerth, member of the Kirkland Democratic Committee and Indivisible Mohawk Valley, said the pressure to not endorse May felt daunting, as some callers threatened to put out negative statements about the Kirkland Democrats and said backing May would displease Cuomo. "The punishments seemed enormous for, you know, a bunch of people in a small town in upstate New York to face."
Ultimately, May rode into office on the progressive wave that defined 2018, with 51.8% of the vote to Valesky's 48.2%. And she joined five other Democrats, all from downstate, in successfully toppling former IDC members that year, ushering in a "blue wave" across New York.
As a representative, May is now responsible for balancing the competing ideologies and perspectives in the district. She made her case as a candidate to push for progressive legislation typically associated with downstate Democrats, while also representing parts of rural Central New York. 
"I think there was some initial reluctance among some moderate Democrats when Sen. May took office," said Luke Perry, a political science professor at Utica College. "Coming from the Syracuse progressive contingent was less appealing to these moderate rural Democrats, again predominantly male."
But May has tried to strike that balance by taking on legislation focused on rural issues as chair of the Legislative Commission on Rural Resources. She led a hearing in 2019 on rural broadband access and passed a bill through the state Legislature – that was later vetoed by the governor – to direct the state to study the possibility of implementing a municipal broadband program in New York.
"Once I was elected, I spent enormous energy and whatever political capital I had on making sure that my downstate colleagues understood what were the issues up here," May said.
For example, May invited state Sen. Jessica Ramos, a Queens resident who had also defeated an ex-IDC member, to visit farms and hold hearings in May's district related to Ramos' legislation that gave farmworkers collective bargaining rights and overtime pay. 
 "I honestly think that Rachel May's election opened the door to a brand-new conversation about revitalizing urban areas across New York state." – state Sen. Jessica Ramos
May has also made an effort to bring renewed focus to the concerns of upstate cities, having suggested that the state Senate create a new committee focused on cities other than New York City. That committee, chaired by first-term Democratic state Sen. Jeremy Cooney of Rochester, was created this year. "I honestly think that Rachel May's election opened the door to a brand-new conversation about revitalizing urban areas across New York state," Ramos said.
"I know there's a bit of divide, and I know people in rural areas think that cities are somehow the enemy," May said. "But these cities are magnets for refugees, they're magnets for young people to come and live here and if we're going to get our population back, it's going to start in the cities."
May's Republican opponent last year, Sam Rodgers, has argued that her progressive politics don't serve the diverse ideological interests of the 53rd District. "I think the district would benefit from a moderate thinker, someone who's willing to come to the table without their mind made up, sit and listen and communicate and ask the right questions and really represent that whole spectrum," he told City & State. For him, that means being willing to break with party leadership to ensure downstate Democrats aren't setting the agenda.
The greatest political challenge May has faced so far during her tenure began with the COVID-19 pandemic. As the coronavirus spread rapidly across New York last spring, it was immediately clear that older adults in long-term care facilities were at the greatest risk of hospitalization and death. By June, data showed that deaths in nursing homes accounted for one-third of all coronavirus-related deaths nationwide. The issue, naturally, became a central one for May as the chair of the Senate's Committee on Aging.
Cuomo's approach to stymying the spread of COVID-19 in nursing homes drew scrutiny immediately. Faced with limited hospital beds, as New York became an epicenter for COVID-19, the state issued an advisory in March directing nursing homes to accept patients who had or were suspected of having COVID-19 if they were medically stable. Nursing homes were also prohibited from requiring those patients to be tested for the coronavirus before arriving. The state eventually ended the order, after criticism that the policy may have worsened the spread of COVID-19 in nursing homes.
While experts have called the directive ill-advised, they also say that it wasn't the most significant or sole driver of COVID-19 deaths in long-term care facilities. But Cuomo hardly did himself any favors by signing off on a state budget in April 2020 that granted new immunity protections for nursing homes or by obscuring the number of COVID-19 deaths in nursing homes for months, as the state excluded the deaths of nursing home residents in hospitals from the official tally.
Rodgers soon made nursing homes a major focus of his campaign against May. "I'm running against the chair of the Aging Committee," said Rodgers, about his perspective at the time, "and she's not saying anything to the governor or to her party, that I can see, to make a difference in what's going on with COVID-19 in nursing homes." 
May did sign a letter last June calling on the governor to provide more transparent data about COVID-19 deaths in nursing homes and to take on more reforms. But more of her energy has been focused on legislative approaches to addressing the health crisis in nursing homes than Cuomo's stonewalling. "From my perspective as a policymaker, the numbers were important for accountability," May said. "But they weren't that important for policy, and I was really focused on the policy."
She introduced a bevy of bills focused on nursing homes and long-term care, including one signed into lawthis month to allow designated caregivers to visit their loved ones in nursing homes. In an August hearing where several legislators grilled state Health Commissioner Howard Zucker for the missing data, May asked about how the state would address low staffing levels in nursing homes and protections for workers in those facilities.
The state finally released the data earlier this year after a damning report from state Attorney General Letitia James suggesting a significant number of deaths were omitted from official tallies and a successful lawsuit from a conservative think tank mandated the release of the numbers. The state ultimately added about 3,800 deaths to its total, increasing the official number by more than 40%.
But the scandal really began to heat up after a Feb. 10, 2021 private meeting between Cuomo officials and several state lawmakers – including May – in which Secretary to the Governor Melissa DeRosa admitted that the main reason the administration held off on giving them a full accounting was a fear that then-President Donald Trump would have used it as fuel for a federal investigation.
There is one thing that could help cement the Democratic upstate caucus: redistricting.
In the meeting, May reacted with frustration about the lack of transparency, according to a transcript later released by the governor's office. "We were in difficult reelection campaigns and getting hammered about this every single day," she said. "The issue for me, the biggest issue of all, is feeling like I needed to defend, or at least not attack, an administration that was appearing to be covering something up. In a pandemic when you want the public to trust the public health officials and there is (a) clear feeling that they're not being forthcoming with you, that is really hard."
For her former Republican opponent, her statements on the call validated his concerns that she withheld stronger criticisms about the governor until it became more politically expedient after the release of the attorney general's report. "In the meeting with Melissa DeRosa, it seemed pretty clear that there's a political aspect to it," Rodgers said.
May said her comments were more out of concern that more aggressive criticism would've hurt trust in the state's health mandates during the pandemic. "I didn't want to be using my whole campaign to tear them down," she said. "I wanted people to continue to listen to the guidance that was coming from the state Health Department. And so it was really hard. If you're a legislator, you are trying to be responsible, you are trying to stay calm and not go overboard about criticizing the people who we needed to be able to trust."
(Although May's reelection fight was tougher than many faced by Democrats in safe New York City seats, she won with 54.8% of the vote to Rodgers' 44.2%.)
State Sen. James Skoufis, who co-led hearings on nursing homes with May, said her comment reflected an understandable exasperation. "She, as a very thoughtful legislator, wants to legislate and not deal with being asked about things out of her control every other day and every which way." He added that Democrats in that meeting and elsewhere have asked tough questions about the state's handling of COVID-19 in nursing homes.
What cemented May's frustration was the revelation that top aides in Cuomo's administration scrubbed the complete count of nursing home deaths from a state report released in July 2020, according to reporting from The New York Times on March 4. The day after the article's publication, she declared that, if true, everyone involved in the cover-up, including the governor, should resign.
"That's, for me, even more damning in a way that it shows something," May said. "A level of disrespect of the process and of the public and of the Legislature was even greater than we thought it was."
May's argument that her victory represents a blue shift for upstate is still difficult to discern. The two election cycles that put her and several other upstate Democrats in elected office overlapped with elections that saw heightened Democratic turnout against an unpopular Republican president. Whether that leftward pivot continues afterward remains to be seen.
But there is one area that could help cement the Democratic upstate caucus: redistricting. 
"I think it's likely that the Democrats who are in charge of this process … are going to draw more districts like May's district, and fewer districts that have big pieces of rural areas mixed in with urban areas," said Gadarian, of Syracuse University.
Whether or not upstate moves toward the Democrats, May is determined to prove to upstate that Democrats are moving toward it, and prioritizing its needs. 
For a self-described shy legislator, May feels like she has found her voice. "When you start really focusing on other people in there, the issues that they have and figuring out the solutions," she said, "then a lot of the self-doubt kind of falls away."
Powered By
NEXT STORY: The legal issues around fighting COVID-19