Labor leaders back 'multi-year' extension of de Blasio's mayoral control of schools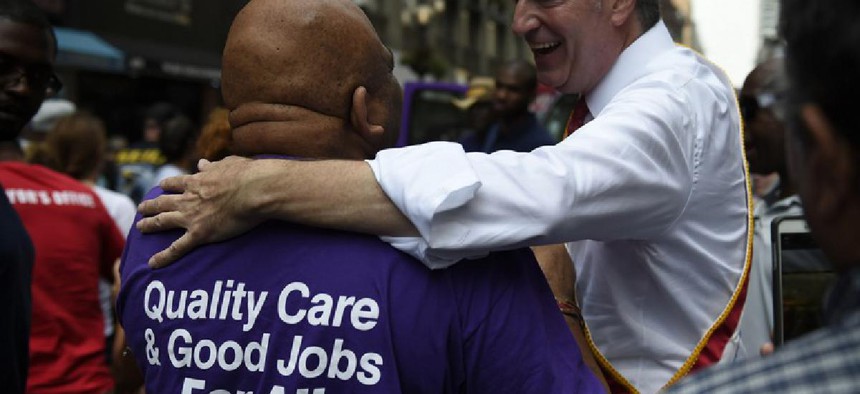 A dozen labor leaders have written to Gov. Andrew Cuomo and the leadership of the state Legislature calling for the passage of "a multi-year extension" of mayoral control of the New York City school system. 
Among the signatories are George Gresham, president of 1199 SEIU, and Peter Ward, president of the Hotel and Motel Trades Council.
In the letter, dated June 6, the union leaders praise Mayor Bill de Blasio's education agenda for preparing "the next generation of workers" and cite historically high graduation rates and numbers of students taking AP classes, high English state test scores, low crime rates in schools and the city's Community Schools initiative. 
RELATED: Mayoral control standoff tops post-budget aducation agenda
"Creating a major initiative like Pre-K for All and seeing it through so that 70,000 four-year-olds are now in full-day, high-quality Pre-K is an achievement that simply would not be possible without a Mayor in full possession of all the resources of City government," the letter states. "An effective public education system that features opportunities in the sciences, technology, engineering, arts and mathematics will give young people the skills necessary to be successful in the future and benefit all those who live in the community. With streamlined decision-making, improved transparency, and a commitment to making families and communities essential partners, our schools are moving forward."
The other signatories of the mayoral control letter include Stuart Appelbaum, president of the Retail, Wholesale and Department Store Union, Hector Figueroa, president of 32BJ SEIU, Henry Garrido, executive director of District Council 37 of AFSCME AFL-CIO, George Miranda, president of the Teamsters Joint Council 16, and Dennis Trainor, vice president of the Communications Workers of America. 

Senate Majority Leader John Flanagan has introduced several bills that would extend mayoral control in exchange for raising the cap on charter schools in New York City. One would extend mayoral control for up to five years but also implement an education tax credit aimed at private and parochial schools that is opposed by Democrats and the teachers unions. Another would extend it for 12 months without the tax credit but also include a measure to lift the city's charter school cap. 

Assembly Speaker Carl Heastie has said those bills would have no support in the Assembly, which has passed legislation that would extend mayoral control for two years. 
RELATED: New York City's damaging school-to-prison pipeline
"Our children cannot afford to go back, so we ask you to pass a multi-year extension of mayoral control of New York City schools, so the vital progress in our school communities can continue," the signatories of the letter conclude. 
Two of the unions taking de Blasio's side in the end-of-session standoff in Albany – 1199 SEIU and the Hotel and Motel Trades Council – supported state Senate Republicans in the 2016 elections.

The Daily News recently reported that Ward is now involved in a broader effort to turn state legislatures Democratic in swing states next year. The Times Union attributed his union's support for the Republicans in 2016 to its efforts to defend lawmakers who had backed legislation imposing fines for the illegal advertisement of short-term rentals such as through the Airbnb platform. 

During his weekly appearance on NY1 Monday, de Blasio said that mayoral control should not be governed by a "transactional dynamic" and should be decided on its own merits. 
Read the full letter below: 
Labor leaders letter on mayoral control by City & State NY on Scribd