New York State
Agency Focus: New York State Department of Education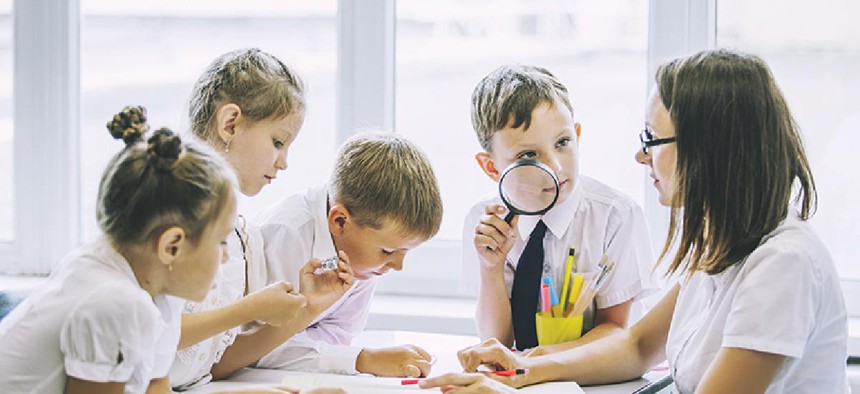 The state Education Department's mission is to raise the knowledge, skill and opportunity of all the people in New York.
One of the primary roles that government plays is providing a public education. The state Education Department carries out that task in many ways, most visibly by educating public school students from prekindergarten through 12th grade. This part of the department's work is carried out by the state Office of P-12 Education – and it's no small task. The state oversees 733 districts, 4,449 public schools, 308 charter schools, 210,496 public school teachers and 2,640,250 total K-12 public school students.
The department is overseen by the state Board of Regents, whose members are voted into office by the state Legislature. The Board of Regents' 17 members are unpaid and are elected for five-year terms. The body is headed by Chancellor Betty Rosa, who works closely with state Education Commissioner MaryEllen Elia on policy and strategy.
The department also has an office dedicated to overseeing charter schools that are authorized by the Board of Regents. The charter schools committee of the State University of New York's board of trustees also authorizes charter schools in the state, and it set off a dispute with the state Education Department by easing its teacher certification standards.
Another matter that the department confronts each year is funding. To start the budget process, the Board of Regents adopts its budget proposal and makes its request for state education funding. A year ago, Rosa and Elia proposed a $2.1 billion increase, including an additional $1.8 billion in state funding through the Foundation Aid formula, which supplements local school district funds. The final state budget increased education aid by $1.1 billion, including $700 million through the Foundation Aid formula.
Finally, a big question each year is how well students perform on standardized tests and whether scores are on the rise. Due to a recent change, only 2016 and 2017 scores are comparable. To help make sense of all the numbers, we spoke to Senior Deputy Commissioner for Education Policy Jhone Ebert and Executive Deputy Commissioner Beth Berlin for an agency crash course.
RELATED: An interview with Regents Chancellor Betty Rosa

Jhone Ebert
Senior Deputy Commissioner for Education Policy
C&S: Now that the state has submitted its plan to comply with the federal Every Student Succeeds Act, what are the next steps?
JE: We expect (the U.S. Department of Education) to give us initial feedback on our plan in December, and final signoff in January or February 2018. Then we'll work with our stakeholders to develop implementation guidance for schools and districts. It's exciting because our plan emphasizes the need to foster equity for all students throughout the entire education system. And it expands New York's accountability measures beyond just student scores on the state math and (English language arts) exams – and will now also include science, social studies, acquisition of English proficiency by English language learners and chronic absenteeism. And this list will evolve over time. The regents are committed to considering additional ways to gauge school quality and student success and they are willing to make the necessary adjustments to our accountability system.
C&S: There has been some debate about the appropriate level of training for teachers in charter schools. In brief, what are the specific training standards that public school teachers must meet, and is it any different for the charter schools you oversee?
JE: SUNY's charter schools committee recently adopted new regulations that allow some charter schools to design their own teacher training programs and certify their own teachers. We know that rigorous certification standards help ensure teacher candidates are prepared for the classroom. But SUNY's regulations dramatically roll back existing requirements in many important ways, including greatly reducing the number of hours of coursework and fieldwork required of teacher candidates. In fact, no student teaching is required for candidates seeking certification under these new rules. These changes will result in underqualified teachers in many charter school classrooms throughout the state. That's a problem for all of us, but particularly for the black and Hispanic children who make up the vast majority of students who attend New York's charter schools. These students – as well as their peers who are economically disadvantaged, disabled, speak little or no English, or are otherwise at risk – will be disproportionately impacted by these rules. In fact, the very students who need the most support from well-trained teachers will be the ones assigned to underprepared teachers under SUNY's new regulations.
C&S: The state Department of Education oversees much more than K-12 public school education, so we wanted to ask about the other work you oversee. What does the Office of Higher Education do? What is one of the biggest initiatives the office is working on that you could highlight?
JE: The Office of Higher Education works to ensure that New York's colleges, universities and proprietary, degree-granting institutions meet the highest standards for quality. Through our opportunity programs, OHE makes it possible for students who have traditionally been underrepresented in higher education to get the support they need to get into college, stay there and graduate. And through the Office of Teaching Initiatives, OHE works to make certain that only qualified individuals are certified to teach and to lead our schools and school districts. OHE also works to ensure that educators have access to professional development opportunities that help them stay current with best practices.
The department is working with SUNY to identify and address the factors that make it difficult to recruit and retain high-quality teachers, particularly in certain subjects and in certain schools and districts.
RELATED: The charter school standoff explained

Beth Berlin
Executive Deputy Commissioner
C&S: What does the state Department of Education's Office of Cultural Education do?
BB: The Office of Cultural Education includes the New York State Museum, New York State Library, New York State Archives, Public Broadcasting and Educational Television Office and the Summer School of the Arts. The state Museum, Library and Archives collectively hold millions of artifacts, documents and images that document New York's history, science, art and culture. This year, we are collaborating on a New York State Museum exhibition honoring the 100th anniversary of women's suffrage in the state, "Votes for Women: Celebrating New York's Suffrage Centennial," which opened to the public Nov. 4.
C&S: What about the Office of the Professions?
BB: The Office of the Professions helps to ensure the public's safety and protection through its oversight of more than 50 licensed professions – running the gamut from architecture to veterinary medicine. (The office) licenses professionals, ensures they remain current on the latest advances in their respective fields and, when necessary, takes disciplinary action against professionals who are found guilty of misconduct or neglect of duty.
C&S: Finally, what does the department do in terms of adult career training and continuing education?
BB: The department's Office of Adult Career and Continuing Education Services offers employment and education services through each of its program areas.
Vocational Rehabilitation is a direct service provider that helps youth and adults with disabilities prepare for and become employed. (That program) has supported youth with disabilities to ensure they have appropriate work exposure and experience, options and opportunities. Early engagement is critical to future career success.
Adult education provides basic literacy, math and English language instruction to older youth and adults who do not have a high school or equivalency diploma. As secondary completion becomes a more essential prerequisite to employment, our adult education programs continue to connect more closely to high schools to create a continuum of services for young people who do not graduate. Keeping students engaged in their pursuit of a secondary diploma is critical.
The Bureau of Proprietary School Supervision licenses and supports over 400 nondegree, post-secondary career schools. These institutions offer tuition-based instruction in hundreds of approved programs leading to family wage sustaining employment opportunities. Proprietary schools offer a career-focused education to nearly 200,000 students annually.