Housing
Mayor's Charter Revision Commission to tackle land use issues
Mayor's Charter Revision Commission to tackle land use issues and says its focus is broader than campaigns and elections.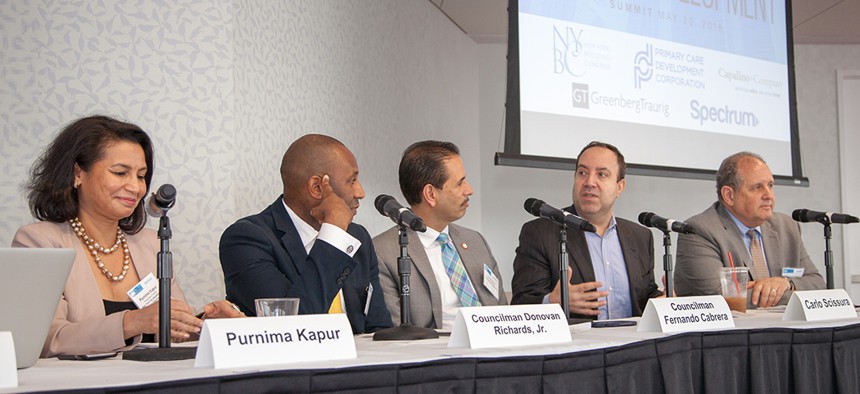 When New York City Mayor Bill de Blasio announced his plans for a Charter Revision Commission, its focus was expected to be on campaign financing and voter turnout. However, the commission is also looking at possible land use changes, according to a key member.
Carlo Scissura, the secretary of de Blasio's Charter Revision Commission, confirmed during City & State's Urban Development Summit on Wednesday that the commission would review land use policies. "We are looking at changes on the land use process, the community boards' involvement in land use and really just generally, what is the best way forward on land use," said Scissura, who is also president and CEO of the New York Building Congress. "And that's one of the three or four hot topics going on."
De Blasio announced the creation of the Charter Revision Commission in February 2018, in order to make changes to the city charter that serves as the governing document for New York City. The mayor, who faced controversy over political fundraising during his first term in office, advertised the commission as an effort targeted towards reforming campaign financing and the electoral process in New York. However, right before de Blasio announced the appointments of the entire commission, the City Council voted to create its own competing commission, with the goal of broadly reexamining the charter rather than focusing narrowly on elections. This would involve an overhaul of the city's charter that the council has proposed hasn't been approved since 1989.
While the mayor's commission is composed of his own appointees, the City Council's commission includes appointees from the council, the mayor, each borough president, public advocate and controller.  The two commissions will operate separately, with the mayor's commission currently holding public hearings. The commission's proposals need to be approved by referendum, which it hopes to have ready in time for November.
New York City Councilman Donovan Richards brought up the problem of the two different commissions during the panel's discussion.
"If the Charter Revision Commission was done the right way and more collaboratively, land use and other things would have been on the table in the beginning," Richards said. As of now, the Council's commission has yet to decide on whether they plan on covering land use policies, Richards told City & State after the panel discussion, though he emphasized they were planning on reviewing a broad number of issues.
The commission has a public hearing scheduled for May 31 at 1 p.m. at the Pratt Institute.
The panel also discussed other challenges with rezoning, including community preference, balancing the goals of developers and the administration and inclusion of affordable housing.
Powered By
NEXT STORY: Republicans weaponize mom & pop