Rikers Island
Akeem Browder, brother of Kalief, disappointed in de Blasio's bail response
Akeem Browder, brother of Kalief Browder, criticized Mayor Bill de Blasio's lukewarm response to a foundation plan to bail out women and minors in New York City.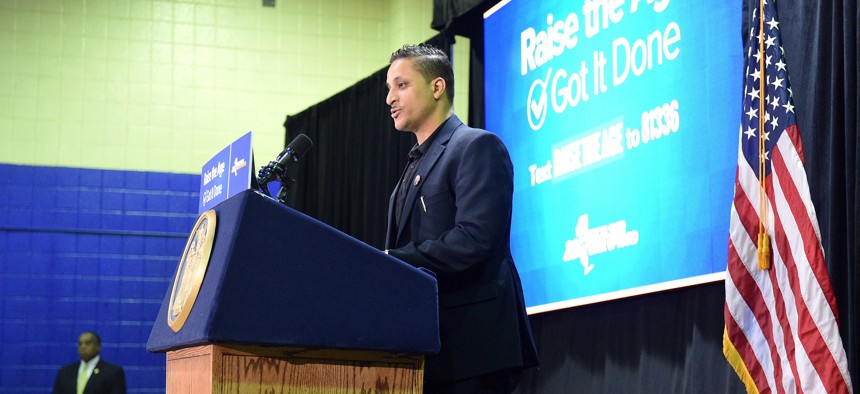 Criminal justice reform advocate Akeem Browder isn't happy with the mayor's lukewarm response to a foundation's plan to bail out women and teenagers from New York City jails.
"I am incredibly disappointed with Mayor de Blasio," said Browder, whose brother Kalief Browder became a rallying cry for reformers after spending three years on Rikers Island and then killing himself. "He travels the country talking about building a true progressive platform, but shies away from true progressive action right in his own backyard."
The Robert F. Kennedy Human Rights Foundation announced plans this week for a "Mass Bail Out Action," starting Oct. 1. Asked about the plan on Thursday, de Blasio said the foundation's "intention is noble but they should focus on low level and non-violent offenders only."
The city's district attorneys raised concerns as well, saying the plan would threaten public safety while citing a state law that prohibits nonprofits from posting bail exceeding $2,000 or for any offense other than a misdemeanor.
The foundation was unmoved by the mayor's response. A source with knowledge of the foundation's plans told City & State that "anyone who is eligible for bail would be eligible for the program."
City Hall says it's still waiting to see specific details about the foundation's plan, but again suggested that certain inmates should not be eligible. "Bail is set by a judge and, once it is set, anyone can pay it," de Blasio spokeswoman Natalie Grybauskas said in a statement provided to City & State. "We support any effort that focuses on bail assistance for low-level offenders who don't pose a public safety risk."
Bail is often criticized by reformers as wealth-based discrimination. Browder noted that his brother Kalief was eligible for bail after being accused of stealing a backpack and its contents, but could not afford to pay it. "Many other Kalief Browders that cannot afford their freedom sit in jail while those like Harvey Weinstein and many whom have the financial backing and status never see a day in places like Rikers Island," he said.
Hollywood producer Weinstein was charged with rape in Manhattan in May, but he did not spend time in jail because he paid a pre-negotiated bail.
The foundation plans to organize more than 200 volunteers to bail out detainees at New York City jails on Rikers Island for the month of October, focusing on the Rose M. Singer Center, which houses women who have been arrested. The foundation also plans to bail out 16- and 17-year-olds in jail, and is considering extending the program to 18-year-olds who were arrested as minors, according to a source with knowledge of the plans. Minors are currently held at the Robert N. Davoren Complex on Rikers Island, but the city is planning to meet an Oct. 1 deadline to move all 16- and 17-year-old inmates into a juvenile facility in the Bronx.
New York City Councilman Ritchie Torres, who represents the Belmont neighborhood in which Kalief Browder once lived, echoed Akeem Browder's comments on Twitter.
I'm disappointed w. @NYCMayor & @NYPDONeill comments. The current bail system systematically targets and punishes people of color & those living in poverty. The Mass Bail Out is shining a light on this critical problem and invites us to reimagine justice. https://t.co/igCV59rcnM

— Ritchie Torres (@RitchieTorres) September 21, 2018
Powered By
NEXT STORY: Westchester county executive George Latimer's to-do list