Bronx
Long-awaited Kingsbridge National Ice Center nears deal
After years of delays, financing for the Kingsbridge National Ice Center is close to complete.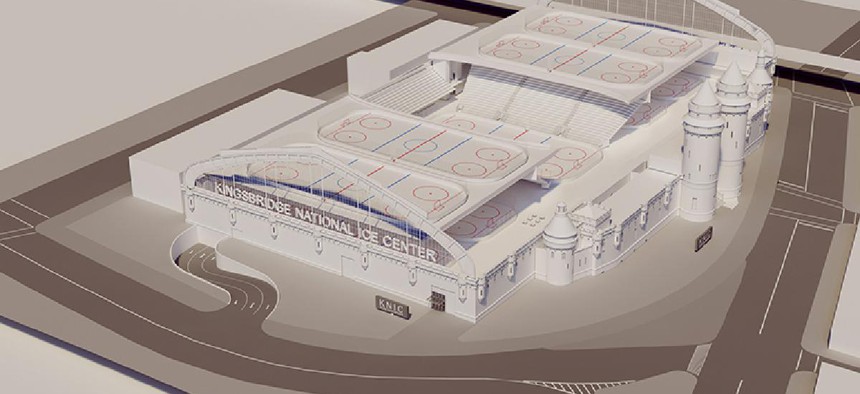 The Kingsbridge National Ice Center, a project more than six years in the making, looks to be nearly ready to break ground as developer Kevin Parker closes in on the project's first phase of financing. Located in the northwest Bronx, the Kingsbridge Armory has been vacant since 1996, and plans to repurpose the historic fortress into a 750,000-square-foot ice sports complex were first announced by then-Mayor Michael Bloomberg in 2013.
So far, the developer has raised more than $35 million through private funds, and Crain's New York Business reported that Citibank was in final negotiations to finance what remains of the projected $170 million needed for the first phase. (The total projected cost is $350 million, and Gov. Andrew Cuomo has already pledged a $138 million loan to help secure long-term financing.) State Sen. Gustavo Rivera, whose district includes the site, told City & State that he was informed that the deal is a matter of days or weeks away from closing. The New York City Economic Development Corp. has promised to turn over the lease once this phase of financing is secured – a promise Rivera is confident will be kept.
Ideas for repurposing the Kingsbridge Armory originally included a Chelsea Market-type mall, but Rivera said the good faith with which the developer, Kingsbridge National Ice Center LLC, approached its plan for an ice center instilled confidence that the community's needs would be prioritized. A community benefits agreement included provisions for local hiring, permanent jobs within the center paying more than living a wage and priority access to the ice for local public schools. Still, Rivera acknowledged that a continuing challenge will be avoiding gentrification.
While it would likely be a couple years before any portion of the nine-rink ice center will open to the public, Rivera said the impact on the community will be lasting. "When it's finished, it's going to be the largest ice sports facility in the world, which means that within a generation, I can almost guarantee you that there will be Bronxites that will be participating in the Olympics, that will be NHL pro players, that will be professional ice skaters," he said. "These young people, they haven't had the access, but they sure have the talent."