Andrew Cuomo
Has the new L plan unearthed an MTA innovation crisis?
Board members clashed with management at an emergency meeting over Cuomo's surprise plan.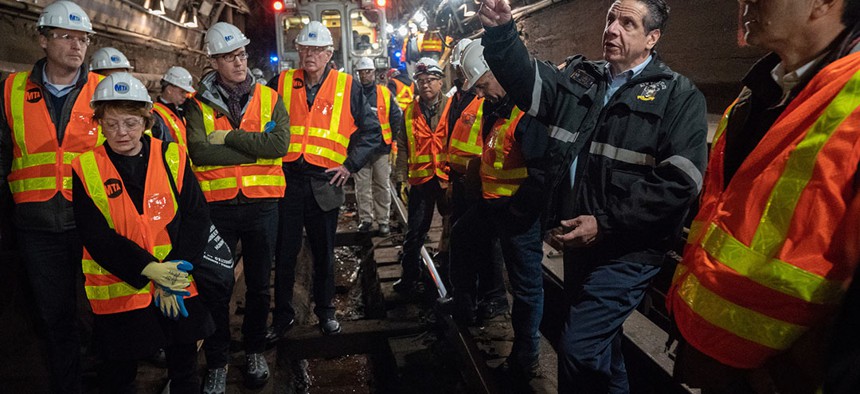 Gov. Andrew Cuomo's surprise move to introduce an alternative construction plan for the L train – averting a 15-month total service shutdown – has been a roller coaster ride for New York City and for the Metropolitan Transportation Authority. At an MTA emergency board meeting on Tuesday, that ride showed no signs of slowing down as board members confronted MTA officials and their engineering consultants about the details, status and rollout of the alternative plan.
Damage caused to the L train tunnel by floodwaters from Hurricane Sandy in 2012 have made repairs necessary for years, but it was only months before the scheduled service shutdown was set to take place in April that a new plan was advanced. When Cuomo first announced his revised plan in early January, criticisms were lobbed at the MTA for apparently failing to consider a construction plan like Cuomo's to avoid a full shutdown that would have caused to the 275,000 riders who travel on the L train daily.
Those criticisms were echoed – in some cases, with noticeable anger – by MTA board members at Tuesday's meeting. "This is just another complete MTA disaster," said board member Andrew Saul. "It must be unbelievable, the time and money expended here."
The original plan would have closed the tunnel for at least 15 months to remove and replace its bench walls, the concrete structures that store important cables. The new plan calls for only removing those bench walls where the damage is serious, strengthening the remaining bench walls with fiber reinforced polymer, and hanging new cables with a racking system along the side of the tunnel walls, thus cutting down the amount of demolition required. The new plan would also install smart sensor systems to monitor bench wall and tunnel conditions. As a result of the less invasive repairs required, construction would only need to take place on nights and weekends with one of the tunnel's two tubes closing at a time, averting a full service shutdown.
Parts of the new plan, like the racking system, were billed as innovative when it was first introduced by Cuomo, despite appearing obvious to some. "I've got bookshelves in my house, so it's not like the concept of a rack is an exotic one," New York City Department of Transportation Commissioner Polly Trottenberg, who also sits on the MTA board, said during Tuesday's hearing.
A report by The New York Times on Tuesday revealed that the MTA and Parsons Brinckerhoff, an engineering consultant now known as WSP, did consider hanging cables on the side of the tunnel back in 2014, when construction plans were being devised. They ultimately decided that affixing the cables along the sides of the tunnel – which was constructed in 1924 – would do too much damage to the tunnel lining.
The number of embedments required to affix each cable to the wall would have numbered 50,000, according to WSP. The new racking system, meanwhile, would not bolt each cable to the tunnel lining, but affix a rack holding multiple cables. Representatives from WSP said Tuesday that the amount of embedments required to affix racks to the wall would not be damaging.
Asked why this racking wasn't considered in 2014, WSP Senior Vice President Jerry Jannetti said that while it was being used in cities like London at the time, it isn't standard. "While it doesn't sound like a significant innovation, this is an innovation in some of our tunnels today, here," he said.
The MTA has been criticized by Cuomo himself for a failure to innovate, and this example doesn't help that reputation. MTA board member Charles Moerdler addressed that criticism, saying, "I think the governor is entirely correct when he says that this monolith should get a good, thorough shake-up."
Fiber reinforced polymer, the material that will be used to enforce the bench walls that are deemed healthy enough to not be removed, is already in use in New York, including in the 7 train extension to Hudson Yards, Jannetti said.
MTA Managing Director Veronique Hakim said that while the technologies themselves aren't new, the implementation will be. "These are proven methods, proven technologies, but they have never been knit together in this environment before quite this way," she said. "And so there is a level of innovation to this."
The new design announced by the governor was developed by WSP, the MTA and an expert panel of professors from Cornell University and Columbia University's engineering schools. But board members wondered why WSP was advising the board about the best plan of action, when its previous recommendation – a full shutdown – was later deemed to be inferior.
"Before I would be able to ever make a positive vote on something like this, I would like to see a qualified, independent, and I mean independent, engineering consulting firm take a look at this thing, and advise the board directly as to how they see the pluses, the minuses and how we should proceed," said Saul, the MTA board member.
In that request, at least, board members may be satisfied. MTA Chairman Fernando Ferrer said that an independent consultant will be brought in to review the new plan and advise the board directly on safety, environmental and other considerations.
But for some, the debacle represents a larger problem than simply deciding how the L train will be repaired. "I think this is systemic to the challenges we have at the MTA," said board member Scott Rechler. "It is systemic in the sense that we have layer after layer of bureaucracy that actually drowns innovation. It doesn't encourage or incent innovation." Rechler added that contractors hired by the MTA aren't encouraged to use their perspective to suggest new or innovative ideas, but instead to simply move ahead with the MTA's plans.
It's a point that even Ferrer, who spent most of the meeting on defense, could agree with. "I, too, am concerned that we're just finding out about some of these innovations," he said. "We should have been hearing this from people who we pay, whether they are engineering consultants, engineers or whatever. But I'm beyond that now and I hope we're beyond that now."
No vote was held at Tuesday's meeting, and further review of the plan will take place before a final decision is made. While many questions remain about the safety of the new plan – including concerns about whether the amount of silica dust kicked up by construction would be hazardous to riders – there was enthusiasm about the idea that the new plan would avoid a full shutdown. Even if board members expressed anger at being left in the dark by the MTA and unsure of the new plan's implications on safety and efficiency, some exhibited an attitude of cautious optimism.
Board member Lawrence Schwartz applauded Cuomo for introducing the new plan despite the criticism it would likely invite. "Kudos to not sit there and say, 'Oh, we've gone too far down this road, we can't stop now, we have to continue on and shutdown the tunnel and let 275,000 people's lives be disrupted for a year and a half," Schwartz said. "Better late than never."
Powered By
NEXT STORY: Focusing on William Barr's antitrust record