New York City
Think before you click: A fee for every online delivery
Assemblyman Robert Carroll of Brooklyn proposes raising subway revenue with online retail charge and ride-hail app license fee.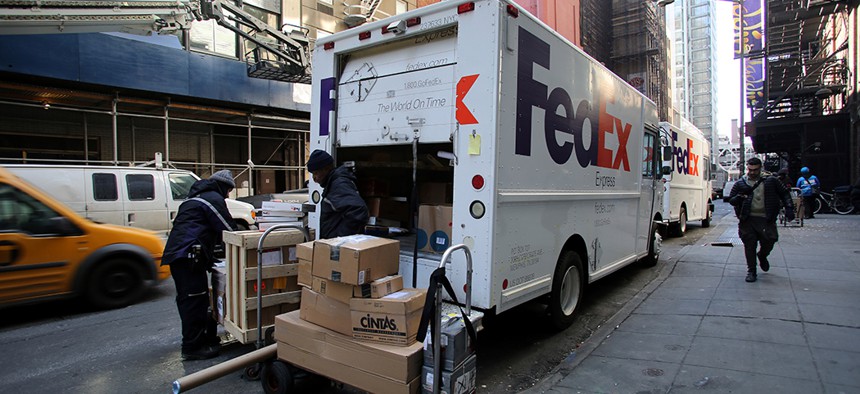 You could be forgiven for thinking that congestion pricing is the be-all, end-all of plans to pay for saving New York City's subways. To be sure, it is the only one with unanimous, vociferous support from transit advocates – and now from Gov. Andrew Cuomo.
But the $1.1 billion per year that congestion pricing is projected to raise is significantly less than the estimated $40 billion over 10 years that New York City Transit Authority President Andy Byford's "Fast Forward Plan" is expected to cost. Even if congestion pricing passes the state Legislature this year, which is still very much in doubt, other dedicated revenue streams would be required for the MTA to actually put Byford's plan into effect. None of the other ideas out there, such as a millionaires tax or bringing back a tax on suburban commuters, has won Cuomo's endorsement.
Congestion pricing's strength emanates, in part, from its backing among business leaders and wonkish, apolitical transportation engineers. That's in part because it would address a classic tragedy of the commons – street space in New York City's central business district during business hours is highly valuable and currently free, so it's overused.
So one supporter of congestion pricing, Assemblyman Robert Carroll, has proposed an unusual package of additional revenue raisers. In a bill introduced a week ago, Carroll calls for a $3 fee on every package delivery in New York City from an online retailer, a $10-per-day licensing fee for drivers with ride-hail apps such as Uber and Lyft, and an end to Manhattanites' partial exemption from New York City's garage tax.
The garage tax reform is the easiest case to make, as it would just close a loophole, but it is only projected to raise $10 million to $15 million per year. Carroll believes the delivery fee could raise $400 million per year and the ride-hail app driver license fee would raise $100 million to $150 million per year. The assemblyman assumes that ride-hail app drivers would decrease in number by about one-quarter as a result of the fee – which is only assessed on days when one drives, providing a less onerous barrier to entry than an annual fee or purchasing a medallion to drive a yellow cab. So part-time Uber drivers would no longer turn on the app on days where they might only pick up one or two rides – hence how Carroll believes it will combat traffic congestion.
Carroll's revenue estimate for the delivery fee is, he readily concedes, a lot shakier. It's based on a national industry study that found the average American household receives 27 packages per year. Carroll assumes these are all eligible orders from online retailers, although his bill makes an exception for prescription medicine, and – noting that younger people and residents of cities place more internet orders than the average American – he rounds up to 30 and multiplies that by the number of households in New York City. (Carroll uses 3.5 million households, although the Census Bureau says there are 3.142 million.) But, as Carroll acknowledges, the fee might prompt New Yorkers to place fewer online orders or to consolidate them into one package. (Since that would reduce pollution and congestion, Carroll argues that it's still a positive result, although it would raise less money for the subway system.)
Carroll justifies these measures with the same economic and environmental reasoning as congestion pricing: Road space in America's densest city is a valuable resource. If it's given for free to users, it will be abused. "I get so many complaints of truck traffic and deliveries at my office," Carroll told City & State. "It's a real quality-of-life issue. We've got to find a way to say, 'You're impacting the lives of average New Yorkers.'"
Part of that impact is the decline of brick-and-mortar retail: "We're seeing the hollowing out of our avenues, because there's somebody saying, 'I will ship to you everything you want,' and there's a huge human cost in our city," said Carroll. He hopes that the fee might send shoppers back to their local businesses: "It incentivizes people to get off their couch and buy light bulbs from their local hardware store, get toothpaste from their local drug store, check out their local bookstore – and that's a good thing."
While experts in local economic development tend to agree with Carroll about the need to bolster small local shops, some are skeptical of an internet delivery fee as the means. "It's great to see policymakers focusing on the issues facing local retailers, many of whom are struggling to survive as the retail economy evolves. But a surcharge on online shopping isn't going to help mom-and-pop shops prepare for the future – and that future isn't going away," said Eli Dvorkin policy director at the Center for an Urban Future. "Rather than disincentivize e-commerce, the state Legislature should invest in programs that help more small businesses adopt technology, launch websites, and market their own products and services online."
One might also argue that, with New York City's obscenely expensive commercial rents being a major culprit for empty storefronts, a tax on online retail amounts to a subsidy to landlords who should instead be forced to simply rent out their commercial spaces at lower rents through reforms such as a vacant property tax. Others who are concerned with the demise of neighborhood retail point to the Small Business Jobs Survival Act, a New York City Council proposal that would strengthen the hand of commercial tenants, as the way to protect the local cobbler or baker.
Carroll, a Democrat who represents the progressive Brooklyn neighborhoods of Park Slope, Windsor Terrace and Kensington and does not own a car, sees his proposed measures as about more than raising revenue or bolstering small businesses. He argues they are essential to environmental protection. "This is about figuring out ways to reduce congestion and our carbon footprint," Carroll said. "It puts a fee on the delivery box because that is causing the congestion and the carbon emission."
His bill raises some questions about equity and incentives, however, especially if ride-hail app drivers can pass the license fee cost along to riders. For instance, the owners of private cars park and drive on city streets for free. Why do they pay no additional fee for that privilege under Carroll's plan (unless they enter Manhattan's central business district during peak-use hours)? Every time one of Carroll's constituents drives himself to the big box stores in Gowanus and Red Hook to shop, they pay nothing, while their more environmentally responsible neighbors who use Uber and Lyft or Amazon more often – but are, on average, less affluent and creating fewer aggregate vehicle miles traveled – will be paying fees.
Paying an extra $90 per year for home deliveries and slightly higher Uber and Lyft fares isn't anywhere near the cost savings of not owning a car. So it may not induce anyone to buy a car and, if anything, might just get them to indulge in using ride-hail apps and ordering on Amazon less often. But it arguably penalizes forgoing car ownership – a lifestyle choice that should be encouraged through every possible means if the goal is getting cars off the road.
Mass transit advocacy organizations have yet to take a stance on Carroll's bill. At least one is open to the ideas he lays out. "We've noticed that street space is scarce and the city is full of delivery trucks in a way that it wasn't before online retail," Danny Pearlstein, a spokesman for the Riders Alliance, told City & State.
The Riders Alliance strongly believes that, while congestion pricing is their core demand, other additional dedicated funding streams will have to be layered on. Pearlstein observed that extra fees for road usage, like Carroll's bill, share congestion pricing's intuitive connection to transit, whereas the revenue from a millionaires tax could be used for other purposes, such as New York City Mayor Bill de Blasio's plans to expand universal prekindergarten to 3-year-olds citywide.
"We have been tentatively supportive of other forms of financing that we think are fair and sustainable," said Pearlstein. "But, as this bill points out, it's challenging. There is the potential unintended consequence that it may raise the cost of not owning a car relative to owning a car."
Another possible objection to the delivery fee is that, its progressive intentions notwithstanding, it is literally regressive. All sales taxes fall harder on consumers with lower incomes, and this is even more regressive than the 8.875 percent tax that most purchases in New York City are subject to, as it makes no distinction between your $50 shoes and Jared Kushner's that cost $500. Carroll counters that online retail customers skew affluent, but he also admits that some lower-income New Yorkers will sometimes have to pay the fee. Meeting environmental goals require sacrifice from all New Yorkers, he said. "We've got to ask everyone," said Carroll. "I'm a supporter of the plastic bag fee, which is technically regressive."
Of course, Carroll's bill is a bit of a bank shot when it comes to improving air quality or combatting climate change. If the idea is to get cars off the road, why not tax carbon emissions, which could strike directly at all cars and raise vastly more revenue, or follow state Sen. Kevin Parker's suggestion of raising the gasoline tax? Carroll says he is in favor of those ideas in principle, but that he doesn't view them as mutually exclusive with his. He also is skeptical that proposals such as the millionaires tax or restoring the commuter tax are going to pass the suburban-dominated state Senate and be signed by the fiscally conservative, suburb-oriented governor.
By contrast, tech companies are a politically appealing target at the moment. Amazon is under fire for striking a deal with the city and state to put half of its HQ2 in Queens in exchange for ample public subsidies, and Uber has weathered years of bad publicity for a toxic work culture. Both companies, and other tech giants including Lyft, are seen by many of the progressives now in power in Albany as exploitative of workers and unconcerned with the greater good.
Whether that political advantage means Carroll's bill gathers the support of advocates remains to be seen. Transit policy experts tend to think that instead of choosing winners and losers among road users, fees for road usage – including parking – should fall equally on private cars, not just delivery trucks or ride-hail drivers. But the underlying insight – that choking traffic isn't limited to Midtown and Downtown Manhattan – is one they can all agree on. "Congestion isn't just in Manhattan," Carroll said. "We should think about the truck traffic going through all our neighborhoods and the ride-hail vehicles clogging up all our streets. It's not just raising revenue, it's making our streets more livable, making our air more breathable."