New York State
New York is closer to "universal rent control" than you think
State Sen. Julia Salazar has sponsored a bill that would regulate additional apartments, part of which states landlords cannot evict tenants if those tenants cannot afford a rent increase that is "unconscionable," defining this as greater than 1.5 times the percentage change in the area consumer price index.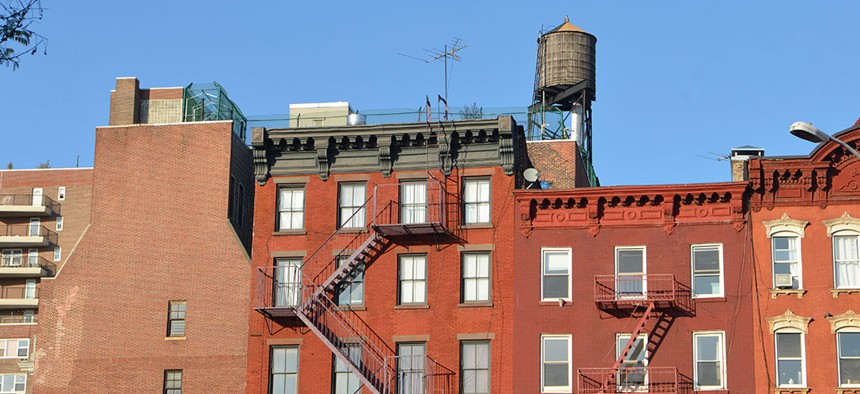 Before the 2018 state election cycle, universal rent control was not a common phrase among New Yorkers. When the idea gained popularity, thanks to the campaigns of progressive insurgents such as Cynthia Nixon, Jumaane Williams and Julia Salazar, it seemed to some like an ill-defined pipe-dream. But now, just two months into the state Legislative session, New York appears likely to enact at least part of the universal rent control platform.
Despite some confusion on the campaign trail, the Upstate Downstate Housing Alliance, a coalition of activist groups advocating for tenant protections, has clearly laid out a universal rent platform consisting of seven pieces of legislation. Although the phrase "universal rent control" sounds like it would entail radical change to how housing works, the majority of the bills had previously been introduced in the state Legislature, and have even passed in the Assembly before. Those include bills reforming existing rent stabilization laws by ending vacancy decontrol, eliminating the vacancy bonus, making sure preferential rent lasts for the duration of tenancy and making changes to rent control increases. Each of these have already been reintroduced in the Legislature this session.
Of the three remaining bills that have never previously been introduced, state Sen. Salazar has sponsored one that would regulate additional apartments. The legislation establishes so-called "good cause eviction" to help ensure that landlords have just cause for removing a tenant. Part of the bill states landlords cannot evict tenants if those tenants cannot afford a rent increase that is "unconscionable," defining this as greater than 1.5 times the percentage change in the area consumer price index. In effect, this would – aside from certain exceptions – cap rent increases at 1.5 times the rate of inflation, since renters cannot be evicted or have their lease not renewed for refusing to pay more than that. The purpose of the bill, according to Salazar and housing advocates, is to extend some protections enjoyed by rent stabilized tenants to nearly everyone. Only buildings with six or more tenants build before 1974 are currently subject to regulation in New York City, with similar rules in Westchester, Nassau and Rockland Counties. Salazar's legislation would apply to nearly all market-rate apartments throughout the state other than owner-occupied buildings with three or fewer units.
Although Salazar does not necessarily consider her bill "universal rent control" per se, she admits that it will likely be perceived as a more radical plank of the platform. "I think the good cause eviction component of it was seen as more representative of the universal rent control idea, and therefore I think that people were anxious about introducing it," Salazar told City & State, explaining her decision to sponsor the bill. "It challenges the fundamental idea that only some tenants are protected by rent regulations, so in that sort of strict definition of 'radical,' it is."
Ellen Davidson, a housing lawyer with the Legal Aid Society and one of the authors of the good cause eviction bill, argued that despite concerns some may have about the legislation, in reality, the protections are not that extreme. She pointed to the fact that the bill would not completely disallow rent increases above 1.5 percent of the CPI change. Landlords could defend the increase for certain reasons, like their own costs have gone up because of increased property taxes or maintenance costs, for example. "What we're really trying to stop is – we see this all over the state – you have long-term tenants living in the building and the landlord wants to clear it out so they can bring in … whomever," Davidson said.
The presumption made in the legislation is rebuttable, meaning that a tenant would still need to go to court in order to prove they were wrongfully evicted. But the legislation seems to greatly hinder the ability of a landlord to raise a rent if they have new costs unrelated to their rental building, like if they just lost a job or developed an expensive medical condition.
Additionally, it can already be difficult for owners of homes with two or three units, which would be subject to the new law so long as the owners themselves don't live there, to evict bad tenants. Williams, a city councilman and proponent of universal rent control, is one such tenant. Following a series of bad tenants at a two-family home he rents, Williams faced foreclosure. "I think this places an unconscionable burden in any form on owners of smaller properties," said Ken Fisher, a real estate lawyer and former New York City councilman.
Housing advocate Michael McKee argued that a good cause eviction law would not necessarily add any new burdens to landlords, but would simply make it easier for a tenant to prove in court that they were wrongfully evicted. He pointed to the retaliation laws currently on the books in New York, which he calls watered down. "Any good landlord lawyer knows how to coach his client to testify, 'I'm not retaliating, I have some other reason for it,'" McKee said. While the tenant still holds the burden of proof, McKee argued that the new bill would make it harder for a landlord to try to get around the rules.
However, Howard Husock, vice president for research and publications at the right-leaning Manhattan Institute, argued the good cause eviction bill would do more harm than good by discouraging developers from taking on new projects in the city if they would not be able to adjust rents to match the markets. "I don't think you need a Nobel prize in economics to understand that this would have a very deleterious effect, not only on potential new supply, but on the highest and best use of our existing housing," Husock said. He argued that rent regulation in New York City has actually made the housing crisis worse, as it has in part led to a low turnover rate among tenants, thus giving newcomers limited options about where to live. Husock also believes this would lead to, as he called it, the "shabification" of the city, because landlords would have less money and less incentive to rehabilitate and renovate housing.
Of course, the good cause eviction bill does not place any restrictions on rental increases once a tenant has vacated. When an apartment becomes empty, the landlord would be free to raise the rent whoever much they wish. However, the landlord would not be able to kick out the tenant by choosing not to renew the lease, as it would likely be viewed as a way to circumvent the intent of the good cause eviction law.
The Real Estate Board of New York, the state's deep-pocketed and highly influential real estate lobby, shares Husock's views regarding rent regulation and rent reform. REBNY President John Banks told City & State in a statement, "Universal rent control applies a one size fits all approach to housing issues that require unique solutions in each region of the state. Instead of increasing affordable housing, this program would make it more difficult for property owners and developers to invest in vulnerable areas that need more housing."
Despite keeping an optimistic outlook with the newly Democratic state government, Davidson acknowledged that real estate remains a major power player in the state, even as more and more politicians say they will refuse money from the industry. "I think we have some young allies in Albany, but I think we live in a state where real estate money has been immensely important to elections for decades," Davidson said. One needs to look no further than Gov. Andrew Cuomo, whose top donors in his last reelection were from the real estate industry. The debate over universal rent control will likely test how enduring the strength of the real estate lobby is in a Democratic Albany, and real estate interests surely will not go down without a fight.