New York State
Will Cuomo block the Williams pipeline?
Progressive energy in the Democratic Party might lead Gov. Andrew Cuomo to reject the proposed natural gas pipeline across New York Harbor – but the governor has surprised observers on environmental issues before.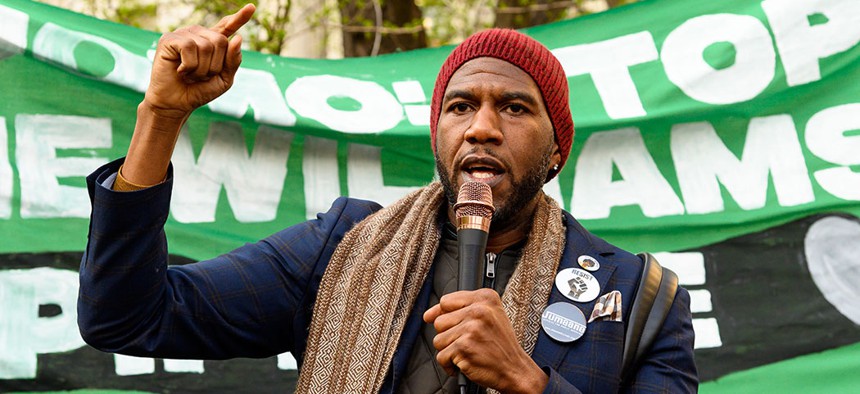 In his first two terms in office, Gov. Andrew Cuomo banned fracking statewide, increased the state's climate goals and stopped several controversial fossil fuel projects from moving forward. But none of that has secured the confidence of environmental activists, especially the hundreds who gathered outside New York City Hall on Thursday, April 18. They had ostensibly gathered to march across the Brooklyn Bridge to oppose the proposed Northeast Supply Enhancement Pipeline, which would transport natural gas across the Lower Bay of New York Harbor. However, the protest could just as easily be described as a demonstration against Cuomo's purportedly transactional approach to the issues they care about. "Everything's a zero sum game with him," longtime activist William Talen, who goes by the stage name Reverend Billy, said at the rally. "He's not environmentalists' friend."
The governor's name appeared on the signs carried by the activists, who booed each time they heard his name. Their message was clear: either the Cuomo administration blocks the pipeline – commonly called the Williams Pipeline after the Oklahoma-based company that wants to build it – by a May 16 deadline, or he will once again risk the wrath of a vocal segment of the progressive left. "Two years ago, I said this state needed new leadership," New York City Public Advocate Jumaane Williams told the crowd. "Cuomo … You said you banned fracked gas. So you must stand up now and prevent this pipeline from coming through New York State." (In fact, Cuomo's policy, announced in December 2014, only banned the practice of fracking for gas in New York, not the transportation or burning of natural gas, which remains a major source of energy and heat in the state.)
A woman in the crowd followed Williams' speech by articulating a feeling shared by many across the crowd. "We need to get rid of Cuomo," she said. Despite activists' frustrations, there are signs that the governor is listening to them about the pipeline, which has already received federal approval but needs additional permits from New York and New Jersey. The strongest sign yet was Cuomo's response to a question at an April 29 event where he signed into law a statewide ban on offshore drilling. "We're on it. We're on it," he said in response to Nikita Scott – chair of the New York City Chapter of the Surfrider Foundation, which opposes the pipeline – who had asked him to block the pipeline. Cuomo spokesman Rich Azzopardi said that the comment would not affect the administration's approach to the approvals process. "The project remains under review by the Department of Environmental Conservation," he said.
Both the Constitution pipeline and the Northern Access Project, which together would have crossed hundreds of upstate bodies of water, were blocked by the administration for their potential effects on water quality and activists hope the same will happen with the Williams pipeline because of how it would unearth toxic substances like arsenic that are buried at the bottom of New York's harbor – potentially harming humans and marine life.
However, the issue has a symbolic importance beyond its immediate environmental and economic effects. The moderate and progressive wings of the Democratic Party are tussling over the meaning of the term "Green New Deal" and how aggressively to reduce greenhouse gas emissions. In this context, Cuomo is a relative moderate whose signature approach is to keep people guessing about where he really stands.
Centrist tendencies, however, do not mean that the governor will risk what goodwill he has from the political left, whether or not his heart is truly with them. Making environmentalists wait before following their lead is in line with Cuomo's past decisions on controversial environmental issues, including the fracking ban and his rejection of past pipeline proposals. Cuomo also has ties to fossil fuel interests through aides past and present, including 2018 campaign manager Maggie Moran, former Office of Storm Recovery chief Mark Grossman and numerous campaign donations from fossil fuel companies and industry lobbyists whose money, Cuomo has made clear, he will continue to receive.
Despite concerns about a looming downstate gas shortage, blocking the pipeline makes political sense for Cuomo, who has as much to fear in the Democratic primaries as the general election in this heavily Democratic state. It even gives the him an opportunity to stick it to President Donald Trump just weeks after Trump signed two executive orders that aim to undermine states' authority over pipelines – the latest front in a much broader war between Trump and Cuomo.
Activists offer a variety of additional reasons to oppose the Williams pipeline, which would stretch more than 20 miles from New Jersey to a terminus off the coast of the Rockaways in Queens. They say the pipeline would increase the state's dependence on fossil fuels at a time when the state is pushing to transition to renewable energy sources like solar, hydropower and wind and that Williams has a poor safety record. Some in the business community and conservative allies say a new pipeline is needed to avert a moratorium on new gas hookups, as ConEd has imposed on Westchester County. Environmentalists counter that energy companies overstate how much downstate economic and population growth depends on a new pipeline.
While National Grid – which would use the gas pumped through the pipeline – has threatened to impose a moratorium on new gas hookups on Long Island unless it gets its way, such a move cannot factor into the decision that the state has to make in the coming weeks – at least not officially under the federal Clean Water Act. A spokesman for Cuomo said the decision is the state Department of Environmental Conservation's to make and by focusing on environmental effects, particularly on water, any decision would better withstand likely legal challenges. A 2017 federal court ruling in the case of Sierra Club v the Federal Energy Regulatory Commission, which dealt with a pipeline in the southern U.S., allows for later greenhouse gas emissions to be incorporated into official decision-making on pipelines. However, the ruling could be overturned this year and some activists concede that the Cuomo administration would be better off blocking the pipeline based on its effect on water – even if they wish it could be based on climate concerns. "I feel pretty confident that the governor's folks are right on this," said Liz Moran, environmental policy director at the New York Public Interest Research Group. "There's a very limited purview that they have over this project."
After a public comment period, public hearings, protests and persistent uncertainty about Cuomo's true thinking on the matter, the fate of the Williams Pipeline could come down to how a state agency will use local environmental impact to substantiate whatever Cuomo's wants. "Everybody knows this is a top-down administration," said Blair Horner, executive director of NYPIRG.
A similar dynamic played out during activists years-long effort to ban fracking. When Cuomo first came to office, he appeared to be leaning toward allowing fracking in New York. "Even many environmentalists agree we want to produce more domestic natural gas," he said in 2011. That did not stop him from keeping his options open. He punted the issue to the state health department, which produced a 2014 report giving a public health rationale to a fracking ban. "We cannot afford to make a mistake," Cuomo said at the time. "The potential risks are too great. In fact, they are not even fully known." Cuomo blocked the Port Ambrose Liquefied Natural Gas Deepwater Port the following year, after it faced strong opposition – and the Constitution pipeline in 2016. Another study by the DEC gave Cuomo political cover to block the Northern Access Project in western New York. The campaigns of former gubernatorial primary rivals Zephyr Teachout and Cynthia Nixon were widely credited with pushing Cuomo to the left on progressive issues, including the environment. Cuomo's adoption of the phrase "Green New Deal" in the past year to describe his own environmental agenda also reflects a broader tendency to co-opt progressive positions once they become mainstream.
To be sure, Cuomo has disappointed environmentalists before. The DEC approved permits the day before Christmas Eve 2016 for an expansion of the existing Dominion-New Market pipeline in upstate New York, despite resistance from activists. Overall, the administration has approved more fossil fuels projects than it has rejected, according to a 2018 study by NYPIRG.
Moves by the Cuomo administration the following year kept three nuclear power plants open, upsetting some environmentalists, although others acknowledge that shutting down nuclear power plants would exacerbate carbon emissions from coal or gas plants. Cuomo also shut down the Indian Point nuclear plant in Westchester.
Activists suspect that Cuomo's ties to fossil fuel interests have played a role in the decisions that have not gone their way. A 2016 "lobbying blitz" involving Cuomo insider Mark Grossman, who previously headed the Governor's Office of Storm Recovery, helped spike a study of how one pipeline would affect Indian Point. Cuomo's campaign manager from his 2018 reelection campaign was a top lobbyist for the company. Cuomo hired a former lobbyist for the company, Maggie Moran, to run his 2018 reelection campaign just months after his administration rejected "without prejudice" the application – a maneuver that allowed the company to apply again rather than blocking it outright. The 2018 trial of disgraced Cuomo aide Joe Percoco highlighted how $250,000 in bribes from the power company Competitive Power Ventures sought to influence the procurement process for a $900 million power plant in the Hudson Valley.
Yet, a lot has changed in state politics in the past six months and the political currents have moved left in New York. The Green New Deal has entered the popular lexicon and activists are more determined than ever to force Cuomo's hand on environmental issues, from climate change legislation to pipelines. Trump's moves on offshore drilling, pipelines and greenhouse gas emissions have brought environmentalists and Cuomo closer together, despite their sometimes fraught relationship. However, environmental activists told City & State that they will take matters into their own hands if the administration approves the Williams pipeline, though they declined to say what specific type of "direct action" protest they would stage against the pipeline. Provoking a progressive backlash over pipelines would appear to be off-message for a governor who continues to fuel speculation over his future political plans through his prolific fundraising and increasingly close relationship to former vice president and current presidential candidate Joe Biden.
The political environment suggests that Cuomo may well block the Williams pipeline. His signing of a statewide ban on offshore drilling on April 29 is another indication that he is leaning towards activist's side on some high-profile issues.
But Cuomo's past moves on the environment have both followed and run against popular opinion, according to pollster Steve Greenberg, and there is no public polling on this pipeline proposal to guide the governor's decision. "I will quote one of my favorite sages, Yogi Berra," Greenberg said. "'I hate to make predictions about the future.'"
In his own way, Cuomo gave activists another clue of his intentions regarding the pipeline. Just a few hours before activists marched on the Brooklyn Bridge on April 18, he signed a bill that would outlaw the use of industrial purse seine nets to catch Menhaden, a species of fish at the bottom of the marine food chain. Environmentalists had pushed for years only to see it get stuck in the GOP-dominated state Senate after passing the Assembly. With Democrats now in charge of both chambers, Cuomo decided to sign the bill, which passed the state Legislature earlier this year. It could have been a coincidence, or it could have been a sign.
Corrections: An earlier version of this post noted that Giorgio DeRosa, father of Secretary to the Governor Melissa DeRosa, is a lobbyist for Bolton-St. Johns – a top lobbying firm that represents a pro-oil and gas industry association that includes Williams. The reference was removed since there is no evidence of any conflict of interest involving the two DeRosas. This post was also updated to reflect that the Joe Percoco trial highlighted efforts to influence the procurement process, not the approval process, for Competitive Power Ventures. 
Powered By
NEXT STORY: Cuomo's greatest MTA micro-managing hits