New York City
In NYC, drones fly in a legal limbo
They're illegal – and everywhere. Will the ban ever be lifted?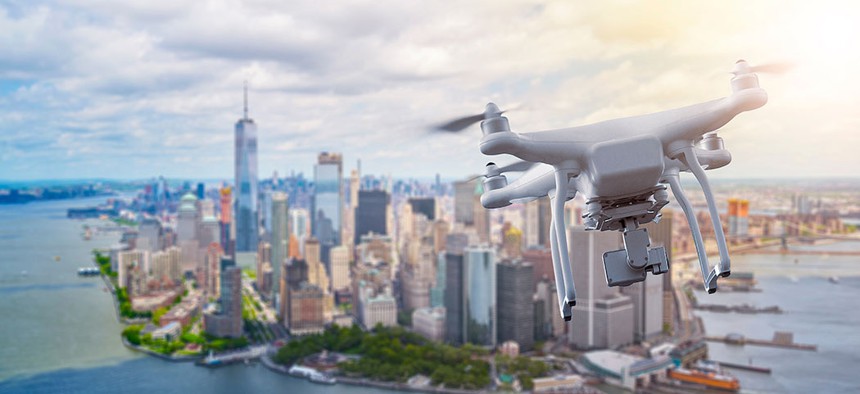 Want a burrito delivered? A drone could do that. Need emergency medical assistance? A drone could do that. Need to surveil a crowd, or capture live video of a fire? Drones are already doing that.
The small unmanned aerial vehicles popularly known as drones seem to be suggested as the answer to every problem these days. But despite their active use by the NYPD and FDNY, and their frequent flying by hobbyist photographers and gadget nerds, drones exist in a legal limbo within the five boroughs. The Federal Aviation Administration will approve flights in the city by registered drone pilots within relatively strict limits. But anyone going to the city's 311 online portal to find out about drones is met with a bright red message: "Call 911 to report a drone in use in New York City," it reads. "It is illegal to fly them in New York City."
New York City Councilman Justin Brannan says it's time to legalize and regulate drone use, opening up the skies for fun and for business. At the very least, he said, it's time to update a law that he said was written 70 years ago.
"You're talking about a 1948 law that prohibits drone use, which is crazy," he told City & State. "1948, we were talking about flying saucers."
Brannan introduced a bill, Intro. 235-2018, that would update the comparatively ancient avigation statute prohibiting aircraft from taking off and landing anywhere that isn't designated by the city Department of Transportation or the Port Authority, like airports and heliports.
Of course, that doesn't mean New Yorkers aren't flying in the city. There's endless drone footage on YouTube of Central Park, the Statue of Liberty and midtown's skyscrapers. (There's also a great explainer why it's illegal.) And it's not just recreational users. There are companies providing aerial photography to real estate and architectural clients right now, like Sky Tech One, Reign Maker and SkyPan International, which agreed to pay a $200,000 fine by the Federal Aviation Administration in 2017 for flying in restricted airspace.
Drone supporters make arguments that sound oddly similar to the gun control debate. That is, if flying drones is against the law, only lawbreakers will fly drones.
"You have a set of incentives right now where the drone operators who could do the most good with drones and could do it most safely and responsibly are scared away from doing it from this uncertain legal status," said Adam Lisberg, corporate communication director at drone manufacturer DJI (and a former editor of City & State). "At the same time, people who say, 'I don't know about the law, I don't care what the law is' – they're the ones going out and (flying)."
Sure enough, big business is interested in legalizing drones in New York City. Uber wants to deliver food by air. AT&T wants to use them as flying cell towers. And the Motion Picture Association of America wants to film aerial footage without helicopters. According to the city's lobbying database, each of the companies have lobbied the City Council on Brannan's bill. That seemed to surprise Brannan a bit – "I understand why those guys would support it, but this isn't like a coordinated effort" – because he hasn't done much lobbying for the bill. He introduced the bill at the very beginning of the City Council session in January 2018 and has yet to gain a single other co-sponsor in the 51-member council. A similar bill from City Councilman Paul Vallone of Queens, Intro. 403-2018, which would limit the use of drones to certain parks, has just a single co-sponsor: Brannan. The Brooklyn Democrat did make some noise in October, publishing an op-ed in the Daily News titled, "City must bring on the drones," but told City & State he hasn't really "circled the wagons yet." New York City Council Speaker Corey Johnson's office declined to comment on the state of the bill or his support. Vallone told City & State that he's working with Johnson and the other advocates to legalize drones, with a particular eye to building maintenance. "The city has to set parameters for commercial and recreational unmanned aerial vehicle usage," he said. "Instead we are turning a blind eye on the outdated rule of law."
If the bill takes flight, the NYPD may try and shoot it down. The Wall Street Journal reported in February that the police had been seeking federal authority to take down drones it saw as a threat. The method of the proposed take-down wasn't clear, and the threat seemed more speculative than real. The department said there hadn't been an incident of malicious drone use in the city, and no drones in the city have caused serious harm, even by accident. 
The NYPD did not respond to a request for comment, but a spokeswoman for New York City Mayor Bill de Blasio, Avery Cohen, said that City Hall was open to the legalization discussion.
"We're always looking for ways to safely incorporate new technologies into the city, and look forward to working with the council on this important issue," she said.
But wherever drone legalization has supporters – like real estate developers, who have been lobbying for the ability to use drones for building inspections – it also has groups that are wary of the machines and their safety – like scaffold companies fearful of losing inspection jobs. Privacy advocates like the New York Civil Liberties Union have also raised concerns about the potential uses of drones – though fears of a sci-fi style surveillance state may be premature, at least when it comes to the NYPD. The department flew its drones just 27 times from April 1 through the end of June, according to a quarterly report, and 17 of those operations were for "training" or "testing." The most common active uses were for "collision/crime scene documentation" and "visual assistance at hostage/barricaded suspect situations," which were each reported three times over the three-month period.
Other concerns about drones are a bit more trivial – but potentially politically potent. After Brannan's op-ed, reader Joe Ferra wrote in to the Daily News to complain. "Does (Brannan) not care that the beautiful scenery will be ruined by the proliferation of these flying machines," he wrote, "or that the drones will annoyingly reflect sunlight into people's eyes?"
With such little action on the legislation, the future of drones isn't looking so bright.