Labor
New York wants to write its own rules for the gig economy
The business community is pushing back on AB5-like legislation in New York. This is what they're proposing instead.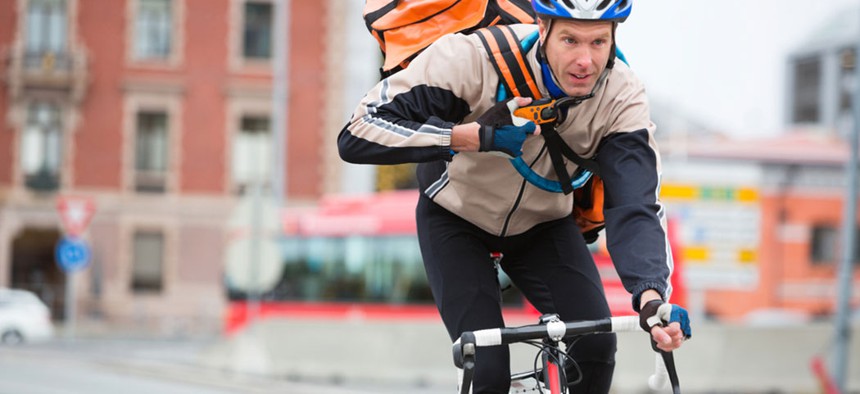 When California earlier this year passed AB5, a new law that would reclassify many independent contractors – like ride-hail drivers and manicurists – to be employees, the move was lauded by many labor advocates and workers. Their assumption was that reclassification would make workers' lives better by providing them the benefits, like unemployment insurance, overtime pay and workers' compensation that employees already receive by virtue of being called an "employee."
But now, as New York prioritizes its own efforts to rewrite the rules of the gig economy, a growing number of stakeholders are talking about alternative ways to provide workers benefits and labor protections without going as far as reclassifying those independent contractors as employees.
"In my opinion, AB5 does not present a comprehensive solution that workers need," state Sen. Diane Savino said at a policy conference hosted by City & State on Friday, noting that the California law will face legal challenges and that it includes exemptions for certain professions – like freelancers – that some say would hurt their ability to work. Savino, who chairs the state Senate Committee on Internet and Technology, last session introduced a bill that would create a third type of worker classification, and she is working on a new version ahead of the start of next session.
"On Jan. 1, when AB5 is supposed to go into effect, there's not a single worker's life in California that is going to be improved or changed in any beneficial way," Savino said. "Because they didn't take the time to really study this and figure out how do we create regulations does what we want the gig economy to do: provide flexibility but provide the same protections that workers everywhere have."
The Friday morning event brought together lawmakers, labor advocates and executives at some of those gig economy platforms to discuss how New York might forge its own path. There is another bill in the state Legislature that is similar to AB5. Both AB5 and this New York bill, sponsored by New York state Sen. Robert Jackson and Assemblywoman Deborah Glick, use an "ABC test" to define an independent contractor, requiring anyone classified as such to be free from the control of their employer, doing work outside the usual course of business of an employer and be engaged in an independently established business in order to be classified as an independent contractor. 
But many of the ideas discussed Friday focused on somewhat different approaches, including portable benefits programs and expanding existing programs like the New York Black Car Fund, which makes some benefits, like workers' compensation insurance, available to for-hire drivers. Some of these proposal wouldn't be implemented through legislation, but by companies choosing to act on their own.
Max Rettig, senior counsel and head of policy at DoorDash, for example, noted that the company recently began offering occupational accident insurance, providing medical and disability payments for workers injured on the job. "That's a start, that's not the finish," Rettig said. "There's more that we can do to ensure that there's fairness in that relationship, irrespective of what label you apply to it," he added, referring to the fact that companies could act on their own to provide gig workers more benefits even if they're not classified as employees.
Of course, corporations are not known for acting in their workers' best interests 100% of the time. Some say that companies overstate the notion that gig workers prioritize flexible work arrangements above all else, in order to argue against classifying workers as employees and save on the costs of that reclassification. "It is clear that there are many workers that are doing these types of jobs not because they want the flexibility but because these are the jobs that are available to them," said Maria Figueroa, director of labor and policy research at the Worker Institute at Cornell University's School of Industrial Labor Relations, citing research done by the institute on the gig economy.
Others pointed out what they said was a simple truth that goes overlooked in this discussion: The gig economy is not a monolithic thing, let alone the much larger group of workers who currently fall under the independent contractor classification. Vikram Alyer, vice president of public policy and strategic communications at Postmates, said that 89% of their workers are on the platform for only three to five hours per week. On the other hand, Brendan Sexton, executive director of the driver advocacy group Independent Drivers Guild, said that ride-hail drivers might work 50 or 60 hour weeks driving for Uber and Lyft. Those differences in how workers operate in the gig economy is another reason opponents of an ABC test cite in arguing against reclassifying workers as employees. 
While New York City's Taxi & Limousine Commission collects detailed trip data from ride-hail companies, nearly all speakers at Friday's event agreed that there needs to be more analysis of how those in the gig economy at large work, not just with ride-hail in New York City but in sectors across the state.
Oisin Hanrahan, CEO of the home services app Handy, offered one solution that hits on that diversity. Hanrahan has proposed a 25-hour-per-week threshold, so that only those gig economy workers working more than that could be classified as employees. "We've said, 'Hey, everyone working in the gig economy wants the same thing,'" Hanrahan said. "The reality is, I think there are two different groups that are doing very different things. It doesn't mean that we shouldn't have some base level standards. I think there should be a benefits fund, I think individuals should have the ability to put into the benefit fund irrespective of whether they're on either side of the 25-hour line." In response to concerns that platforms would simply limit their workers to fewer than 25 hours per week, Hanrahan proposed that legislation be passed to specifically prohibit that.
With New York continuing to debate an approach that may differ from what California or other states pursue, some advocated for a federal law that would standardize how gig workers and other independent contractors are treated across the county. But no one on Friday expressed any optimism that the federal government would actually act. 
New York at least appears to be taking the issue seriously, and some are optimistic that the state can move forward to find a solution in the near future. "Things are hard (to get done) in New York, I'm not naive," said Julie Samuels, executive director of the tech industry group Tech:NYC. "But there's also a world in which New Yorkers get shit done. And we know that there has to be a path forward here."