New York City
Will New York students finally get the funding they were promised?
Lawmakers finally have a chance to beat Cuomo in a decadelong school aid fight.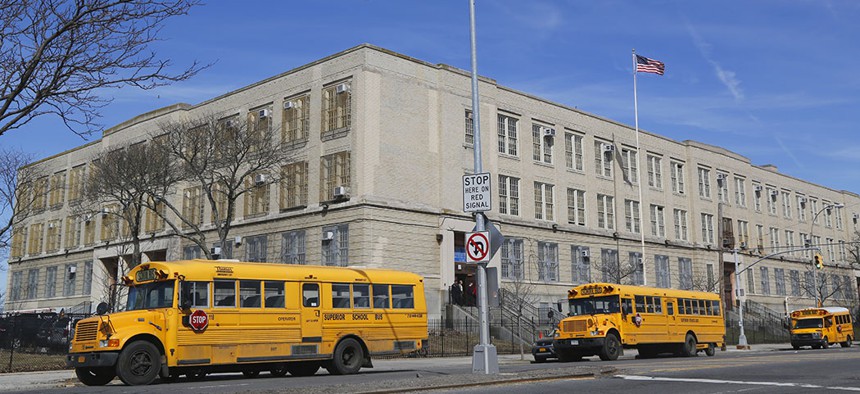 Public school funding has long been a sticking point between Democratic state lawmakers and Gov. Andrew Cuomo. But Democratic state senators are raising the stakes with a fight over the Foundation Aid formula, a key part of state education funding.
"We have a two-fold strategy," said state Sen. Shelley Mayer of Yonkers, who chairs the Education Committee. "We need more money. We believe we're owed more money under a formula that was to be fully funded and was not fully funded, coupled with the fact that individual indicators in the current formula need a revision." She added that, in principle, cooperation with the governor is possible, despite their differences. "I am confident that the governor understands the incredible priority that our public school education is for our students," she said.
Yet it is unclear how much Cuomo wants to go along with them, especially if it makes him appear to be following their lead rather than the other way around. In fact, the Cuomo administration argues that it has been at the forefront of efforts to improve education funding in recent years. "The formula for Foundation Aid is adjusted every year during budget negotiations, and the governor has used that opportunity to direct more funding to high-need school districts," said Jason Conwall, a Cuomo spokesman. "The governor will continue to fight for equitable funding so that every student has the opportunity for a high-quality education, and we encourage our partners in the Legislature to join us in providing funds to the schools with the greatest needs."
Cuomo also increased education spending to a record $27.9 billion this year. About two-thirds of this is distributed via Foundation Aid, the formula of state aid for public schools created following a 2006 state court decision in the Campaign for Fiscal Equity v. State of New York. The specifics of the 13-year legal saga that led to the ruling are complicated, but the court essentially ruled that New York City schools had failed to provide a "sound basic education" to all its students – a situation that the state had to rectify by transforming its approach to funding public schools. While a new formula was established, its implementation was disrupted by the Great Recession and political instability that saw three governors in less than two years. Cuomo and his supporters say the state is not legally bound to honor billions in funding commitments made by former Govs. Eliot Spitzer and David Paterson. "These are ghosts of the past and distractions from the present," Cuomo said while unveiling his legislative agenda in December 2018.
There were high hopes within the newly elected Democratic state Senate majority that they could increase Foundation Aid by $1.2 billion in the 2019 session to make up for the funding that Spitzer and Paterson promised but ultimately could not deliver. In the end, the state budget approved earlier this year included a $618 million increase, which was the same as the year before.
With the 2020 elections looming, Democratic lawmakers are now taking steps to get themselves in a position to prevail in this decadelong funding fight once and for all. The latest offensive began not with a boom, but with coffee and cookies on the second floor of the Riverfront branch of the Yonkers Public Library in mid-October. That is where state Senate Majority Leader Andrea Stewart-Cousins kicked off the first in a series of roundtable discussions by highlighting just how difficult it will be to secure changes to the Foundation Aid formula and billions of dollars in additional funding. "I'm asking all of you to be partners in the transformation," she said. "It's not going to happen overnight, (so) we also want to manage expectations."
The roundtable discussions and a Dec. 3 hearing in New York City featured lawmakers and school officials arguing that the Foundation Aid formula is outdated and drastically underfunds public schools across the state. However, the state already faces a multibillion-dollar funding shortfall for Medicaid – the one portion of the state budget that exceeds the $18.4 billion allocated for Foundation Aid in the 2019-2020 school year. While Cuomo has demonstrated in past years a willingness to increase public school funding – on his terms – he balances that with his determination to adhere to a 2% cap on state spending increases. The budgetary powers of any governor are significant, and interviews with key senators show that they will first try to secure as much new funding as possible, given the state's fiscal realities, in the upcoming months without going all-out against Cuomo, whose cooperation they would need to change the funding formula. A final push to secure the full amount that lawmakers want would come after the 2020 elections, when they hope to capture a veto-proof majority in the state Senate.
The latest offensive began not with a boom, but with coffee and cookies.
"There will be peace when we fully fund this court mandate," said state Sen. John Liu, who chairs the New York City Education Committee. "We need more Foundation Aid and with the governor's self-imposed 2% cap – even if we could identify new sources of revenue – the Foundation Aid formula could not be fulfilled anytime very soon … so long as he has veto power, he can enforce that cap." To get there, Democrats will need to add two more seats to their current 40 seats in the 63-seat Senate to reach a supermajority, a goal that has become more achievable now that GOP incumbents like state Sens. George Amedore and Betty Little are not running for reelection. Democrats already have a two-thirds majority in the Assembly, which is enough to override a gubernatorial veto.
Democrats in both chambers do not see eye to eye on some issues, and a governor can leverage these divisions to get his way. But the dynamics of public school funding are different. Just about any legislator – Republicans and Democrats alike – would favor more local school funding. A longtime practice of state budgeting called "save harmless" ensures that school districts receive at least the same amount of money as prior years. (The long-standing "shares agreement" also means that New York City and Long Island get about 39% and 13% of school funding, respectively.) Increasing education funding is one of the most popular things that a lawmaker can support, and it is conceivable that supermajorities in both chambers would vote in favor of exceeding the governor's 2% cap.
The governor can control the state budget even if he lacks majority support in both houses of the Legislature, but he will have trouble overcoming opposition from united legislative supermajorities. Appropriations bills can only be introduced by the governor, and once they are submitted, they do not need to be signed into law, but merely passed by the Legislature. Lawmakers cannot alter an appropriations bill, but they could add a line item to an appropriations bill and fund it through a separate bill. The governor could veto that line item and the bill, but that can be overridden by a two-thirds vote in each chamber. In such circumstances, a governor cannot wield his most powerful budgetary weapon of shutting down the government until he gets what he wants because the Legislature already passed his budget bill, and state law does not require a gubernatorial signature, according to the Empire Center for Public Policy.
The Assembly is also examining the Foundation Aid formula in roundtable discussions this fall, but it is doing so behind closed doors, per rules of the chamber that precluded the two chambers from hosting joint roundtables, according to Assembly Education Committee Chairman Michael Benedetto. He said in an interview that he wants to increase funding for school districts as much as possible, but he and the Assembly appear to be taking a neutral stance, at least in public, on the brewing conflict between Cuomo and the state Senate. "Any time you're going to say you're on one team or the other, you're creating problems," he said. "Basically, what I want to do is look at the totality of everything – all the needs of all the kids – and get everybody to work together."
Lawmakers say that "educational equity" can only happen if another $4 billion for Foundation Aid is phased in over several years. But Cuomo has his own interpretation of what "equity" means. Rather than emphasizing funding increases for school districts, Cuomo points to the high per-pupil spending in New York compared to other states as a reason to question whether the money is getting to the schools and students who need it most. A Cuomo-backed state law passed in 2018 requires the disclosure of additional school-level data to show where districts are allocating funding. "We demanded school-level transparency on 76 major districts representing half of all the students in the state," Cuomo said in his 2019 State of the State address. "We're increasing it this year. The findings are worrisome. We gave 70% of the funding to the poorer districts but it never found its way to the poorer schools."
In theory, Foundation Aid is supposed to be based on four factors which are – in simplified form – costs per student, student needs, local costs of living and local districts' funding capacity. Fiscal realities and the governor's insistence on the spending cap limits how much money the state can spend on education, which means that the formula is essentially reverse-engineered by the administration to fit the funding levels the governor wants both statewide and in particular districts, according to Rick Timbs, executive director of the Statewide School Finance Consortium, which represents more than 400 public school districts statewide. "The amount of money that's in the formula simply is not adequate enough to have an equitable distribution," he said. "So they come up with this hodgepodge … and to make it worse, they're trying to still fulfill the 'shares agreement.'"
Given these realities, it should be no surprise that the state budget also ends up reflecting the political power of individual lawmakers. Long Island did relatively well in getting funding when Republican state Sen. John Flanagan was the majority leader up until this year. Since then, Westchester County – represented by Mayer and Stewart-Cousins – and New York City – where most Democratic senators hail from – have received big funding increases.
The recent state Senate roundtable discussions in Yonkers, New York City, Syracuse, Long Island and Buffalo, and the hearing in New York City, showed that lawmakers and many school officials are united in pushing for updates to the Foundation Aid formula. Poverty levels are still measured by outdated 2000 census data and the amount of students who receive free and reduced price lunches, an imperfect metric because New York City now gives free school lunches to all students. School officials lament that special-needs students are still lumped together even though the costs can vary depending on a student's medical, mental or psychological issues. Changing these metrics are among the small steps that Democratic senators want to take in the upcoming months, though it remains to be seen how they will use what they learned in recent weeks to make their case. Mayer said that Democrats will decide at an upcoming conference meeting whether to write a report, propose legislation or simply use what they heard from school officials while negotiating with Cuomo.
Senate Democrats will likely have to go along with the governor's education proposals for the upcoming fiscal year in certain respects, as well as play some legislative defense against the governor's own proposals. Cuomo last year successfully pushed for controversial new requirements for districts to disclose how they allocate funding. But legislators were able to block others, such as a proposal that would have consolidated certain funding programs that reimburse districts for expenses like buses, textbooks and computers.
However, the battle over education funding is about more than just the legacy of the Campaign for Fiscal Equity lawsuit, or the proper level of education funding – though that is once again the focus of a lawsuit against the state of New York that is winding its way through the court system. Education funding is also part of a much broader battle between the executive and legislative branches of state government. It has loomed particularly large since the 2004 court decision in Silver v. Pataki established the governor's overwhelming power over the budget process. Legislators failed in a 2005 effort to get voters to approve a constitutional amendment that would tilt the balance of power back toward them. Winning supermajorities in both houses of the Legislature offers them a different path to shift the balance of budgetary power away from the Second Floor in the Capitol. This opportunity exists just over the electoral horizon, and Senate Democrats are charting a path to get there.
To see more Setting the Agenda pieces click here.