Andrew Cuomo
Cuomo's 2020 State of the State proposals
The governor unveiled more than 30 ideas before he even took the state on Jan. 8.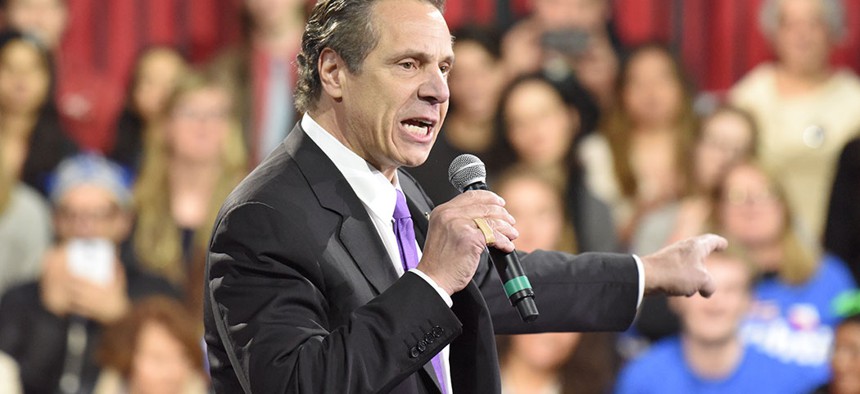 Before taking the stage to deliver his 2020 State of the State Address on Wednesday, Gov. Andrew Cuomo had already unveiled more than 30 policy proposals - touching on civil rights, health care, the environment, public safety or economic development in one way or another.
Cuomo's 2020 State of the State slogan of "Making Progress Happen" shows that while he has moved to the political left in recent years, he continues to emphasize pragmatism and many of his proposals reflect his penchant for centrist, achievable wins. 
These ideas fall into four thematic categories:
Confronting threats
There are plenty of new twists to old problems in the digital age. Cuomo is looking at dealing with three of them through measures aimed at banning different types of opioids, cracking down on vaping products, banning sex offenders from New York City subways, and keeping sexual predators away from social media and online gaming. They don't all pose the save levels of danger to the public, but Cuomo is looking to take them all down following high-profile media reports (here, here and here) about each of them this year. 
Building things
Cuomo likes to measure progress by the number of capital projects that get done on time and under budget. His latest infrastructure initiatives include a $300 million effort to redevelop the Erie Canal, plans to expand Penn Station in New York City, and an idea to empanel experts to figure out how New York can succeed at high-speed rail where other states have failed. The building spree continues with proposed projects in Central New York, Syracuse, Rochester, Buffalo, Lake George, Manhattan, and the North Country. Wilderness offerings in the Mid-Hudson Valley are also getting a boost, as are workforce development efforts
Add to this list a proposal to make sure that American-made iron and steel are used for state roads and bridges. Considering the small size of New York's steel industry, it's almost as if Cuomo is looking to build something nationwide in the years ahead. 
A "Justice Agenda" sequel
Some of Cuomo's proposals follow a similar line of political thinking as his "Justice Agenda" last year, which included a variety of proposals to protect women's rights, expand voting access and reform the criminal justice system. This year, he's looking to pass a state Equal Rights Amendment that would make sex and gender identity protected classes in the state constitution. Stengenthing criminal laws on rape and eliminating the "Pink Tax" on women's products come after a host of other women's rights bills passed in the spring. His proposals to ban disposable styrofoam food containers, "ghost guns" and firearm purchases by people with criminal records in other states follow similar efforts from last year. Cuomo also wants the attorney general to help improve relations between police and local communities.
Since he couldn't legalize gestational surrogacy last year, he's giving that idea another go while also taking on the elimination of Prohibition-era laws that limit alcohol purchases. He's even aiming to require automatic manual recounts in close elections months after the results of the Democratic primary in the Queens district attorney race highlighted a lack of confidence in the electoral system. 
Cuomo may not contrast himself with Trump on Jan. 8 as much as he did in his third inauguration address last year – but the governor is hardly done making hay out of political issues that make him look great by comparison among most New York voters. 
Protecting consumers
Cuomo says the people of New York need some protection from unscrupulous businesses big and small. So he's looking to make moves to expand access to financial services, require more disclosure of healthcare costs while keeping away robocalls and abusive debt collectors. Efforts to control prescription drug prices and allow Canadian imports could help New Yorkers' bottom line. Big Tech might have a looser control on our digital lives if new net neutrality proposals get passed. 
It might seem that untaxed cigarettes present more of a revenue issue than a consumer protection issue – but, since higher taxes lead to lower consumption, Cuomo puts it in those terms. "Cigarettes claim thousands of lives each year," he said in a Dec. 20 press release. "We will not turn a blind eye to retailers who deliberately flout the law just to make an extra buck at the expense of the health of New Yorkers."