Criminal justice
Will Democrats reform their new bail reform law?
Potential changes include adding bail-eligible offense and giving judges more discretion.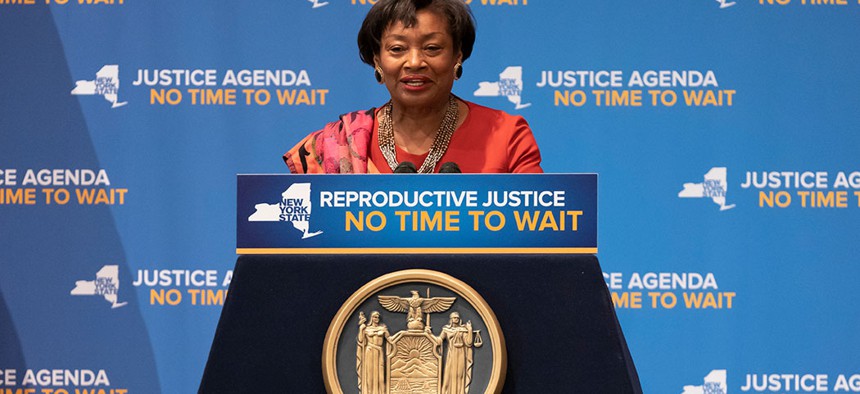 In the wake of a series of anti-Semitic attacks in and around New York City, the issue of bail reform is front and center. State lawmakers from both sides of the aisle have proposed at least a dozen bills to amend the 2019 law, most of them introduced before the law took effect on Jan. 1. The bills range from outright repeals to cosmetic changes. With Democratic leaders expressing an openness to changes, some revisions are possible – but short of an explicit push from Gov. Andrew Cuomo for an expansive overhaul, sources say any amendments will likely be minor, such as revisions to the list of bail-eligible offenses and limited expansions of judicial discretion.
Cuomo this week called for changes to the bail reform law. "There's no doubt this is still a work in progress, and there are other changes that have to be made," Cuomo said on Monday. He did not specify any changes he had in mind, but whether they appear in his budget proposal will signal how serious he is about amending the law.
State Senate Majority Leader Andrea Stewart-Cousins and her second-in-command, state Sen. Michael Gianaris, did not go as far as calling for changes, but expressed a willingness to consider fixes. Their wait-and-see position reflects a middle ground between the moderate and progressive factions of the Senate Democratic conference.
Assembly Speaker Carl Heastie has so far declined to weigh in on potential changes to bail reform, and his spokesman did not return a request for comment from City & State. Heastie was among the Democrats seeking the complete elimination of cash bail. The Assembly could also serve as a bulwark against wholesale changes that Republicans, local prosecutors and even some Democratic lawmakers are calling for. 
Under the new state law, anyone accused of a misdemeanor or most non-violent felony will be automatically released prior to trial. Only a specific list of more serious offenses enumerated in the law for which judges can impose bail or pretrial detention. Judges in many instances have the ability to impose non-monetary restrictions upon a defendant's release to ensure he or she returns to court. That's what bail ostensibly is for – to make sure a defendant returns for trial. But in practice, it's often viewed as a way to keep accused perpetrators in jail. Criminal reform advocates argue that bail simply penalizes poor and often minority defendants who can't afford to pay, while those with money accused of the same crime can walk free.
However, many local prosecutors warned that the Democratic-backed law went too far and would result in the release of thousands of criminals onto the street. Republican officials and lawmakers blasted the new law as well, highlighting certain cases, like an accused bank robber with two prior robbery convictions who was released without bail. Many Republicans have focused on the perceived danger of automatically releasing certain people accused of crimes. "It's an assault on civilized society, public safety and law enforcement, and on criminal victims and the people and the taxpayers of the state of New York," state Republican Party Chairman Nick Langworthy said at a recent press conference.
Ultimately, the new law's list of crimes that are bail eligible spurred debate over which offenses did not make the cut. For example, critics complained last month when a woman was released twice in quick succession after alleged attacks – including hate crime assaults on Orthodox Jews that did not fall onto the list of offenses for which she could have been held on bail. 
Democratic Assemblyman Simcha Eichenstein introduced legislation this year that would allow judges to set bail for or remand those accused of hate crimes. According to one longtime Albany observer, Eichenstein's bill is one that has a decent chance of getting approved, possibly as part of Cuomo's budget.
The observer said that there is no apparent appetite among most Democratic lawmakers for major changes that go beyond adding a few new charges to the list of bail eligible offenses, and maybe adding limited discretion for judges in certain circumstances. Another bill sponsored by state Sen. Monica Martinez would allow judges to set bail for those accused of animal cruelty. Legislation from state Sen. Todd Kaminsky would give judges discretion to set bail or detain a handful of non-violent offenses when the accused is a Level 2 or 3 registered sex offender. "In the greater scheme of things, you're talking about dozens of defendants who might be impacted by changes, not hundreds or thousands," the Albany observer said.
State Sen. James Gaughran has legislation that perhaps constitutes the most extreme changes proposed by a Democrat. The Long Island lawmaker would add a slew of new offenses to the list of those that qualify for bail, including a variety of violent misdemeanors, additional violent felonies currently not eligible for bail and Class A felony drug offenses. But the sweeping nature may be too much to get passed by his progressive colleagues and in the Assembly, even as part of the budget, since it would effectively redefine bail reform. 
New York City Mayor Bill de Blasio has also expressed the need to add a so-called "dangerousness clause." Such an addition would allow judges to assess a defendant's risk to the community when to make a determination regarding bail or whether to hold jail someone pretrial, regardless of the crime he or she has been accused of. Under current state law, judges can't directly consider the threat a defendant may pose when setting bail. But states like California added a risk assessment provision for judges in determining pretrial detention when it eliminated bail, much to the chagrin of progressive activists. Many criminal justice advocates say that allowing judges to consider dangerousness would be too prejudicial and would still disproportionately affect poor defendants of color due to bias.
Nonetheless, Assemblywoman Amy Paulin, a Hudson Valley Democrat, is introducing dangerousness legislation that would give judges very broad discretion to impose bail, detain a defendant or impose other pre-trial restrictions based on their individual determination of danger to the community. Paulin's bill is identical to another measure introduced last year by Republican state Sen. Sue Serino. 
Cuomo's original proposal last year included a provision that would allow judges to consider the potential threat a defendant may pose to a specific person or group, rather than general dangerousness. It ultimately was removed in the final version when the issue of dangerousness became a major sticking point during negotiations last year.