Coronavirus
Cuomo seeks beds, ventilators, health care retirees to combat coronavirus
The governor said the outbreak could peak in 45 days.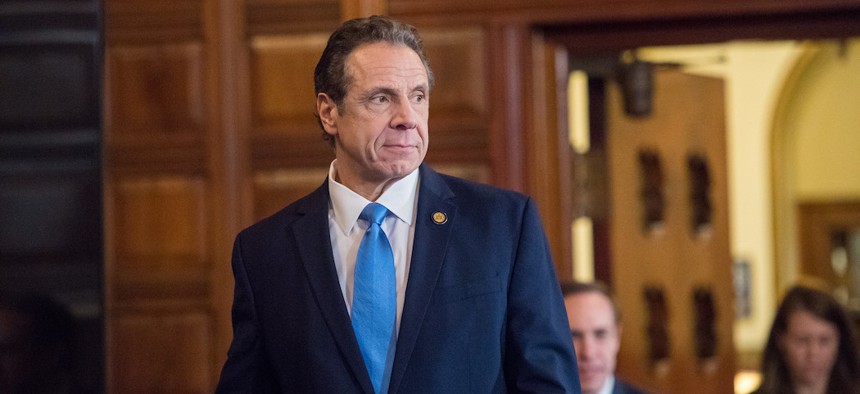 New York's top priority is now shoring up the health care system in anticipation of thousands of more cases of coronavirus, Cuomo told reporters on Tuesday morning at the state Capitol. The outbreak is expected to peak in about 45 days from today, Cuomo said, and the state is expecting that it needs as many as 110,000 total hospital beds and as many as 37,200 intensive care unit beds. "That my friends, is the problem," he said. The state currently has 53,000 hospital beds (which are already at 80% capacity) in New York, in a state of 19.5 million people. While the governor says the federal government needs to step in to expand capacity, Cuomo said he is also exploring options at the state level. 
The state has to "flatten the curve" to manage the flow of coronavirus patients into hospitals. The state has already shut down bars, restaurants (except for takeout and delivery) and capped gatherings at 50 people. There are currently no plans to expand closings to everything except grocery stores and pharmacies – as Italy has done – according to Cuomo. "We're not there yet," he said. But that could change, and any additional restrictions would be statewide, he added.
The state is going to medical and nursing schools as well as calling on retired health care professionals (through this website) to step forward to help out. Hospital administrators will remotely meet with the governor later today to discuss how to increase capacity. The state has about 4,000 of the all-important ventilators (one is needed for each new ICU) available, with hundreds more in a stockpile, according to the state Department of Health. "The main repository for ventilators is the federal government," Cuomo said. 
Cuomo, who has struggled at times as an elected leader to connect emotionally with his constituents, struck a personal note at the press conference in how the outbreak is affecting the family lives of himself and others across the state. People have to stay apart. Family members are unable to visit each other. One of the governor's own daughters is in self-quarantine following possible exposure to the virus. "It is important for us especially at times of stress to feel comforted," he said. "I haven't seen my daughter in over two weeks. It breaks my heart … Understand the pressures that everyone is feeling and let's be considerate of those feelings."