Coronavirus
What coronavirus closings mean for New York's economy
Restaurants, theaters and tourism will take a hit from coronavirus. Here's what the city and state could do to blunt its impact.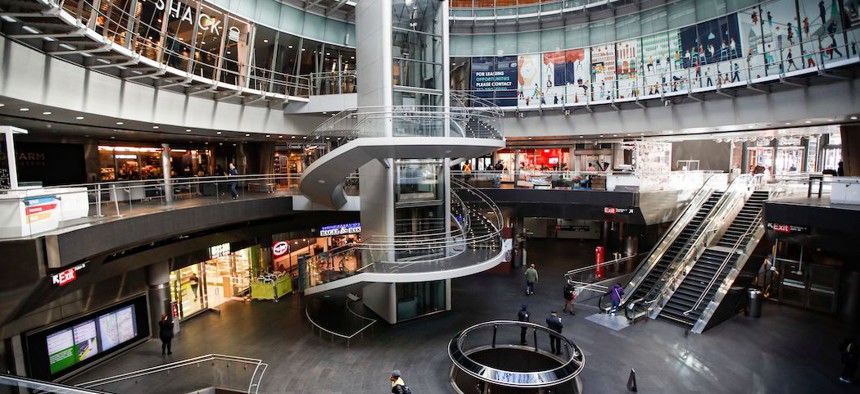 Months from now, when, hopefully, the dust starts to settle on the coronavirus outbreak, attention will likely shift from the immediate danger of the pandemic and the strain on health care resources, to the lasting consequences on the city and state's economy. 
Already, with New York moving to shut down restaurants – with the exception of take-out and delivery orders – bars, theaters and more businesses, some city and state officials are calling attention to the impact those public health actions will have on workers in retail, hospitality and more. "We are going to have to recreate economic capacity because people are going to be without," New York City Mayor Bill de Blasio said Monday morning, during an interview on MSNBC. "If you don't have money, you can't pay the rent, you can't buy food, you can't buy medicine."
Chambers of commerce, business groups and the industry associations which represent those restaurants, hotels and venues are calling on the city and state to take actions like allowing late rent payments for small businesses and suspending sales taxes to provide some immediate economic relief to business owners. But while tourism, hospitality and entertainment industries have weathered challenges and shutdowns in the past, some say the fallout from this pandemic in New York City could exceed that of previous disasters and recessions. 
James Parrott, the director of economic and fiscal policies at the Center for New York City Affairs at The New School, told The New York Times that the city could lose up to 500,000 jobs in businesses catering to both tourists and locals. "This is unprecedented," said Andrew Rigie, executive director of the New York City Hospitality Alliance, an industry group for restaurants, bars and similar establishments across the city. "Obviously, we pulled ourselves through (after) September 11th, after the financial crisis of 2008, again after Hurricane Sandy, but this is different, unique in its impact, unprecedented, and we're doing everything possible to react to the immediate crisis and begin planning for the long, challenging recovery we face."
On Monday, New York City Comptroller Scott Stringer released a forecast that provided some concrete estimates of the dire conditions that will precede that long, challenging recovery. The comptroller's office reported that hotels were expected to be at 20% capacity through the end of this fiscal year (June 30th), restaurant sales expected to decline by 80%, real estate sales by 20% and retail sales by 20%. Altogether, it forecasted that declines in these sectors will amount to $3.2 billion in lost tax revenue for the city over the next six months.
Workers at restaurants, bars and theaters are likely to start feeling that impact even sooner. While most employees in New York City are able to accrue up to five sick days under the city's Paid Safe and Sick Leave Law, many restaurant employees – of which there are roughly 300,000 in New York City – are hourly workers, don't have much more paid time off and are not unionized, Rigie said. Employees at the shuttered movie theaters, sporting arenas and other closed businesses throughout the state are similarly facing little or no income in the coming weeks and, perhaps more likely, months.
Rigie said that having take-out and delivery options open will help to some degree, but not every restaurant will have enough of a take-out or delivery business to sustain staying open. And then there are the coffee shops or smaller restaurants that may not have delivery operations at all. Rigie said they are working with delivery apps to help some of those places begin offering delivery if they didn't already before the pandemic.
There are also the city's hotels, which are likely to suffer from declines in tourism and business travel, facing potential bankruptcy or closure. "Every hotel in the city is not in a position to pay the Real Property Tax bill due on July 1st at least from their own operations," Vijay Dandapani, president and CEO of the Hotel Association of New York City wrote in an email. "A few, probably very few, owners may be able to use their own reserves to pay for it but most will end up being delinquent on that front."
And then there's Broadway, the artistic mecca that brought in over $1.8 billion in box office gross receipts in the 2018-2019 season. On Thursday, Cuomo ordered a statewide ban on public gatherings of more than 500 people, effectively shutting down the theaters. The Broadway League, an industry organization, later clarified that the Great White Way would go dark until April 13th – resulting in a shutdown longer than any other in recent history. After September 11th, the theaters closed for two days, and union strikes in 1975 and 2007 closed some theaters for 25 and 19 days, respectively.
But already, it seems like a one-month shutdown was a conservative estimate. Over the weekend, the Centers for Disease Control recommended against public gatherings of 50 people or more for the next eight weeks. The fact that the shutdown is government-mandated means that producers will be able to collect some insurance money, and the Actors' Equity Association – which represents more than 51,000 performers and stage managers nationwide – has said that it is discussing its members' employment contracts with their employers and working to ensure they get paid. But it's not clear whether or how much all those people will be paid, and Actors' Equity called for Congress to expand temporary paid leave and unemployment benefits to workers affected by theater closings across the country.
Others are calling on the federal government for some kind of relief or stimulus. "We're getting grants and loans and things for small businesses, but that's a small piece," de Blasio said on MSNBC on Monday. "This is where we need a massive federal relief program. The stimulus bill, which we pray will be voted on today, is a helpful step. It's nowhere near what is needed." That bill, which passed in the House over the weekend, includes measures like paid sick leave protections, but only to employees of businesses with fewer than 500 employees.
The city is working on some relief measures already. Small businesses with fewer than 100 employees who have seen sales decrease 25% or more because of the coronavirus will be eligible for zero interest loans of up to $75,000. The city is also offering businesses with fewer than five employees grants to cover 40% of payroll costs for two months. 
But business owners and industry groups are recommending some more creative solutions. In an open letter to city and state officials, the Five-Borough Chamber Alliance – representing the Chambers of Commerce of Brooklyn, Manhattan, Queens, Staten Island and the Bronx – called for several local actions, including suspending the state sales tax for at least six months, reducing the state business income tax by half for 2020 and repealing the city's commercial rent tax on small businesses. Other recommendations include suspending the plastic bag ban, placing a moratorium on non-health related business violations and fines, and capping third-party delivery fees by companies like Grubhub and Seamless at 10%.
Stringer's proposed actions aligned with some of the above. He recommended that the state defer sales tax payments due March 20th for hotels, restaurants and small storefront retail stores, and that the city waive all fines and fees for small businesses. 
Others have also raised the possibility of freezing rent payments for the month, enacting a universal basic income policy – like the one Andrew Yang championed on the presidential campaign trail – and suspending eviction courts. A statewide suspension on eviction proceedings and pending eviction orders, including for commercial evictions, goes into effect on Tuesday. City Hall representatives did not directly answer whether the city would have the authority to force landlords to temporarily freeze rent payments, but said that nothing's off the table. "We know that this public health crisis will have an impact on our economy, and especially our small businesses," de Blasio spokeswoman Julia Arredondo wrote in an email. "That is why we are offering various loans and grants for small businesses, and all options are on the table to ensure New Yorkers do not suffer." She added, however, that the state and federal government must act as well. A spokesman for Cuomo did not immediately respond to a request for comment.
David Friedfel, director of state studies at the Citizens Budget Commission, a good government group, said that other actions – like making changes to when people qualify for unemployment insurance and when people become eligible for Medicaid – may be more likely than freezing rent payments. "The availability of government resources to help people in need is an easier lift than forcing other private sector individuals or companies to accept late rent payments or that kind of a thing," Friedfel said. 
Of course, some of the recommended action – for example, a universal basic income – would be more likely to come from the federal government. Sen. Mitt Romney supported a version of universal basic income on Monday, proposing sending $1,000 checks to each American, as well as providing grants to impacted small businesses. New York City and state are also, like most other states and localities, more limited in how they can spend. Both because requirements to have balanced budgets and because of the fact that they can't print money, the city and state are not able to run deficits like the federal government can.
Other options at the state's disposal are dipping into its "rainy day reserve fund" – reserves set aside in case of a financial downtown, but which state Comptroller Tom DiNapoli has in the past said should have more money injected into it. Friedfel said even though the reserves aren't as strong as they could be, now is the time to dip into the rainy day fund. "It's raining," Friedfel said.