Budget
How legislators lost control of the budget
Even before the coronavirus, Stewart-Cousins and Heastie were losing ground to the governor.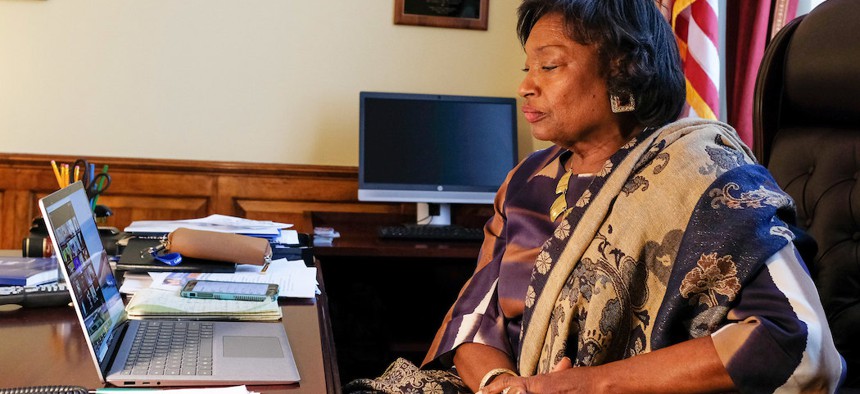 Keeping education spending levels flat and weakening last year's bail reform law was not the game plan for Democratic state lawmakers a few months ago. "This next session, we have to continue to be bold," state Senate Majority Leader Andrea Stewart-Cousins said in January. "We have to continue to embrace change."
Whether the state Legislature embraced it or not, change certainly came to Albany this session – just not in the way that Stewart-Cousins and Assembly Speaker Carl Heastie originally hoped for.
This year was supposed to be more of the same for Stewart-Cousins and Heastie, who in 2019 teamed up to pass progressive legislation on voting, climate change, sexual harassment, rent regulations and driver's licenses for undocumented immigrants. Democrats aimed to follow that up in 2020 by legalizing recreational marijuana, boosting education funding and maybe even taking criminal justice reforms a step further – whether Gov. Andrew Cuomo liked it or not. 
But the legislative "Wonder Twins" would not produce the sequel their fans had been clamoring for. "We can all agree that the budget that we're passing is not the budget that any of us hoped to pass," Stewart-Cousins said on the Senate floor after her chamber passed the final state budget bill on Thursday. A press release from Cuomo released shortly after touted the "extraordinary feat" of passing a budget 12 hours before the Assembly had even finished voting. Two press releases – one on environmental issues and another on expanded gun control measures – were all Heastie would say publicly as his chamber raced to finish the budget two days past the April 1 deadline. A spokesman for Heastie did not respond to a request for comment.
"We can all agree that the budget that we're passing is not the budget that any of us hoped to pass." – state Senate Majority Leader Stewart-Cousins
Any governor has enormous constitutional advantages over lawmakers when it comes to the budget, but Cuomo had a particularly easy time this year. "This is the easiest budget we've done," Cuomo said in a late March radio interview, recalling a conversation he had with a lawmaker. "We have no money." That was just one more thing that helped him regain the upper hand after lawmakers outmaneuvered him on rent regulations and other key issues last year. 
Despite their ambitions at the beginning of this year, lawmakers will end the session with few legislative accomplishments to tout beyond a state budget tilted heavily in the governor's favor on issues like health care, criminal justice, education and overall state spending. While lawmakers could theoretically reconvene this year, the coronavirus pandemic and election year politics may persuade them to hold off until next year.
Earlier in the year, Democrats were already contending with divisions within the state Senate and between the chambers and less joint legislative action between both houses. There was a multibillion-dollar budget deficit and an uproar over criminal justice reforms. Finally, the coronavirus scrambled budget plans and transformed the three-term governor into a national media star with sweeping emergency powers, granted by the state Legislature with overwhelming support and minimal debate. Just weeks before, lawmakers were imagining a day when they could dominate the state Capitol with legislative supermajorities in both houses. 
Yet the political storm clouds began gathering late last year. First came public revelations about a multibillion-dollar funding shortfall in the state Medicaid program, largely fueled by growth in managed long-term care programs. While the Cuomo administration had exacerbated the problem through some questionable fiscal maneuvers, the $6 billion budget deficit also provided Cuomo a handy pretense to lower lawmakers' fiscal expectations. He tasked a Medicaid Redesign Team – stacked with political allies – to recommend $2.5 billion in funding reductions to Medicaid, which were ultimately approved and will be phased in over time. But since the end of 2019, the prospect of major health care cuts had set the state Senate and Assembly up for conflict with each other on the issue of raising taxes.
Heastie suggested in December that he would rather raise taxes than cut Medicaid, while Stewart-Cousins distanced herself from the idea of raising taxes. The convention political thinking was that while most of the Democratic Senate conference is from New York City, the Senate leader had to avoid tax increases in order to protect the swing district incumbents on Long Island and in the Hudson Valley who helped the party seize control of the chamber in 2018. Democrats in the state Senate have made efforts to project unity between political moderates and progressives since 2018, but those two wings of the party have been divided on issues like taxes, bail and marijuana.
"This is the easiest budget we've done. We have no money." – Gov. Andrew Cuomo
These swing-district Democrats kept a low profile on bail reform, an issue that Republicans used to drum up support ahead of the elections this fall. The odds are against Republicans winning back many seats in the chamber, especially with so many members of their conference retiring. Yet Republicans were able to stoke divisions between Democrats by railing against the new limits on cash bail and immigrant-friendly policies like driver's licenses for undocumented immigrants. Stewart-Cousins protects her majority by helping the political interests of suburban moderates, but that hasn't always helped her chamber find common ground with the Assembly, where many members are fearful of political challenges from the left rather than the right.
Whether it was controversial issues like bail and taxes that pushed the two chambers apart, or just an expectation that they would pass each other's bills later in the spring, the lack of coordination between the Senate and Assembly would ultimately prove costly from a legislative standpoint. Unless lawmakers return to Albany later this year, voting reforms passed by the Senate earlier this year could be doomed, and any proposed constitutional amendment that has not passed one house or another – like a proposed overhaul of state ethics – would be put off for another two years because such amendments must be passed by two successive legislatures before going on the ballot.
Not a lot has gotten done outside the state budget process this year. In the two months before the pandemic effectively paused normal legislative business, only a singlepiece of significant (and nonemergency) legislation passed both chambers: a package of bills on limousine safety – an effort itself doomed last year by an uncharacteristic lack of coordination between the two chambers. While there were no signs that the personal relationship between Heastie and Stewart-Cousins had deteriorated, they held fewer joint press conferences this session, even before the threat of the coronavirus became apparent. One noteworthy exception was an appearance with the governor in early March when the state Legislature approved a vast expansion of the governor's emergency powers.
To be sure, Heastie and Stewart-Cousins have faced tough odds all along. Uniting lawmakers who represent diverse constituencies across the state is no easy task for any legislative leader. The two leaders found success last year through consensus-oriented leadership styles – and a backlog of progressive priorities blocked for years by Senate Republicans certainly helped. While compromise was elusive on bail this session, the two leaders eventually made a deal with Cuomo during budget negotiations that gave each of the legislative leaders some of what they wanted. While the agreement did not completely eliminate cash bail – a key talking point for Stewart-Cousins – it did address some criticisms of the new law by expanding judicial discretion to jail some criminal defendants pretrial. The Assembly won a key concession by securing the removal of a controversial provision that would allow judges to jail people pretrial because of their perceived dangerousness to the public. Now, both leaders have to see whether the changes were worth the wrath of the political left, which has been swift with its criticisms.
The two leaders also reached agreements on a few issues that stalled in 2019, including paid gestational surrogacy, an expansion of prevailing wages and a ban on flavored vaping.
Simply passing the budget was a critical step, as it meant keeping the government going during a time of crisis. "The legislative leaders really stepped up this year during very difficult circumstances that are unprecedented in at least 100 years," Cuomo spokesman Rich Azzopardi told City & State. The idea of a global pandemic curtailing the legislative schedule was unthinkable a few months ago, but this new reality – and a budget gap that ballooned to $10 billion – eroded whatever leverage Heastie and Stewart-Cousins had just a few weeks ago. 
The two chambers passed resolutions allowing themselves to meet and vote remotely, so lawmakers could pass additional bills in the coming months. But now that the budget has passed, there is less urgency for the state Legislature to do anything. Cuomo's emergency powers allow him significant leeway to suspend state laws and create new ones to deal with the crisis – and the new budget gives him enormous fiscal authority moving forward. Lawmakers could pass resolutions to overrule him on any funding cuts that he makes in response to dwindling tax revenues. But would Heastie and Stewart-Cousins really make their conferences step in to make spending decisions that might prove unpopular during an election year? 
Only time will tell, but Stewart-Cousins said she has already accepted a key lesson in legislating during a pandemic. "If we've understood (anything), we should have understood that nothing is promised for us," Stewart-Cousins said after the final budget vote. "So if you can get something done, if you can figure out things, do it while you can."