New York City
How the City Council will go virtual
City lawmakers will meet and vote remotely on Wednesday.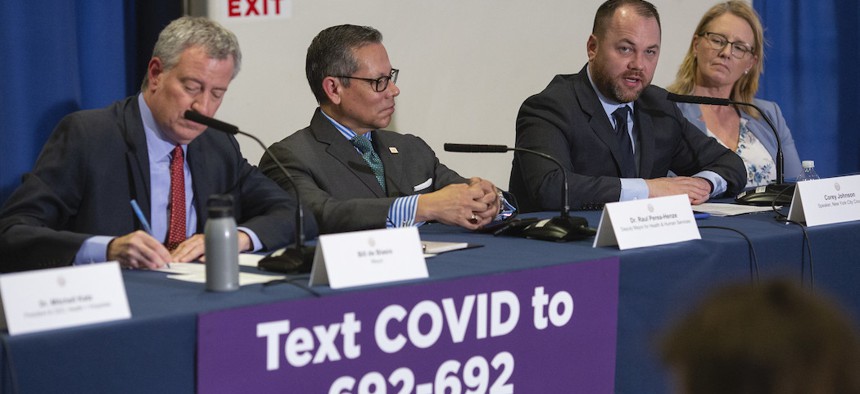 The New York City Council is taking care of business – from the safety of their own homes. On Wednesday, the City Council will hold its first stated meeting, remotely, since the new coronavirus pandemic intensified in New York in mid-March. Stated meetings, which are normally done once or twice a month, are meetings of the entire Council to introduce and vote on legislation. Since they can't meet in person at City Hall, lawmakers will convene and vote remotely using the video conferencing service so many Americans have recently grown familiar with (and maybe slightly suspicious of): Zoom.
The City Council has not met in person since March 13th, and Wednesday's meeting and following remote hearings scheduled on Thursday and Friday, will presumably allow city lawmakers to introduce and pass bills responding to the pandemic. One proposal floated by Council Speaker Corey Johnson and Councilwoman Carlina Rivera would close or reduce vehicle traffic on 75 miles of city streets to allow for more socially distant foot traffic.
News of the City Council's move to remote legislating raises some questions, including how secure the proceedings will be, how lawmakers will be participating, and, perhaps most importantly, why the City Council seems to be able to legislate remotely while the state Legislature has not resumed session since passing the budget. (While both the state Senate and Assembly have passed rules allowing remote voting, and used some video conferencing to pass the state budget earlier this month, the Legislature has not deployed actual digital voting and has yet to confirm that the legislative session will resume this year.)
City & State reached out to Council members and staff to see how it will all go down.
The City Council is meeting remotely. What does that mean?
The City Council's meeting on Wednesday – at which lawmakers will introduce and vote on a long list of bills – will take place entirely over the video conferencing service Zoom. If you've used Zoom for work meetings or hangouts with friends, you've likely been sent a private link or access code, and only people with that link can participate. Wednesday's Council meeting will be a little bit different, using Zoom's webinar format, in which the speakers are still a select, invited group of people, but the meeting is able to be livestreamed and viewed by the general public. 
Council members and staff also confirmed that members will be able vote on legislation over Zoom – something that the state Legislature hasn't done – by voicing their votes over video. The person presiding over the meeting will recognize a member by un-muting them, and the member will vote verbally. While voting verbally seems pretty straightforward, it will likely also be a slow and arduous process – especially with so much business for the Council to get through after not meeting for over a month. City Councilman Ben Kallos, whose district includes a large swath of the Upper East Side, told City & State that the process of voting on each piece of legislation will likely take a very long time. "We are expecting it to be long, laborious and painful," he said.
Councilman Robert Holden, who chairs the Council's Committee on Technology, acknowledged that there may be some road bumps, but said he's optimistic about the transition. "Hosting the body's first ever Stated meeting remotely is obviously a daunting task, but I have confidence in Speaker Johnson and his staff in setting up the technology to run with little to no issues," Holden said in an emailed statement. "This will be a learning experience, and hopefully it leads to further technological modernizations for this historic body as we move into the future."
While some Council members may choose to go into their district offices for the meeting, many will likely be at home. And while the transition to Zoom may have been rocky for some members who weren't familiar with the technology, Kallos said that the overall attitude is positive. "I think by this point everyone has already adapted to using Zoom, whether in the classroom, or in their office," he said. "I know there will be some growing pains with some members who are less technologically savvy, but I know that the support is there, the training is there, and that folks will be able to participate."
Will the City Council get Zoom-bombed?
"Zoom bombing" is a phenomenon in which malicious hackers or pranksters gain access to a private Zoom meeting, often to troll, post graphic content or, for example, hurl verbal abuse and racist insults. A Council spokesperson told City & State that necessary security precautions have been taken, but didn't elaborate on what those were. 
Kallos mentioned one precaution that could at least quickly solve a Zoom bombing if any were to happen. The Council's sergeant-at-arms will be the "host" of the Zoom meeting, and have the authority to remove any unwelcome members. "If anything goes wrong – even if a member were to do something foolish, as we've seen on the internet with the person who brought a laptop into the bathroom with them – the sergeant-at-arms will have the power to boot somebody out of the meeting," Kallos said.
Councilman Kalman Yeger, whose district includes Bensonhurst and Borough Park in Brooklyn, said that he wasn't especially concerned about Zoom bombings. "I've been in the Council chamber when people have hurled pieces of paper – dollar bills, in fact – from the balcony and started shouting out our meeting," Yeger said. "So I can't imagine that a Zoom bombing – to the extent that one happens – will be much worse than things that I've seen in person."
Was a rules change necessary to allow remote voting?
While the state Legislature hasn't yet taken full advantage of remote voting, it is now able to do so because both chambers adopted resolutions allowing remote voting during a declared state or national emergency. 
The City Council is also able to meet virtually, a spokesman said, because of Gov. Andrew Cuomo's March 7 executive order which, among other things, authorizes any public body to meet remotely. They also cited New York City Mayor Bill de Blasio's March 16 emergency executive order, which suspended the section of the City Charter requiring that meetings of the City Council be held according to its usual rules, which require in-person voting. So while an additional rules change may not be necessary to allow remote voting for the Council, the spokesperson also added that the Council will vote on a rules change at the start of Wednesday's meeting to allow for suspension of any Council Rules that would keep them from legislating virtually.
Why is the Council able to meet and vote remotely and the state Legislature isn't?
If the Council is getting on board for remote voting, why isn't the state Legislature? This is the million-dollar question. All the same technology options – whether Zoom or software specifically designed for digital voting – are available to the state Legislature, which is technically still in session but hasn't picked up since the budget was passed. "The City Council has been a leader in reform, whether it's getting rid of outside income or lulus," Kallos said, referring to a practice that was banned in the Council but continues in the state Legislature, in which lawmakers with leadership positions receive allowances. "Continuing on with our business is just another way that the Council continues to lead by example."
While Senate and Assembly leaders have said that they want to reconvene before session ends in June, others doubt that that will happen, despite legislative staff having the ability to set up remote voting, assuming that social distancing measures are still in place. Sure, the transition might be more complicated for the Legislature, with more members to coordinate and train, but some argue those road bumps can be worked out. 
Good-government advocacy organizations such as Common Cause New York have called on the Legislature to resume session entirely remotely. "We are paying them to be legislators, so it behooves them to utilize the technology that exists and do their jobs remotely, just as we are all doing our jobs remotely – those of use who are still employed," Common Cause New York's executive director Susan Lerner told City & State earlier this month.