New York State
Coronavirus leaves Child Victims Act cases in limbo
Since the courts are mostly closed, will alleged survivors be given more time to sue?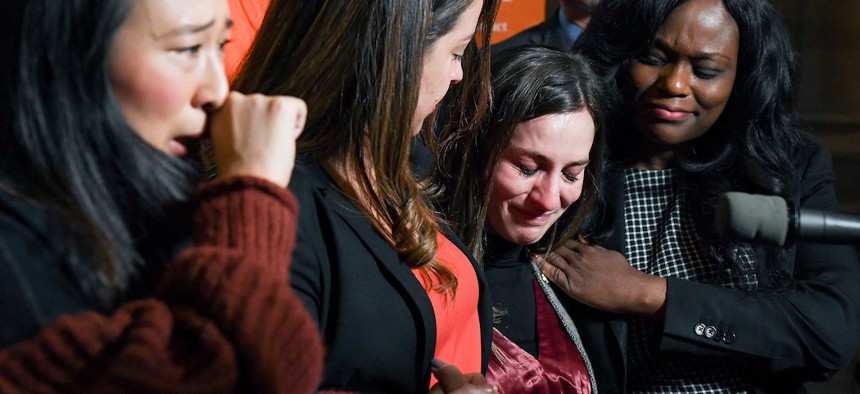 In an August interview, Gov. Andrew Cuomo said, "Child sexual abuse is a real epidemic. It's been in the corners and in the shadows, but it is much more widespread than people want to admit."
Now that epidemic has been eclipsed by a global pandemic, whether some victims of childhood sexual abuse will have the chance to take their alleged abusers to court is uncertain. Beginning in August, many adults who were the victims of sexual abuse as children had a one-year opportunity to take legal action against their alleged abusers and related institutions. But the coronavirus crisis has scrambled legislative priorities and closed the courts to all but the most urgent matters, and the survivors who were given a grace period to press charges or seek damages outside the normal statute of limitations now find themselves unable to make those claims.
"The COVID-19 pandemic has effectively shut down the civil justice system, causing confusion and worry among survivors," Ariel Zwang, CEO of victim services organization Safe Horizon, wrote in an email to City & State.
Under the Child Victims Act, which passed in January 2019, people seeking to press charges for felonies in criminal cases can now do so until the victim turns 28, rather than 23. In civil cases, people now have until they are 55 to bring a suit. In addition to those extensions, the Legislature created the one-year look-back window for anyone who otherwise would have been ineligible due to age or other factors, allowing them to pursue civil cases regardless of the statute of limitations. That window began on August 14, 2019, and it is set to expire this August, but advocates fear court closures due to the pandemic may shorten the window by several months.
"There's no clear answer," state Sen. Brad Hoylman, who sponsored the original legislation, told City & State. "I think it is incumbent on Albany to provide some clarity for survivors and the courts as to whether we're going to add more time."
On March 20, Cuomo issued an executive order temporarily pausing statutes of limitations for one month, later extending that pause through at least May 15. Advocates and attorneys have noted that it remains unclear whether that pause applies to the Child Victims Act look-back window. Cuomo spokesman Jason Conwall did not offer further clarity: "This is an issue we're looking at and we will continue to discuss how we can address it," he said in an email to City & State.
The coronavirus pandemic halted much of the state's legal activity when, on March 22, state Chief Administrative Judge Lawrence Marks issued an order stopping the filing of all cases except those deemed essential, such as temporary orders of protection, some child protection matters and landlord lockouts. Child Victims Act claims were not deemed essential.
There have been 1,700 Child Victims Act filings since August, according to the state Office of Court Administration. Many were filed under the look-back window, and the number of cases caused a backlog in the courts. Advocates say there are still many more people who hope to bring suits before the window ends.
"This will certainly be a hotly litigated issue that defendants try to use to their advantage in court," wrote attorney Jason Berland of Lewis Baach Kaufmann Middlemiss PLLC in a recent New York Law Journal op-ed, encouraging lawmakers to clarify the situation and extend the window.
Legislators had an opportunity to address the look-back window during this year's budget negotiations in early April, but they did not.
The Child Victims Act has also caused a financial strain on many institutions, such as the Roman Catholic Church, Boy Scouts of America and public and private schools. The cascade of cases has inundated those institutions with legal fees, settlements and expensive investigations into old insurance policies.
"Insurance companies have to have proper reserves. They have to know what kind of claims are coming, and certainly they did not expect to have these claims suddenly appear on their financial radar," said Dan Kohane, a senior partner at the law firm Hurwitz & Fine P.C. "So that's a hardship there."
Before the pandemic reached New York, a new bill was introduced in the state Legislature to extend the look-back window an additional year to allow more people the opportunity to come forward. That bill was in committee when the pandemic arrived, and it is unclear whether lawmakers will revisit it this session.
Lawmakers were originally scheduled to reconvene on April 20, but have yet to meet since passing the state budget at the beginning of the month.
"This important legislation will be discussed by the Majority Conference and we will move forward accordingly," state Senate Democratic spokesman Gary Ginsburg wrote in an email. Kerri Biche, a spokeswoman for Assembly Speaker Carl Heastie, wrote in an email that the Assembly remains in session at the call of the speaker.
While there has been support for a look-back window extension in the state Senate, some have said the one-year extension is unnecessary. The existing look-back window has already been widely publicized, Kohane said, and the law passed six months before the look-back window opened, giving survivors extra time to prepare a lawsuit.
"It's really a year and a half to consider whether or not they want to bring a claim," he said. "The reason for a statute of limitations is so that people who could be sued can have some closure."
State Senate Insurance Committee Chairman Neil Breslin has also said he opposes extending the window another year, though he said he is open to making up for time lost during the pandemic. "That seems to me that I could be convinced that that's very reasonable," he said. Assemblyman Kevin Cahill, who chairs the Insurance Committee in that chamber, said, "We certainly didn't expect that the last few months of the Child Victims Act (look-back window) would have people barred from courtrooms. I would be inclined towards supporting an extension."
Advocates are continuing their calls for a yearlong extension of the look-back window this session despite the coronavirus pandemic. Child victims advocate Tom Andriola said getting the tone of advocacy right during this unprecedented time was important. "People just want to be respectful, but they also want to make sure that folks know it's really important to take some action on this," he said.
Since people have been confined to their homes and isolated from resources outside of their families, issues of abuse and domestic violence become even more urgent, according to Gary Greenberg, a state Senate candidate for a district outside Albany and the founder of the Fighting for Children Political Action Committee. Survivors' plans to file their cases may have also been disrupted due to the coronavirus, he said, meaning additional time is needed even more. Greenberg said he expects the look-back window to be extended to make up for the pandemic-related court closures.
He said he is committed to advocating for a one-year look-back window extension, but acknowledged that it may not happen during this legislative session. "The priorities are, I'm sure, going to be coronavirus and getting businesses back open, helping in those areas," Greenberg said. "So, it may not happen this year. That is a distinct possibility."
Zach Williams contributed reporting.
Powered By
NEXT STORY: So bad, New York's health insurers are crying, 'Uncle!'