Energy & Environment
COVID-19 pandemic could expedite climate change response
New York's financial regulator has hired its first climate director.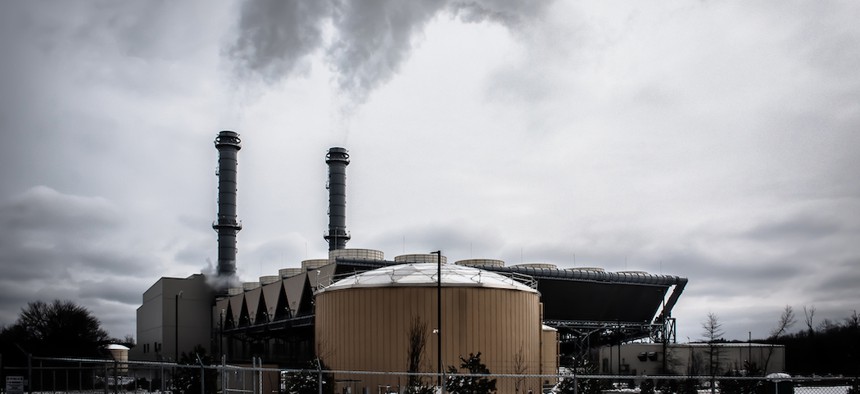 The coronavirus pandemic has been an unprecedented disaster for New York – and one that has injected a fresh sense of urgency into efforts to address climate change. With emissions falling as a result of stay-at-home orders and reduced productivity, there is even a chance of making substantial strides against the looming global emergency.
Activists are demanding divestment from fossil fuel companies. New York City Comptroller Scott Stringer is urging insurance companies to give up on coal. Major investors want an environmentally sustainable economic recovery. 
And in another small but significant sign that the matter is being taken more seriously, the state Department of Financial Services announced Tuesday that it was hiring Nina Chen as its first director of sustainability and climate initiatives, even as the agency grapples with COVID-19 and the economic slowdown it has wrought. 
Chen's portfolio will include developing policy initiatives on a wide range of fronts, including sustainability, green finance and climate mitigation. But when it comes to helping businesses weather the changes of climate change, the MIT grad and Nature Conservancy alum will have one overarching goal, according to her new boss.
"She can help industry to engage in this very difficult job of trying to quantify what their risks are," DFS Superintendent Linda Lacewell told City & State. "(Businesses) are going to be dealing with that on all sides."
Hiring one person to begin discussions with big business will not change the state's regulatory environment anytime soon. However, it does mark a pivot by the state when it comes to addressing a problem that could make the human and economic toll of the current pandemic appear mild by comparison. 
"The valuation of that can be tricky in standard financial terms" said Stuart Gruskin, the chief conservation officer for The Nature Conservancy New York. "You need the environmental stakeholders, the businesses stakeholders and the regulators at the table. It really has to be a real all hands on deck approach." 
The new focus on climate change at the department comes as the state Climate Action Council, which was appointed by the governor and legislative leaders, develops plans to eliminate greenhouse gas emissions by 85% (based on 1990 levels) by 2050. While that timetable has made the state a national leader in setting climate goals, New York has some catching up to do with European countries like France and the U.K., according to Lacewell. "Climate change, prior to this pandemic, has been one of the biggest risks for big business," she said. "The Europeans in many ways have been ahead of us on this, unfortunately."
Efforts in the European Union have focused on creating a "green finance taxonomy" that would offer clarity to banks, money managers and insurers on what officially makes a business environmentally sustainable, according to Bloomberg News. The European Banking Authority plans to wrap up such work by 2025, but the current focus is on gathering data to assess just how climate change increases risk across the economy. 
Measuring the success of such efforts can be difficult in the short term, according to Lacewell, who credited conversations with European regulators for inspiring the department's new climate change effort in New York. More information has to be gathered on how industries like insurance are already factoring climate change into their financial plans. Only then can state regulators turn their attention towards creating a green new regulatory regime. 
While that will take years to develop, the hiring of Chen does send a signal, according to Lacewell. "When your regulator asks you what you're doing about something, the regulator is saying this is important," Lacewell said. "And the industry reacts internally, to put more resources into getting their arms around that particular issue."
Figuring out how to balance the competing interests in environmental projects was a big part of the work that Chen – who declined to comment for this story – did during her five years at The Nature Conservancy, where she directed the nonprofit's conservation investments program. She previously worked at Goldman Sachs and the Royal Bank of Canada. 
With a chemical engineering doctorate from the Massachusetts Institute of Technology, Chen was described as "smart" by several people in the environmental movement. Her experience in both the financial and environmental sectors is inspiring confidence that the department is serious about taking its climate change efforts up to a new level – but the work is only beginning.
With President Donald Trump largely dismissive of the dangers of a warming planet, New York and other states have tried to fill a void. While the Climate Action Council will not release its plan for the state until 2022, the state will have to incorporate changes to the financial sector as soon as possible in order to meet the challenges of climate change. 
Getting someone in place to lead that effort sooner rather than later was a welcome development, according to state environmental leaders. "There are a lot of challenges up ahead," said Richard Schrader, director of policy for the Natural Resources Defense Council of New York. "This is a good place to start."
Correction: A previous version of this story incorrectly attributed calls on insurance companies to cut ties with the coal industry, which were actually made by New York City Comptroller Scott Stringer.