NYPD
How would NYC cut $1 billion for the NYPD?
Calls to reduce spending on police are increasingly popular, but details are still being determined.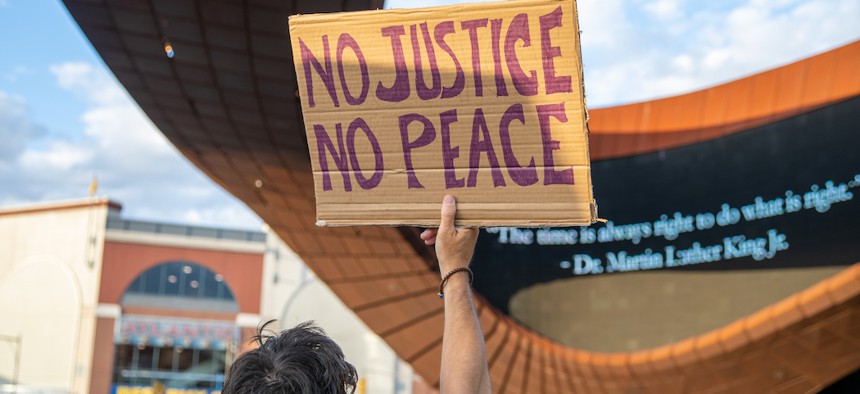 After nearly two weeks of protests in New York City against police brutality and racism, following the killing of George Floyd at the hands of Minneapolis police officers, policy demands have begun to crystalize. None are without controversy, but perhaps the most contentious is the call to defund the New York Police Department. Criminal justice activists are calling for the city to slash the nearly $6 billion annual budget by $1 billion, and reinvest that money in social services like homeless outreach and mental health counseling. 
In late April, to help address a budget gap that has since grown to $9 billion, Mayor Bill de Blasio proposed some deep cuts to city services when he released his executive budget proposal. But many, including lawmakers, bristled at the fact the mayor spared the NYPD from significant cuts, proposing a less than .5% reduction over last year. Many lawmakers, including Council Speaker Corey Johnson and Councilman Donovan Richards, had been calling for cuts to the NYPD budget for weeks, in light of the city's fiscal crisis. Those calls crystalized as the protests against police brutality – and the police's sometimes brutal responses – continued. Slashing police spending shifted from a largely fiscal decision with criminal justice undertones to a criminal justice issue with fiscal undertones. On June 4, New York City Comptroller Scott Stringer released the most detailed proposal on deep cuts to the NYPD. On June 5, several City Council members committed to voting down a budget that does not include significant cuts in early June.Days later, de Blasio reversed course, committing to cut department spending after having initially resisted. 
With crime at historic lows and more police officers in New York City than there were a decade ago, it might seem that there is plenty of room to cut. But how exactly advocates propose a nearly 17% reduction in the department's spending remains unclear. 
Defunding – and even abolishing – police departments is not a new idea, but until recently it largely remained among the fringes of left-wing ideology in New York City. Now, as protests have occurred daily and police have often responded with violenceagainst protesters, the idea has found more mainstream acceptance. 
Even before Floyd's death galvanized a nationwide protest movement, New York City faced a precarious fiscal situation due to the coronavirus pandemic and its economic fall out. It came at a time when the NYPD had been criticized for its racially disparate enforcement of social distancing rules. 
With many public agencies facing cutbacks and public concern about aggressive policing on the rise, Stringer's proposal laid out how the NYPD could save $265 million per year, which in four years would result in a $1 billion in total savings. Those would be achieved through a hiring freeze for new officers in the upcoming fiscal year, which Stringer said would reduce the uniformed NYPD headcount from the current 36,461 to about 35,000, as a result of retirements. This would result in $112 million in direct savings per year from pay, plus another $111 million in fringe benefits such as health insurance and pensions. The other two approaches to saving are reducing budgeted overtime by 5% and all expenses other than payroll, such as computer services, by 4%. 
Most lawmakers have avoided committing to specific dollar amounts. That's in part what prompted Stringer to put out his analysis, something to get the ball rolling. "This is a baseline," Stringer told City & State. "You can certainly go a little higher… Before we did this, there was no movement." City Councilman Ben Kallos has backed a plan cutting $1 billion over four years, while Councilman Carlos Menchaca has called for at least $1 billion in cuts in the budget this year, but has not yet offered specifics on how to achieve those cuts. City Councilman Daniel Dromm, chairman of the City Council's Finance Committee, echoed two of Stringer's proposals – capping overtime and cutting costs associated with a new class of cadets.
City Council Speaker Corey Johnson has also committed to significant cuts to the NYPD, but has not offered a dollar amount – nor has de Blasio, although he has implied that he will do so in the coming weeks.
Although many criminal justice and police reform advocates feel that Stringer's proposal does not go far enough, the math behind how to achieve a $1 billion in the next fiscal year has not yet taken firm shape. And that significant reduction would likely involve some unpalatable choices. "I don't think you can hit that kind of number without layoffs," Andrew Rein, president of the Citizens Budget Commission, a think tank that advocates for fiscal restraint, said. "Maybe you can get there, but it's pretty dramatic because you really have to control the overtime like you never have before." Rein said that the areas that Stringer is looking at are good places to reduce costs without layoffs, adding that an overall hiring freeze, including for civilian personnel, such as school safety agents and crossing guards, would be prudent. But short of completely eliminating overtime and all non-personnel services, Rein said the $1 billion-a-year goal is hard to hit.
Criminal justice advocates are working on a detailed budget proposal with hard numbers about how to reach their goal, but how to get there is still a little up in the air. Communities United for Police Reform, a coalition of groups advocating for civil rights and civil liberties advocates, has proposed some avenues through which cuts could be made. Several have already been mentioned by Stringer and Rein, including a hiring freeze, no new cadet classes and cuts to "non-essential areas" like surveillance equipment. The coalition also calls for "cuts related to abusive policing," such as settlement payouts – which does not come out of the NYPD budget – and keeping cops on the payroll while they await discipline. Stringer mentions the settlement issue in his own proposal, noting that in 2018 the city paid out over $230 million in lawsuits related to police misconduct, but neither Stringer nor the activist coalition have laid out exactly how to reduce those costs immediately.
The final, and perhaps hardest to quantify, category is reducing the police role in social services like homeless outreach and responding to mental health crises. Although the numbers are being finalized, Leo Ferguson, a community organizer with Jews for Racial and Economic Justice who works with Communities United for Police Reform, estimated reductions in this category could total around $400 million. That includes shifting school safety agents from the NYPD to the Department of Education and ending programs like the Homeless Diversion Program and Mental Health Co-Response Teams. Ferguson argued that the police force today is larger than it needs to be. "Even if it does require layoffs, that's how we make smart decisions about the kind of city we want to have," Ferguson said.
Ferguson said that a hiring freeze and halting new cadet classes could result in $200 million in reductions, while reducing aggressive policing and improving disciplinary processes would save the city about $270 million. He did not offer specifics about other "non-essential areas," citing a lack of transparency around the portion of budget earmarked "other than personnel services," but noted that the NYPD recently spent $500,000 on a fleet of 14 drones. "This is infrastructure that has been built over decades," Ferguson said. "We do not have an army of budget experts, so we have some very smart people working very hard to crunch these numbers… The one thing we know is that we can do it."
There will, of course, be resistance from cops and more conservative members of the Council. "Let me be clear, I will vote against any deliberate attempt to de-fund (the NYPD)," Republican City Councilman Eric Ulrich wrote on Twitter on June 3. And although the New York City Police Benevolent has not yet publicly responded to more recent calls for deep cuts up to $1 billion, the union strongly opposed the far smaller $50 million cut proposed by Richards in mid-May. "It would be insanely reckless to defund the NYPD in the middle of this crisis," PBA President Pat Lynch told the Daily News at the time. "If public safety isn't Council Member Richards' top priority, he should resign from the committee."
NYPD spending has increased about over $1 billion since de Blasio took office. That included the hiring of 1,300 new police officers in 2015 for a new community policing initiative, a hiring decision pushed by the City Council over de Blasio's objections and approved by many of the same Council members now calling for cuts. According to Gothamist, the rate of yearly growth has outpaced that of the city budget as a whole over the past 40 years. And according to the Citizens Budget Commission, the NYPD represents one of four agencies that represents the bulk of the city's budget increases since the start of de Blasio's tenure. The other three agencies are the Departments of Education, Social Services and Homeless Services.
Aside from the questions of how the NYPD budget can be trimmed, the mayor and City Council will have to wrestle with how those cuts translate to improved relations between cops and the communities they serve, because simple line item cuts without accompanying reforms to the department won't satisfy activists. "I think what feels clear here is that the way that we've done policing in New York City doesn't work and it harms folks," Anthonine Pierre, deputy director of Brooklyn Movement Center, a community organizing group in Bed-Stuy, and steering committee member of Communities United for Police Reform, said. "The City Council's job here is not just to defund, but we really need them to lead in (determining) what does it look like to do policing with less money?"