Criminal Justice
No-knock search warrants may be heading out the door in New York
After nearly two decades of inaction, Breonna Taylor's death may lead to reforms.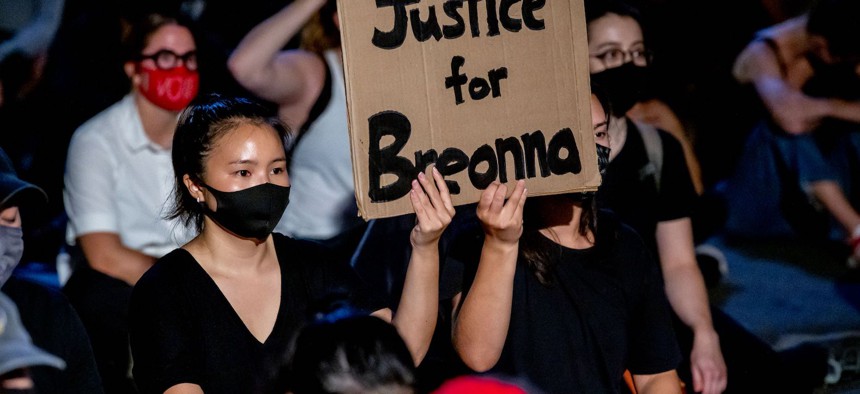 Breonna Taylor's killing by Louisville police, and the recent decision by a grand jury not to charge any of the officers who shot her, brought no-knock search warrants to the forefront of the police reform conversation. No-knock warrants are a surprise tactic in which police do not need to first knock or identify themselves before entering a premises. In New York, a bill to reform how these warrants are used has been languishing in the state Legislature for nearly two decades. But Taylor's death could breathe new life into the bill and lead to a ban of no-knock search warrants in all drug cases.
The case has brought attention to the no-knock warrants because Taylor died during a late-night raid of her apartment, in which three officers used a battering ram to enter Taylor's home after police had obtained a no-knock search warrant as part of a drug-related investigation of Taylor's ex-boyfriend. 
Although police changed the original no-knock warrant they received approval for to a "knock and announce" one shortly before the raid, no-knock warrants still became a flashpoint in the wake of Taylor's death. "Knock-and-announce" warrants can sometimes lead to so-called "quick-knock" raids, in which police still break down a door immediately after knocking and identifying themselves, whether or not they were heard or understood. Taylor's surviving boyfriend and most neighbors say they never heard the police knock or identify themselves. When serving a conventional knock-and-announce warrant in New York, in which police identify themselves and their reason for being there, officers must give people a chance to answer the door and comply with the warrant before trying to force their way in. Police don't necessarily execute every search warrant like a raid. 
No-knock search warrants exist for cases in which police believe they may be in danger if they announce themselves and give suspects a chance to react or if officers believe that a suspect may destroy evidence – flushing drugs down the toilet, for instance –  unless officers take them by surprise. While these may seem like extraordinary circumstances, they have become increasingly common since the rise of the war on drugs. Police perform an estimated 20,000 no-knock warrants a year.
Louisville banned all no-knock search warrants in June after the city settled a wrongful death lawsuit with Taylor's family. The U.S. House of Representatives passed the George Floyd Justice in Policing Act of 2020, which included a ban on no-knock search warrants in drug cases like with Taylor's death, although it never passed the Senate and was opposed by President Donald Trump. Florida and Oregon are otherwise the only two states that had prohibited no-knock search warrants prior to Taylor's death.
Buffalo Mayor Byron Brown issued an executive order in August greatly limiting the use of no-knock warrants in the city. The state Legislature passed and Gov. Andrew Cuomo signed several sweeping police reform laws in June, but none involved no-knock warrants. 
But some state lawmakers want to change that. State Sen. James Sanders Jr. of Queens plans to introduce Breonna's Law, a new bill that would ban the use of no-knock search warrants in all drug cases. While it doesn't ban no-knock warrants in cases such as murder, drug cases make up the majority of cases for which such warrants are issued. The bill, however, does not address quick-knock raids.
The use of no-knock warrants expanded greatly with the start of the war on drugs in the 1980s. According to an American Civil Liberties Union 2014 study of 800 SWAT raids, which include both no-knock and quick-knock warrants, 62% were drug searches. Of those raids, drugs were found in just 35% of cases, suggesting their efficacy is low. And no-knock search warrants disproportionately are used against Black people.
No-knock search warrants are meant to be safer for cops, but police reform experts have disputed this assertion and argue they are inherently more dangerous for civilians. "For lay people, it just seems like a recipe for disaster," said civil rights attorney and Columbia Law lecturer Alexis Hoag. "And, in terms of law enforcement, you never know who's going to be in a residence." According to a New York Times investigation, 81 civilians and 13 police officers died in forcible entry raids between 2010 and 2016. That number could conceivably be higher since most governments don't require reporting on SWAT operations. 
"After weighing and measuring and seeing the vast number of misused warrants and seeing that there are so many better ways of doing this … we should remove (tactics) that have been leading to a disproportionate impact on innocent civilians," Sanders told City & State. He said that he is not an expert in "police sciences," but said that cops have served search warrants since before the rise in no-knock warrants and have other tools at their disposal to conduct searches without risk of suspects destroying evidence, like turning off the plumbing to a building before entering on a typical knock and announce warrant. "There seem to be tactics that law enforcement could use that would subject fewer people to violence, and potentially lethal violence," Hoag concurred.
For nearly two decades, a bill to reform how no-knock warrants are used – including limiting their use to only business hours between 9 a.m. and 6 p.m. and requiring police to reimburse the cost of damage for anyone not ultimately convicted – has also remained stalled in the Legislature. The bill was first introduced in 2003, in response to the death of Alberta Spruill, a 57-year-old Harlem woman who worked for New York City and died of a heart attack after police broke down her door and threw a flash grenade into her apartment. Police were serving a no-knock warrant shortly after 6 a.m. for a drug case, although bad information had led them to Spruill, who had no drug connections nor drugs in her home.
No-knock warrants are still used, and allegedly misused, by New York City police officers today. The victims of a no-knock search warrant executed in May 2019 are suing the city after armed police broke into their Brooklyn apartment at 7 a.m. The officers searched for guns and drugs and, despite finding none, still arrested James Patterson in front of his young children. Police leader released Patterson without charging him. Photo evidence shows officers left the apartment trashed and damaged the door.
Sanders suggested that a Republican majority in his chamber until last year in part led to the bill's stagnation. It did not have a Senate version in between 2003 and 2007, when it passed the Assembly several times, but has not passed either chamber since 2007. Sanders also suggested that Taylor's death serves as a tipping point. "People have had a low understanding that there is a problem," Sanders said. "Finally, America and New York state may be at a place where they should have been long ago." 
Even though Republicans no longer control either chamber in Albany, there could still be fervent opposition from police and prosecutors to eliminating no-knock warrants. A spokesperson for the New York City Sergeants Benevolent Association said in a statement that legislation banning no-knock warrants in drug cases would "get cops killed" and that "removing effective tools for responsible law enforcement is a dangerous way to earn political points." The Syracuse Police Benevolent Association pushed back on Syracuse Mayor Ben Walsh's executive order that would simply review the use of no-knock warrants. In Kentucky, the state Fraternal Order of Police called the bill to ban such warrants across Kentucky "an attack and slap in the face to the great cops" in the state. 
Sanders added that his bill was not included in June's package of police reforms because everything lawmakers must address could not have been achieved in one session with just one package of bills. He feels confident the issue of no-knock warrants and other police reforms will continue to be a top priority for his chamber next session. "I think that a new generation of leaders, especially under a Democratic majority led by our leader Andrea Stewart-Cousins, is far, far more aware," Sanders said. "Perhaps the word we can use is woke."
Correction: This article originally misidentified the New York City Sergeants Benevolent Association.