Donald Trump
Times' Trump tax scoop could fuel further inquiries from James, Vance
The president's tax returns feature several red flags for possibly fraudulent behavior, experts say.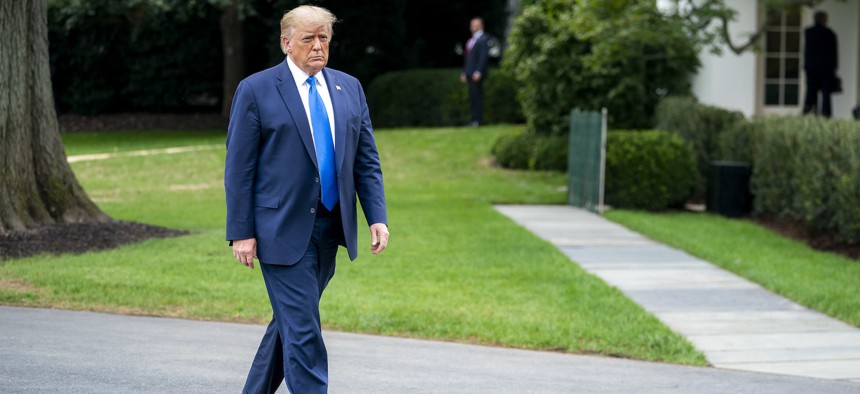 After years of public pressure and litigation to get President Donald Trump to release his tax returns, some details about those records have finally emerged thanks to a bombshell report from The New York Times. The article, published on Sunday, reveals countless lurid details about the president's finances and his businesses, though to protect its sources the Times did not share copies of the tax returns. 
The reporting reveals how Trump paid little in federal taxes, despite his supposed wealth, using potentially suspicious practices to minimize his tax liability. This could trigger investigations by the New York attorney general and Manhattan district attorney, since the Trump Organization is based in New York and Trump lived there during the years in question. 
Trump paid only $750 in federal income taxes in 2017, while serving as president, and he didn't pay any federal income taxes at all in 11 of the 18 years that the Times examined. He also designated plenty of seemingly personal spending as business expenses, such as more than $70,000 for hairstyling while starring on NBC's "The Apprentice." His daughter Ivanka Trump appears to have received payments set aside as "consulting fees" that helped reduce his taxable income while allowing him to pass money on to his daughter without her paying gift or inheritance taxes.
So New York Attorney General Leititia James and Manhattan District Attorney Cy Vance, who have previously scrutinized some of the president's business dealings, are likely pouring over the Times' scoop with great interest. Vance has already been stuck in a legal battle to access Trump's tax returns, as part of a criminal investigation into the president's business, while the attorney general has been investigating the president and the Trump Organization for possible fraud by lying about the value of his assets. 
"If I were any investigator, I would want to follow up on a million and one different questions there," said Rebecca Roiphe, a professor at New York Law School. "So it doesn't really answer questions, it raises questions."
It's unclear how the new information will affect existing investigations into the president, especially since some of this information may already be known to prosecutors. "The (New York) investigation remains almost entirely secret, apart from hints dropped in various court filings," Andy Grewal, a tax law expert at the University of Iowa College of Law wrote in an email to City & State. 
But experts say several points raised about Trump's taxes look like possible red flags. One is to look into the legitimacy of the millions of dollars in business losses Trump reported, which reduced his overall taxes. "What we don't have from the Times story is we don't have the documents that back up these numbers," said Bennett Gershman, a professor at Elisabeth Haub School of Law at Pace University and former prosecutor with the Manhattan District Attorney's office. "That's going to be what's going to determine whether or not he's guilty of criminal conduct because, right now, on the surface, we can't say whether or not he's cheated on his taxes or whether he has just behaved like an aggressive businessman."
The consultant fees and business expense deductions covering what look like personal expenditures could also draw interest from prosecutors. In addition, the Times shares details about Trump's Seven Springs estate in Westchester County. While Trump and his family members seem to refer to the property as a retreat, it is classified as an investment property rather than a personal residence, which has allowed him to write off $2.2 million in property taxes over the past six years. He has also claimed a $21.1 million charitable tax deduction on the estate after signing a deal in 2015 with a land conservancy to not develop most of the property. The state attorney general's office is looking into whether the president inflated the value of the property at that time. 
"There are all these possible red flags, and you could dig underneath them and find nothing, or you could find something but something that's not provable," Roiphe said. "Or an investigator could dig through this and find lots of illegal activity." 
Roiphe said the latest report is likely not to have much of an effect on Vance's ongoing push to get Trump to release his tax records, but having this information in the public record could bolster his case that his motivations aren't politically motivated.
A lot hinges on investigators getting these documents. Gershman said that it's only a matter of time before they succeed. "All of this information is out there and is going to be obtained by the prosecutors and by the attorney general," he said. "Nothing is going to be withheld anymore. And again, there's no basis for claiming that this is a witch hunt. So it's now just a matter of time I think."