NYC jail inmates lack health care after release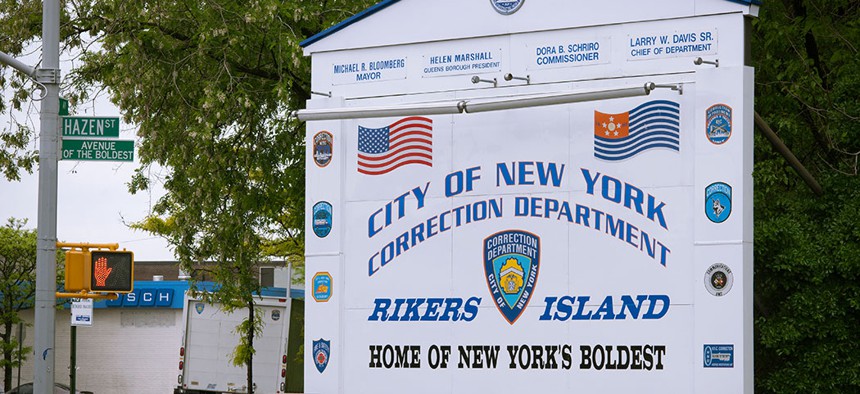 When the deadly spread of COVID-19 became apparent in New York City jails, the city began identifying some high-risk inmates to release. Ricardo Ferguson was one of them. 34 years old at the time, he suffered from serious heart problems and had already experienced multiple heart attacks. So for his health and safety, Ferguson was released from Rikers at the beginning of April. 
But upon reentry into the community, Ferguson was unable to get the critical heart medication he needed. Although Correctional Health Services provided him with a prescription, his Medicaid stopped covering him for outpatient treatment while in jail, so he had no insurance to pay for it. Without any money to pay out of pocket, the pharmacist could not fill his prescription. He was too afraid to go to an emergency room during the pandemic. In mid-June, Ferguson was in the hospital due to his heart problems, where he finally got his medication. 
"It wouldn't have been that hard to do, to release him with some amount of medication," Kaitlin Jackson, Ferguson's attorney at the Bronx Defenders to whom he gave permission to share his story, told City & State. "Or if there's a provider on the outside, like, this is a doctor to go to, this is a person who can advocate for you or help you with your Medicaid – but none of that was set up."
Criminal justice advocates have been calling for months for both New York City and the state to release vulnerable people susceptible to COVID-19 from jails and prisons, given the high rate of infections that have emerged in those confined spaces. But once people like Ferguson are released, they may face a gap in care if they don't receive sufficient discharge planning or outside aid. And that can lead to life-threatening situations for inmates with health conditions, especially during the pandemic. 
Under a state court decision known as the Brad H. settlement, reached in 2003, New York City is required to offer certain discharge services to inmates with mental health issues with ongoing monitoring to ensure the city complies. Correctional Health Services, the part of Health+Hospitals that oversees jail health care, has a whole team of discharge planners to oversee the release of people with persistent mental illness to ensure they have things like adequate medication upon release – seven days worth is the minimum requirement – or access to post-release case-management. But the Brad H. settlement doesn't cover people with physical health conditions, even severe or life-threatening ones. "For somebody who may need like, high blood pressure medication, they don't even have to give you a script," Jeffrey Coots, director of the From Punishment to Public Health initiative at John Jay College, said. "They can just say, 'Go to this place, and they can help you.' They'll refer you to the emergency room essentially."
Correctional Health Services provides reentry coordination services for those receiving physical health care, even though those inmates aren't protected under Brad H., but Julia Solomons, a social worker with the Bronx Defenders, said that people still fall through the cracks, especially if they don't connect with outside community groups. She said the problem has only been exacerbated by the pandemic, when Correctional Health Services is stretched thin and health risks are greater. "We end up sort of being the ones to see our clients through that transition, but are not, you know, we're not medical providers," Solomons said. "So we do everything that we can, but we have noticed it as a major gap."
High turnover rates at local jails like Rikers and sometimes unpredictable release schedules, combined with the lack of mandated oversight can lead to those gaps in services. "If you talk about prisons, I think that people have a higher level of ability to be connected to proper health care services, because they have more time to prepare for their reentry," Khalil Cumberbatch, a formerly incarcerated advocate for criminal justice, said. One of the biggest issues recently released inmates face, as with Ferguson, is turning one's Medicaid back on. When someone lands behind bars, their Medicaid status switches from outpatient to inpatient, and upon release, that person must proactively turn it back on. With help from reentry organizations like the Fortune Society, this can be a simple process. Ann Travers, senior director of care management at Fortune Society, said a simple phone call is all it takes to get this issue resolved for their clients. "I think the individuals who have the bigger issue are the ones who don't know where to go or have the assistance to make that phone call," Travers said, adding that having public assistance offices closed at the height of the pandemic made the process even more difficult for recently released people navigating their reentry on their own. 
Of course, not all jail inmates are on Medicaid prior to their incarceration, but their health care can lose a job that may have been providing health insurance. "They've then lost their benefits and they are leaving jail without an immediate way to access either routine or intensive healthcare," Katie Schaffer, director of organizing and advocacy at Center for Community Alternatives, said. Schaffer said a large part of the problem boils down to lack of access to universal health care more broadly, but said that the jail system is inherently disruptive to people's lives that make continuity of care difficult. "It's a story we hear quite often, that people are not provided an adequate reentry pathway," Schaffer said, which leads them to emergency services when health conditions become dire.
Travers said that the majority of Fortune Society's Care Management Unit's clients are referred from state facilities, but said that the unit also has a good relationship with the Geriatric and Complex Care Unit at Correctional Health Services, which will reach out to Fortune Society and other community groups to ensure smooth transition for the sickest patients with "massively complex needs" on Rikers. "Nine times out of 10, it means somebody has to be on dialysis tomorrow when they are released today," Travers said. But she said she could not speak to the kind of internal referrals that Correctional Health Services make to Health+Hospital providers in the community for those who don't get referred to groups like Fortune Society who provide services akin to "healthcare concierge," as Travers described her unit's work. 
And if someone doesn't get referred to a reentry organization or connected with a community group, they can be left floundering. "People will come home, and they're not understanding why they're not able to get their medication because no one has explained that to them," Kandra Clark, vice president of policy and strategy at Exodus Transitional Community, said. She said the process should be automated, but groups like hers, which currently provides emergency housing at hotels for recently released inmates at hotels during the pandemic in partnership with the city, need to step in. "When we first opened our hotels, (we spent) quite a bit of money out of pocket just trying to get people's medication," Clark said. 
Access to stable housing is another major health concern for those leaving Rikers and other jails in New York City, as is potentially entering a crowded shelter system without a COVID-19 test. Under current guidelines, Correctional Health Services screens inmates for symptoms before release and provides them with information about community testing sites. If someone has symptoms or is confirmed to have COVID-19, the city makes arrangements for inmates to quarantine at an isolation hotel. But a coronavirus test is not mandated for release, which means asymptomatic people or those with mild symptoms they don't report could cause spread in the community. "Stepping into that, undoubtedly, is a healthcare disaster waiting to happen," Cumberbatch said. Clark also said that Exodus' hotels are at capacity right now, with people consistently reaching out to be placed on the waiting list.
Correctional Health Services spokesperson Jeanette Merrill defended the reentry planning and services it provides. "Correctional Health Services … provides highest-quality health care services to individuals in New York City's jails and actively supports our patients' successful transition back into the community," Merrill said in a statement. Correctional Health Services has a service called the Community Reentry Assistance Network, which is run by the nonprofit EAC, which exists to help connect recently released inmates with health and social services. For those still in jail, something called Community Connection Service provides reentry support, including assistance with Medicaid applications. And a program called Point of Reentry and Transition was created last year to help connect recently released inmates with care, with a specific focus on physical health. The program includes two primary care clinics at Health+Hospital locations staffed by jail doctors. All services are voluntary.
Little empirical data exists yet on the efficacy of the Point of Reentry and Transition Program, but Solomons said that the hotline associated with the program has been unhelpful. "Anecdotally, our experience with that line is subpar," Solomons said. "You're cold-calling, they don't know what you're talking about … there's no database or system or some sort of communication where they can say 'We know this person is in this situation.'" Coots also could provide no details about the efficacy of the Point of Reentry and Transition program. "It's well intentioned, they designed certain things, but then it's like any new product, you sort of test it on the market and see how clients are going to use it," Coots said. Solomons added that in her experience, many of Bronx Defenders' clients accessing the Community Reentry Assistance Network, which was created in response to the Brad H. settlement, are mentally ill inmates protected under that settlement. 
Clark said that an immediate change to the city jail system that would help is once again allowing providers like Exodus Transitional Community back into jails, where they have been barred for months due to the pandemic. "Correctional Health Services cannot do all this themselves," Clark said. "Because we are not able to be in there right now… I think that we are not able to kind of streamline this and make it better." Many advocates support broad health care reform, like the passage of the New York Health Act, so that recently released inmates are guaranteed to have coverage for whatever health needs they have. But short of that, Solomons said she would like to see better coordination between Correctional Health Services and Health+Hospitals facilities in communities. Coots said that since Correctional Health Services was integrated into the public hospital system, it has done a "laudable" job expanding discharge services, but there is always room for improvement. He noted specifically the challenges of integrating electronic medical records for inmates into the broader system.
No criminal justice activist or advocate for incarcerated people is suggesting that inmates are better off left in jails or prisons during the pandemic, even if discharge planning is not perfect. But Solomons hopes that the light being shone on the issue during the pandemic will lead to changes to ultimately create better health outcomes and smoother health care transitions for formerly incarcerated people upon their release from jail. "I just think it's an under-resourced area," Solomons said. "It's a make-or-break moment for our clients when they are released, what they are offered in that moment that they have what they need to be stable in the community is critical."