Transportation
How Biden's Amtrak legacy may help advance NY's transportation agenda
A rail enthusiast in the Oval Office signals hope for more federal aid and transportation funding.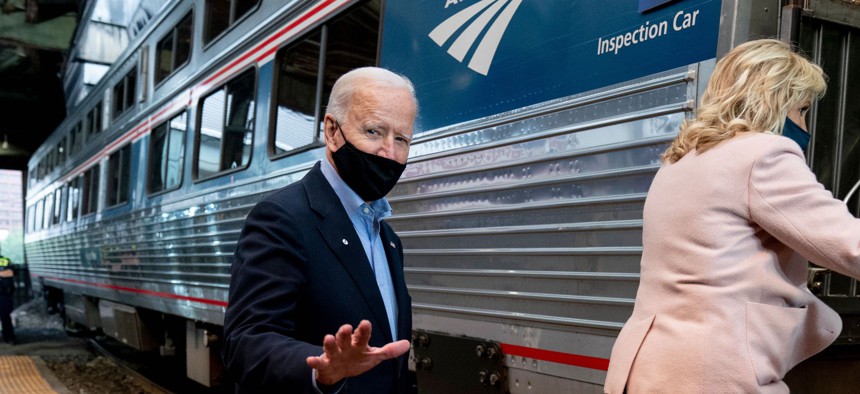 Throughout his political career, President Joe Biden has never been shy about his fondness for rail transit. As a U.S. senator from Delaware, he traveled to and from Washington, D.C., by train. Transportation advocates are hopeful that "Amtrak Joe," as he was known during his days as a legislator, can use the levers of the federal government to push New York's transportation agenda forward.
New York has many transportation needs, and none more urgent than the fiscal crisis at the Metropolitan Transportation Authority. Just last month, Congress allocated $4 billion in emergency relief for the authority, but another round of federal aid would go a long way toward helping the system cover its operating costs during the pandemic as well as advance much-needed capital investments.
"The president-elect is a longtime champion of mass transit, and so are incoming Senate Majority Leader Chuck Schumer and House Speaker Nancy Pelosi," MTA Chair and CEO Patrick Foye told City & State in a statement. "Having this kind of support, and hopefully the funding we will need in coming years, should allow us to maintain vital service as New York recovers, close significant projected deficits from 2022 through 2024, and jump-start projects that will help improve our system for decades to come."
The MTA is certainly not the only urban transportation system hurting right now, and the country as a whole has critical infrastructure needs, which could help garner the bipartisan support needed to approve major transportation funding.
"People in Texas need flood control, people all over the country need road and bridge repairs and so forth," said Nicole Gelinas, a senior fellow at the Manhattan Institute, a conservative think tank. "State budgets are suffering around the country, so they will need money for these infrastructure projects. I would be looking for some kind of bipartisan push on infrastructure by the first six months of the Biden administration."
In addition to having a rail enthusiast in the Oval Office, Democrats now control both chambers of Congress, with New York's senior senator serving as majority leader. After shepherding through last month's coronavirus relief package, Schumer has already told transportation advocates that he intends to deliver additional federal aid to the MTA.
On the campaign trail, Biden pledged to spend $2 trillion on roads, bridges and other transportation projects. And with Schumer atop the Senate, it would be extremely likely that a major infrastructure bill would include funding for the Gateway tunnel, a proposed $30 billion project that would include adding a passenger rail tunnel under the Hudson River. In 2018, President Donald Trump pulled his support for Gateway, leaving the tunnel in the lurch. Biden's campaign platform included the tunnel as part of a plan to reduce by half the travel time between New York and Washington, D.C.
"President-elect Biden has prioritized infrastructure – and the Hudson Tunnel project specifically – and we look forward to working with his administration and Congress to make the project a reality," said Stephen Sigmund, chief spokesperson for the Gateway Program Development Corp.
The Biden administration could begin by approving the project's environmental impact statement, raising the priority rating for the project and releasing billions of dollars that have already been made available to Amtrak's Northeast Corridor. Additional funding, however, would require congressional action, either through the Capital Investment Grants Program, or new infrastructure or stimulus legislation.
Congestion pricing, which was approved by the state Legislature in 2019, is another initiative that stalled under the Trump administration – for unclear reasons related to the environmental review.
"What is the real hold up with congestion pricing?" Gelinas asked. "Now that the Trump administration is going away, will those federal approvals come through or not? I think we need a lot more clarity on what's been holding it up."
Although the MTA announced in November that it might not be able to implement congestion pricing until 2023, advocates are hopeful that the Biden administration will at least fast-track the environmental approval.
"I am hoping that (the process) will be streamlined," said Renae Reynolds, the transportation planner at the New York City Environmental Justice Alliance. "I definitely hope that congestion pricing becomes part of first 100 day planning."
In addition to infrastructure, Biden made ambitious campaign pledges around clean energy investment, another reason green transportation advocates are optimistic about his presidency.
"Our organization advocates not just for robust transportation, but clean transportation, and the transition from diesel to electric buses," Reynolds said.
Given the fiscal mire that state, local and transit system budgets are stuck in, they all need major federal transportation and infrastructure funding passed this year.
"If it doesn't happen now, it's never going to happen," Gelinas said.
New York's transportation agenda
MTA fiscal crisis
A precarious fiscal situation at the Metropolitan Transportation Authority became a full-blown crisis in 2020 as ridership plummeted during the pandemic. Last month, Congress came through with $4 billion for the beleaguered authority, but another round of federal aid would help the MTA stave off drastic service cuts and layoffs.
Congestion pricing
In 2019, the state Legislature approved congestion pricing for the core of Manhattan, but since some of the roads that would be tolled have received federal funding, the Federal Highway Administration can require an environmental review before the program is implemented. The MTA and the city have both blamed the Trump administration for holding up that review. The federal government has yet to say whether it needs to do a full environmental review or if an abbreviated environmental impact review is feasible.
Gateway tunnel
This $30 billion rail project would double the number of rail tunnels under the Hudson Rivers, but it was stalled by the Trump administration. The Biden administration could kick-start the project by approving the environmental impact statement and releasing billions of dollars that have already been authorized to improve Amtrak's Northeast Corridor. Congress would have to approve additional funding for the project.