Will NY decriminalize clean syringe possession?
Public health advocates say it could reduce HIV transmission.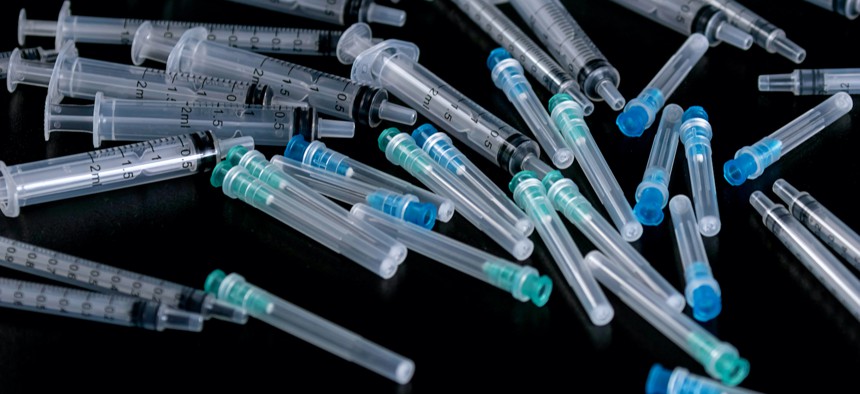 This story was published in partnership with New York Focus. 
As COVID-19 rampages across New York, many localities are confronting another public health disaster: drastic spikes in drug overdoses and new cases of HIV. Fatal overdoses have doubled relative to last year in Albany and Onondaga County, and in 2020 the Rochester area reported more new cases of HIV than had been reported during the previous four years. 
Yet medical professions say that widespread access to sterile syringes, a key tool for combatting both problems, is greatly hampered by the fact that the vast majority of New Yorkers cannot legally possess syringes. 
Under New York law, syringe possession is a class-A misdemeanor, punishable by up to a year in jail and a monetary fine. Thousands of New Yorkers have been arrested for syringe possession over the past decade, mostly on Long Island and upstate, according to data obtained by New York Focus/City & State from the Division of Criminal Justice Services. Public health experts and harm reduction advocates say that these arrests, and the fear and stigma they perpetuate, are major obstacles to efforts to curb the spread of infectious disease, protect the health of drug users, and connect users with services to help them break their addictions.
Harm reduction and public health advocates have long pushed to decriminalize syringe possession, arguing that keeping syringes illicit discourages drug users from enrolling in syringe exchange programs or otherwise obtaining sterile syringes. Syringe possession is legal for individuals enrolled in a syringe exchange program, or who have been prescribed syringes by a doctor, but is otherwise prohibited.After urging from advocacy groups, the New York Department of Health included syringe decriminalization as one plank of its 2015 plan to end the AIDS epidemic by 2020. But that non-binding recommendation was never passed into law.
Republican opposition left legislation to decriminalize syringes dead in the water until 2019, when the state Senate flipped to Democratic control. As Democrats prepare their 2021 legislative agenda, some legislators and harm reduction advocates are pushing to include decriminalization as a priority.
"This is a moment where we have to think about those who are most vulnerable, and make sure that we serve them. And this doesn't serve them," said Gustavo Rivera, chair of the State Senate health committee and lead sponsor of the Senate bill to decriminalize syringes. "Every single one of those (arrests) is a policy failure."
Decriminalization wouldn't be a panacea to syringe access problems—in California, syringe possession has been legal since 2011, but other obstacles to obtaining syringes, such as pharmacies not stocking the correct sizes of syringe, have persisted. But public health professionals said it would have a major impact, particularly in encouraging drug users to enroll in New York's 24 syringe exchange programs.
Syringe exchange programs provide sterile syringes to people who use intravenous drugs. The programs both increase the chance that drug users will cease using drugs and decrease the risk of infectious disease spread, overdose, and other health issues associated with repeated syringe use, studies show. A 2014 report from the New York State Department of Health found that "syringe exchange is the one intervention which could be described as the gold standard of HIV prevention."
Though syringe possession is legal for exchange participants, many drug users are unaware of this exemption, providers said. "My experience is that folks don't know that it's legal to possess syringes if you're enrolled in a program," Fabian said.
"We might have a guy come in to enroll and say 'Yeah, my friend's been trying for two years to get me to enroll, but I was afraid, I didn't trust it,'" said Diana Agugila, regional director at the Alliance for Positive Health. "They're just very fearful of the consequences."
The fear is often warranted, health professionals said, because police are not always aware of the exemption either and syringe exchange participants are regularly arrested despite being exempt from the law on paper.

Upon enrolling in a syringe exchange, participants are given a card certifying their participation in the program, meant to act as a "pass" should participants come into contact with law enforcement while in possession of syringes. Rheannon Croy, program manager at the Alliance for Positive Health in New York's North Country, said that while some police officers respect the cards, several of her clients recount every year having their syringe exchange cards confiscated or destroyed by police. "It just further stigmatizes them and makes them trust (us) less, trust police officers less, it makes them feel shameful, and I'm sure it's just traumatizing," Croy said.
"I've heard countless stories of individuals not being protected by the card," said Emma Fabian, vice president of harm reduction at Evergreen Health in Buffalo. The Buffalo police department noted in response that it arrested only 25 people for syringe possession in 2020. 
When his participants are arrested, Roberto Gonzalez, director of the syringe exchange program at ACR Health, writes letters to the arraignment judge informing them of his participant's enrollment in a syringe exchange program. Gonzalez said that his letters are always able to get charges dropped. But he emphasized that the arrests still have negative effects, both for the arrested individuals and for drug users in their networks who may be turned off from accessing syringe exchanges.
In 2019, at least 549 individuals were arrested statewide for illegal syringe possession, according to data provided by the state Department of Criminal Justice Services. Since the state records arrests by top charge only, this number does not include individuals also facing higher charges. That same year, 322 individuals were convicted of illegal syringe possession and sentenced to jail, probation, fines, or other punishments. In 2020, there were 298 arrests for syringe possession through October, with data on convictions unavailable at the time of writing.Arrests for syringe possession are concentrated in upstate New York and on Long Island, with New York City representing fewer than 6 percent of arrests in 2019. 
If syringes were decriminalized, Gonzalez said, "More people would be up for coming down and enrolling in the program, and getting the services that they need without fear, because they know that they won't be charged for syringes. They know that they won't be harassed." 
Decriminalization could also increase the frequency of people's visits to exchange programs and thereby decrease syringe reuse, multiple providers said. "When it's criminalized, people will just carry one syringe for the next year straight, because they're afraid to carry more because it'll be harder to conceal," said Mike Selick, associate director of the National Harm Reduction Coalition. "I've had people come into the program and say 'I know it's time to get a new one when the numbers rub off.'"
Connecting drug users to syringe exchanges is often the beginning of a much wider engagement with health and social services, Zach Ford, a project manager at the Syringe Access Fund, noted. "The syringe is what's creating the trust between folks to keep that person coming back," Ford said. "When that person wants to seek other types of medical services, when that person wants to seek employment services or social services, or behavioral health services, or substance use disorder treatment, they are engaged in a community of people who know how to go about finding them those things."
The criminalization of syringes also poses serious obstacles to what harm reductionists describe as one of the most effective methods for promoting safe injection: secondary exchange, the process in which syringe exchange participants distribute clean syringes to fellow drug users not enrolled in an exchange program.
"As harm reductionists, we really encourage secondary exchange," said Jasmine Budnella, drug policy coordinator at VOCAL-NY. "But if you're doing that, those people won't have a card." Those who receive clean syringes from an exchange participant, but are not themselves enrolled in an exchange, remain exposed to risk of arrest and conviction for syringe possession. 
Agugila said that participants often ask for syringes to give to a friend. "We'll ask, 'Is your friend enrolled?' And if they say no, we'll remind them that, 'You know, I can't tell you what to do, but I'll tell you that if you give these syringes to your friend and they're caught with them, they could get busted for it.'" 
The effect of decriminalization would be dramatic, Agugila said. "If we started asking every participant, 'Do you have any friends who are afraid to come here?,' every single one would say 'Oh yeah, at least one or two people,'" she said. "I bet [enrollment] would grow by 50 percent."
A bill to decriminalize syringe possession has been pending in the Legislature for several years, and was reintroduced this week for the 2021 legislative session."
The bill, sponsored by Rivera in the state Senate and Assembly Health Committee Chair Richard Gottfried in the lower chamber, would fully decriminalize syringe possession. It would also take several other measures to promote clean syringe usage, such as repealing the ban on pharmacies advertising syringe sale, decriminalizing the possession of drug residue in used syringes, and removing the limit on the number of syringes that can be sold at once, currently set at 10.
In July 2019, Senate leadership convened a bipartisan task force, co-chaired by Rivera, to study addiction and overdoses. The task force's first report, issued in early 2020, stated that while the chairs of the task force and some members expressed support for syringe decriminalization, "the Task Force as a whole was unable to reach consensus." 
Sen. Patrick Gallivan, a Republican from Erie County, was one of the task force members opposed to syringe decriminalization. In a statement to New York Focus and City & State, Gallivan said, "I remain opposed to the decriminalization of syringes. I believe it would present an unwarranted danger to the health and safety of the individual and the public at large."
Supporters of syringe decriminalization counter that the danger to public health and safety is already here, in the form of overdoses and rising rates of HIV and Hepatitis C infection. "In where we're at in the overdose crisis, we need evidence-based solutions, and this is low-hanging fruit," Budnella said. 
Assembly Speaker Carl Heastie and state Senate Majority Leader Andrea Stewart-Cousins did not respond by press time to an inquiry as to whether the decriminalization bill will be brought to a vote in this session. 
Both Rivera and Gottfried said that public health conditions amid COVID-19 accentuate the importance of the bill. "The COVID-19 fiscal crisis is devastating funding for syringe exchange programs and making it more difficult to access clean, safe syringes. This makes it more important than ever that New Yorkers can get syringes from expanded locations without being criminalized," Gottfried said. "I hope the increased urgency of the issue will help us get it done this year."
Correction: The Division of Criminal Justice Services was originally misidentified. 
Correction: The bill to to decriminalize syringe possession has been reintroduced.

New York Focus is an independent investigative news publication covering New York state and city politics. Sign up for their newsletter here.